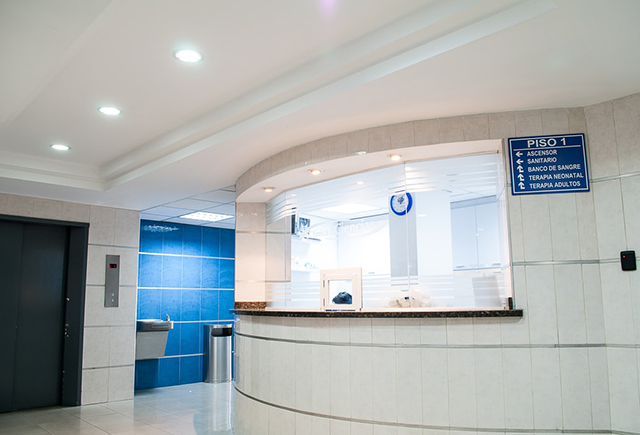 Overview
By leveraging the power of leading-edge solutions, healthcare-based organizations can effectively solve once-impossible challenges and issues. 
For example, one of the future healthcare trends known as Artificial Intelligence (AI) can analyze highly vital information on the patients' medical condition and help experts to establish a fast and accurate diagnosis. Any critical patient can be monitored remotely on a twenty-four-seven basis thanks to The Internet of Medical Things, which also allows us to perform preventive measures and save lives.
Another great example here is mobile health technology, which is equally useful for a healthcare segment, as many IT companies develop comfy multi-functional healthcare apps. It's no wonder 80% of physicians use medical apps to enhance their work, in compliance with the Research2Guidance report. 
Another research says the digital health market is forecast to expand over $200 billion by 2020 driven particularly by the mobile health market.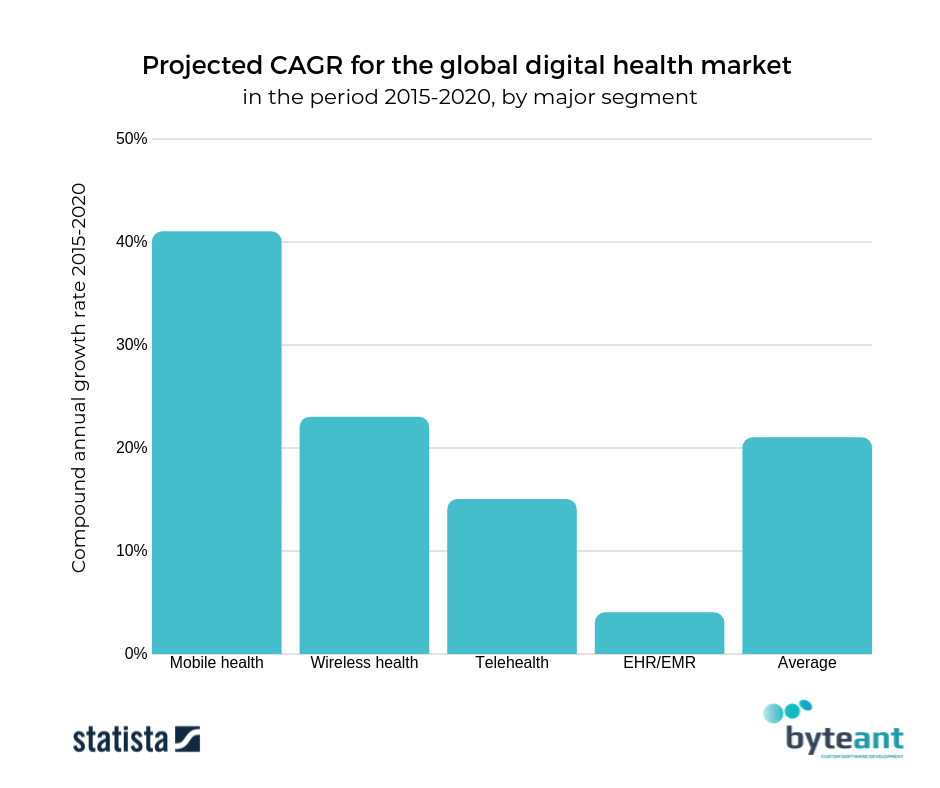 "I absolutely think that organizations need to embrace digital. There is no way around it. An organization that is not embracing digital is going to not be around very much longer." - Dr. Daniel Nigrin, Senior Vice President for Information Services and Chief Information Officer, Boston Children's Hospital, United States
The more the digital market grows, the more competitive innovations we can expect in the future. The world competition and criticism are key progress drivers, after all. Those companies, denying such an obvious fact, risk everything, when not implementing digital solutions into their business, but it's true for non-profit organizations as well.
So, let's have a closer look at 10 emerging healthcare technology trends and find out their benefits.
TOP 10 Medical Breakthroughs 2020
Telemedicine
Telemedicine allows physicians to remotely communicate with patients by using video conferencing software, for example, and provide treatment in case of non-urgent situations. It has become quite popular in recent years as it provides users with a number of advantages. They are as follows:
It saves time for both physicians and patients when it comes to evaluating, diagnosing and treating. You don't have to spend your time on the road or annoying waiting. It can't replace the full circle of required medical procedures sometimes, though.
Health treatment services can be provided by experts from different towns and countries for the best result.
There is no risk to catch an infection from contagious patients.
Instead of Internet searching and self-diagnosis, you can always seek medical advice remotely in case you are afraid of clinics. A physician may notice suspicious symptoms and determine a disease at a very early stage.
Healthcare provider enjoys enhanced office efficiency and improved treatment scenarios.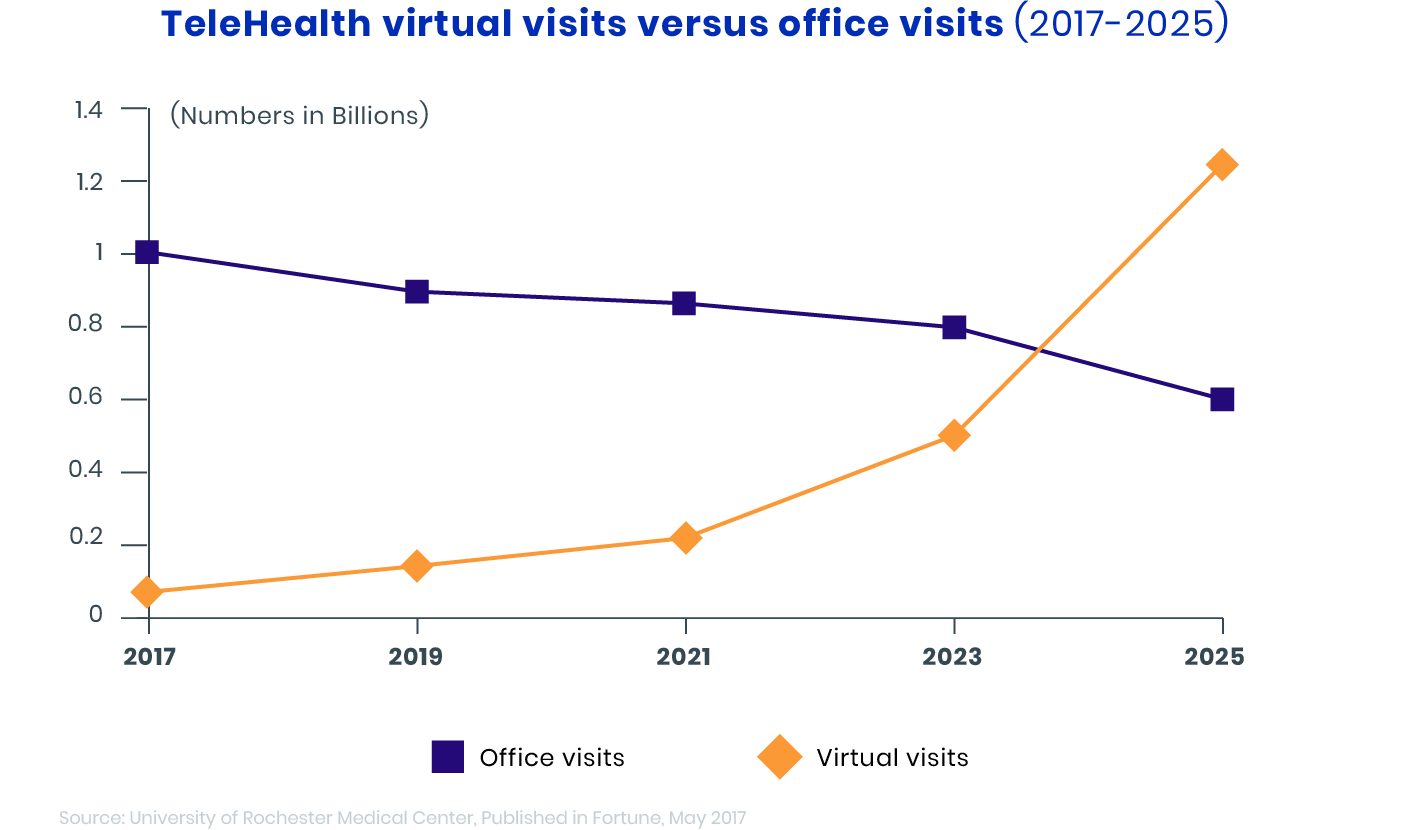 Telemedicine can be divided into three major categories:
Remote patient monitoring or simply telemonitoring allows physicians to remotely monitor and control the condition of patients with chronic diseases. Specific medical equipment gathers data and store it on cloud-based platforms or transfer directly to another side.
Asynchronous telemedicine allows physicians to share patients' data with their colleagues from other countries for better treatment and practice purposes.
Interactive telemedicine allows parties to communicate with each other in real-time by using video chat software.
The total amount of organizations applying to the telemedicine grows exponentially, so global telemedicine market size is forecast to reach more than $41 billion by 2021, according to Statista research.
The Internet of Medical Things and Remote Patient Monitoring
The Internet of Medical Things or the IoMT, in short, is the ecosystem of connected medical devices, tools, services, and software, designed to monitor and test patients' condition. It's one of the most crucial technology trends in the healthcare industry, as such devices are way more affordable than ever and allow people to constantly control their health. 
Physicians utilize IoMT to remotely monitor their patients' conditions, such as blood pressure, temperature, pulse, heart rate, glucose level or get alerts when a patient forgot to take a pill and so on.
On the other hand, non-physicians can use sticking plasters or other popular wearable devices like smartwatches with attached software on smartphones to monitor their health condition themselves. Ingestible pills can sometimes replace such unpleasant medical procedures like fiberoptic gastroduodenoscopy and provide valuable data, processed by a smartphone app.
The IoMT-based solutions help experts greatly and will definitely change the whole medicine sector shortly. In compliance with the survey of the Research and Markets, the total amount of the IoMT devices is forecast to reach $20-30 billion by 2020.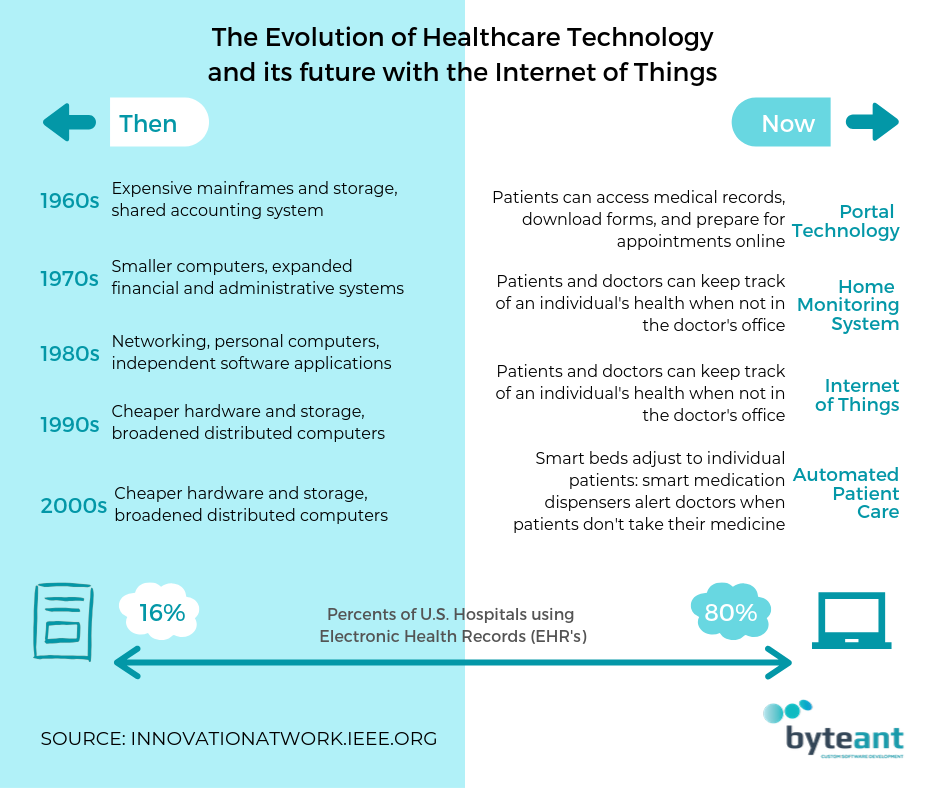 Cloud Computing in Healthcare
Now when the cloud-based solutions becoming a new standard for any business type, the healthcare segment here is not an exception. Driven by the two most critical reasons: to reduce costs and improve the quality of services, medical institutions embrace cloud computing globally. 
Since the so-called electronic health records (EHRs) were implemented into hospitals' infrastructure for immediate access to medical records, specific hardware was used to store all datasets. That caused additional expenses. Cloud computing became a perfect solution here.
Despite some risks, such as data breaches and lack of security, cloud-driven technology has undeniable advantages:
Reduced expenses. Organizations don't have to pay a bunch of money for keeping, updating and maintaining physical servers, software or any hardware related to data storing.
Data storage capacity. As the healthcare segment utilize enormous amounts of data, cloud computing allows storing all that data remotely. Furthermore, such data can be shared with other experts with no delays, if needed.
Immediate access. Both physicians and patients can get access to their medical files at any time and place.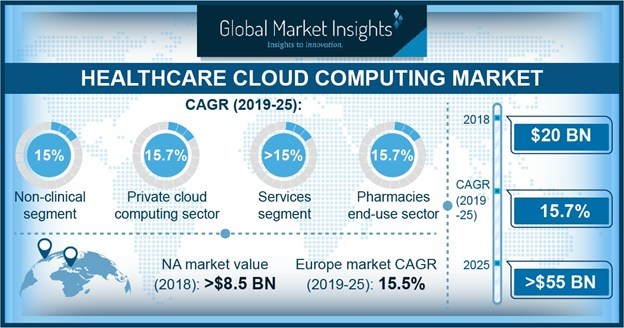 AR/VR/MR in Healthcare
Augmented Reality (AR), Virtual Reality (VR) and Mixed Reality (MR) have been mostly used in the gaming industry. In medical practice, AR and VR can be used to train doctors or patients through virtual simulations or provide help during surgical procedures. For example, VR Pain Relief can distract patients from their pain after surgery, by simulating various scenarios. AccuVein provides great help in neurosurgeons and reduces pain experience.
As one of the healthcare trends 2019, the AR/VR/MR market is expected to expand up to $5.1 billion and 3.4 million users globally in a few years, in compliance with Goldman-Sachs.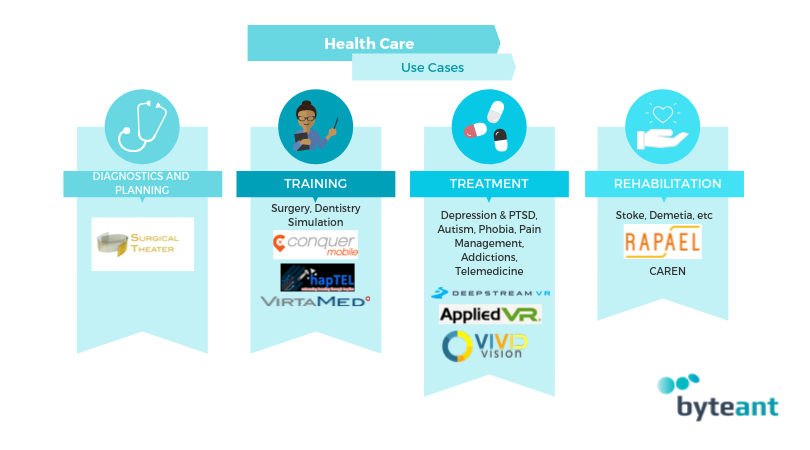 Artificial Intelligence (AI) in Healthcare
Perhaps, Artificial Intelligence (AI) and Machine Learning (ML) are both the most promising innovative technology trends nowadays, designed to change our lives drastically, including the healthcare sector. In compliance with OptumIQ, about 75% of medical companies and institutions are planning to implement AI algorithms into their ecosystems within a few years. 
Artificial Intelligence in healthcare has indispensable advantages, beyond our present common understanding.
Having almost unlimited power, AI-driven software is capable to process and analyze colossal amounts of data avoiding human-factor mistakes, predict diseases and develop specific treatment strategies. As a matter of fact, AI is used in EHR data analyzing, providing accurate diagnosis and relevant medical therapy.
AI technology saves a lot of time when analyzing data, so physicians can work with more patients and save more lives.
According to the expert surveys, we will be able soon to diagnose ourselves with 100% accuracy, based on data gathered from various sources like IoMT.
AI-based software with a deep learning technology is of vital matter in the drug discovery sector, capable of identifying a perfect drug combination. It's no wonder that 94 percent of pharma experts think AI-driven solutions are the future, according to the Pharma IQ investigation.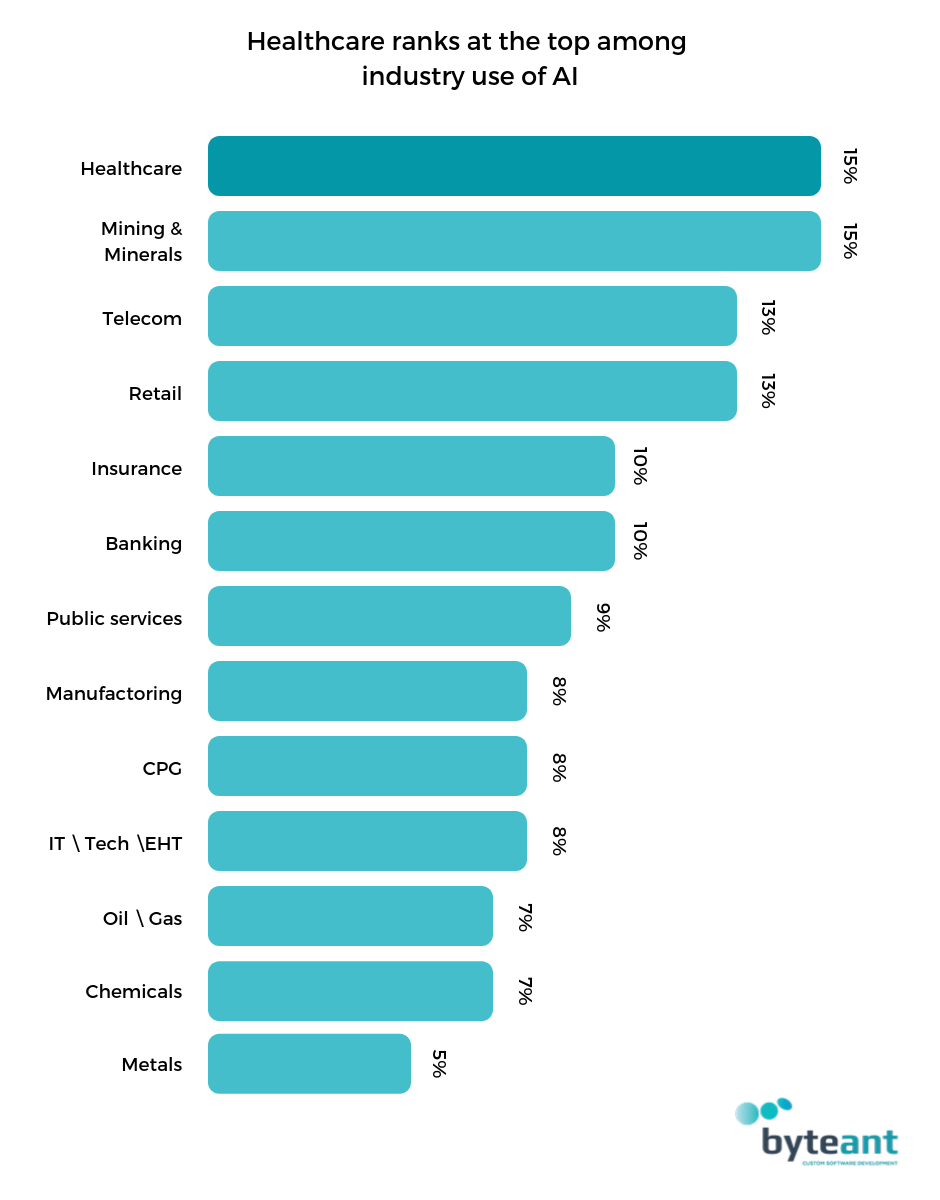 Mobile Health
Even though the biggest problem of mobile apps is data leakage, Mobile Health (mHealth) is still a very promising and popular solution, as people use their smartphones everywhere and at any time. Every healthcare organization is implementing mobile software for its usability. That is one of the reasons why the total global mHealth market is expected to reach $100 billion by 2021, according to Statista.
Healthcare professionals can search for specific info they require at the moment or transfer patients' records to other departments in a matter of seconds, which can actually save a life in some cases. According to the Wolters Kluwer Health infographic, that's what medical professionals search while using mobile devices:
72% search for information on drugs;
63% perform a medical search from tablets;
44% communicate with staff.
Furthermore, patients as well can find valuable benefits from utilizing mobile Health solutions.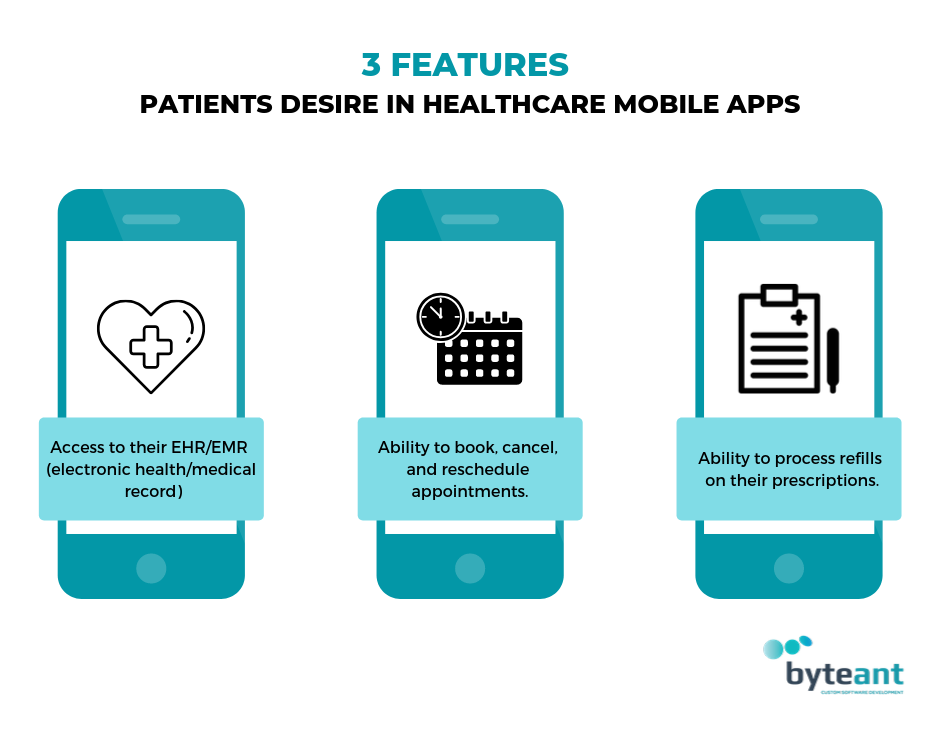 Chatbots in Healthcare
Chatbots in healthcare is another field of Artificial Intelligence technology, simulating dialog with a human. Some AI chatbots with ML-driven feature can self-learn and adjust specifically to each human, based on the acquired information, asked questions and the overall user experience. The more you talk, the smarter your chatbot is.
The modern chatbots can be synchronized with other healthcare trends, like IoMT and provide assistance, based on the acquired data. Chatbots are not designed to establish a diagnosis, though, the true goal is to guide people through the facts, optimize health or help to find out whether specific medical attention is required.
Among all other benefits, there are a few, worth to be noted:
AI-driven chatbots can save man-hours and partly replace doctors;
The relevant information is provided instantly at any time and place, saving a lot of time for patients;
Chatbots may serve as reminders or supporting "agents.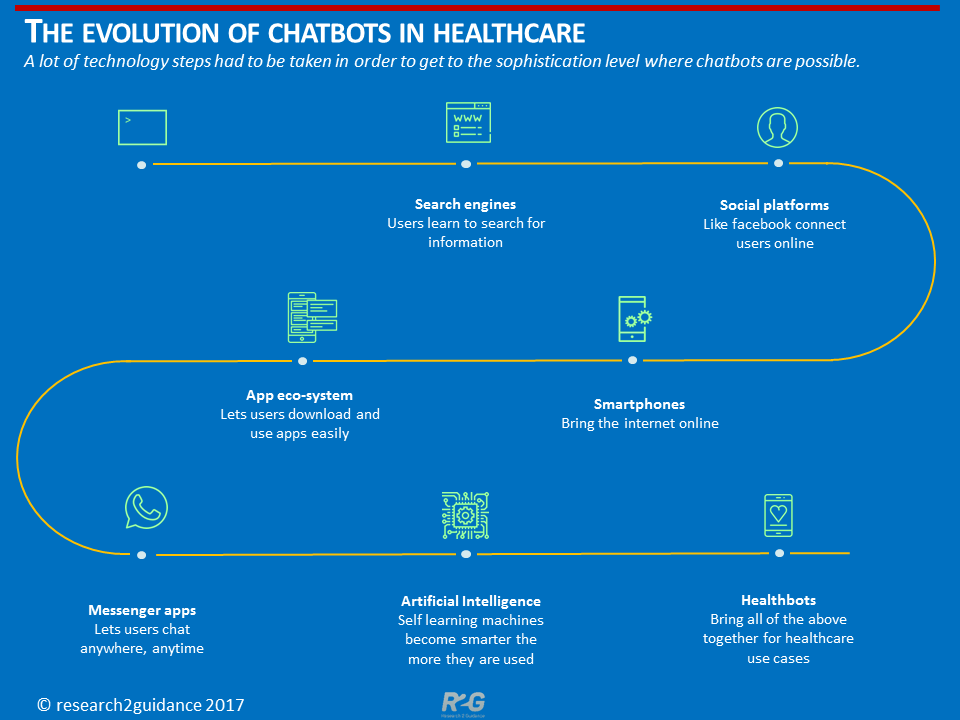 Predictive Analytics in Healthcare
Predictive analytics is the procedure of analyzing the patterns of historical data to perform preventive or prediction actions through AI-based software power. With accurate data, healthcare organizations can receive alerts regarding future potential events and build a strategy to predict or prevent disease. 
It is especially important when it comes to identifying the first stages of severe diseases like cancer or some chronic ailment. Each day matters here and no time should be wasted. Healthcare entities can identify such conditions, based on many factors including the predicted potential events, avoid long-term health issues and get to treatment as soon as possible.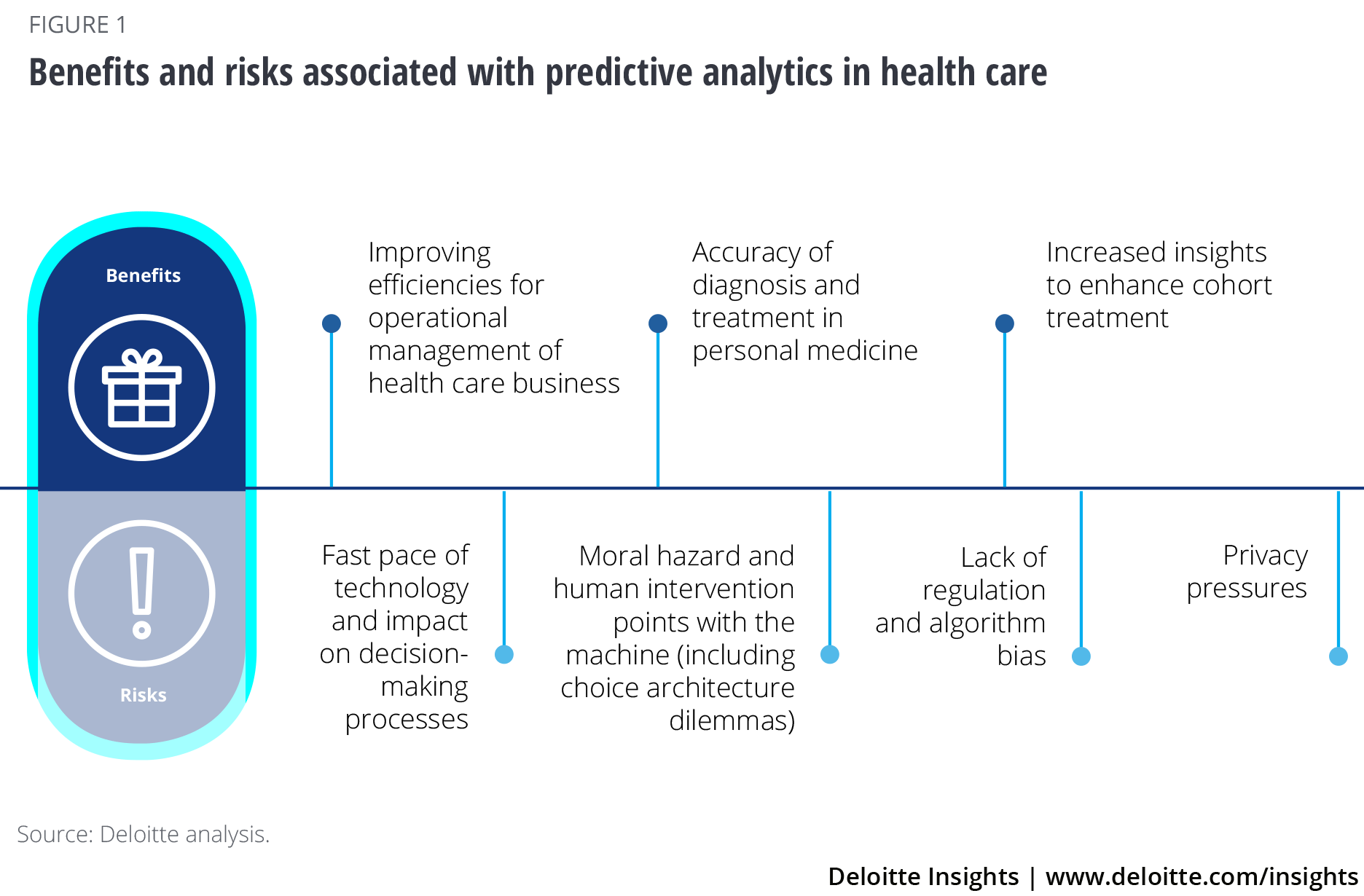 Blockchain in Healthcare
Since the amount of generated data from various IoMT devices and other healthcare technology solutions is enormous, it's vital to provide the best security and integrity level and Blockchain is an excellent solution here. 
All the patient's data can be safely transferred without any leakage. Moreover, pharmaceutical manufacturers can register their products in the Blockchain, thus increasing trust, transparency and reducing the number of fake drugs on the global market.