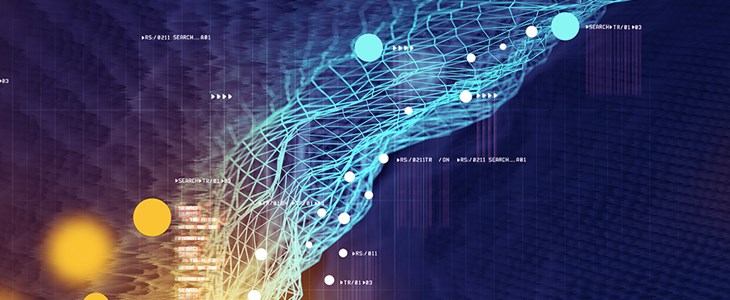 Nowadays, neither big nor small businesses can operate effectively and successfully without relevant and credible data, which ensure the entrepreneurs know their end customers. Almost 50% of businesses acknowledged that Big Data analytics have considerably changed their sales and marketing tendencies.
Global stakeholders resort to this technology as a significant means that helps them dominate both in domestic and overseas markets outperforming the competitors.
As seen from the diagram below, banking is expected to constitute 13.9 percent of business analytics and Big Data incomes. Overall, the market is projected to rise to $189.1 billion this year.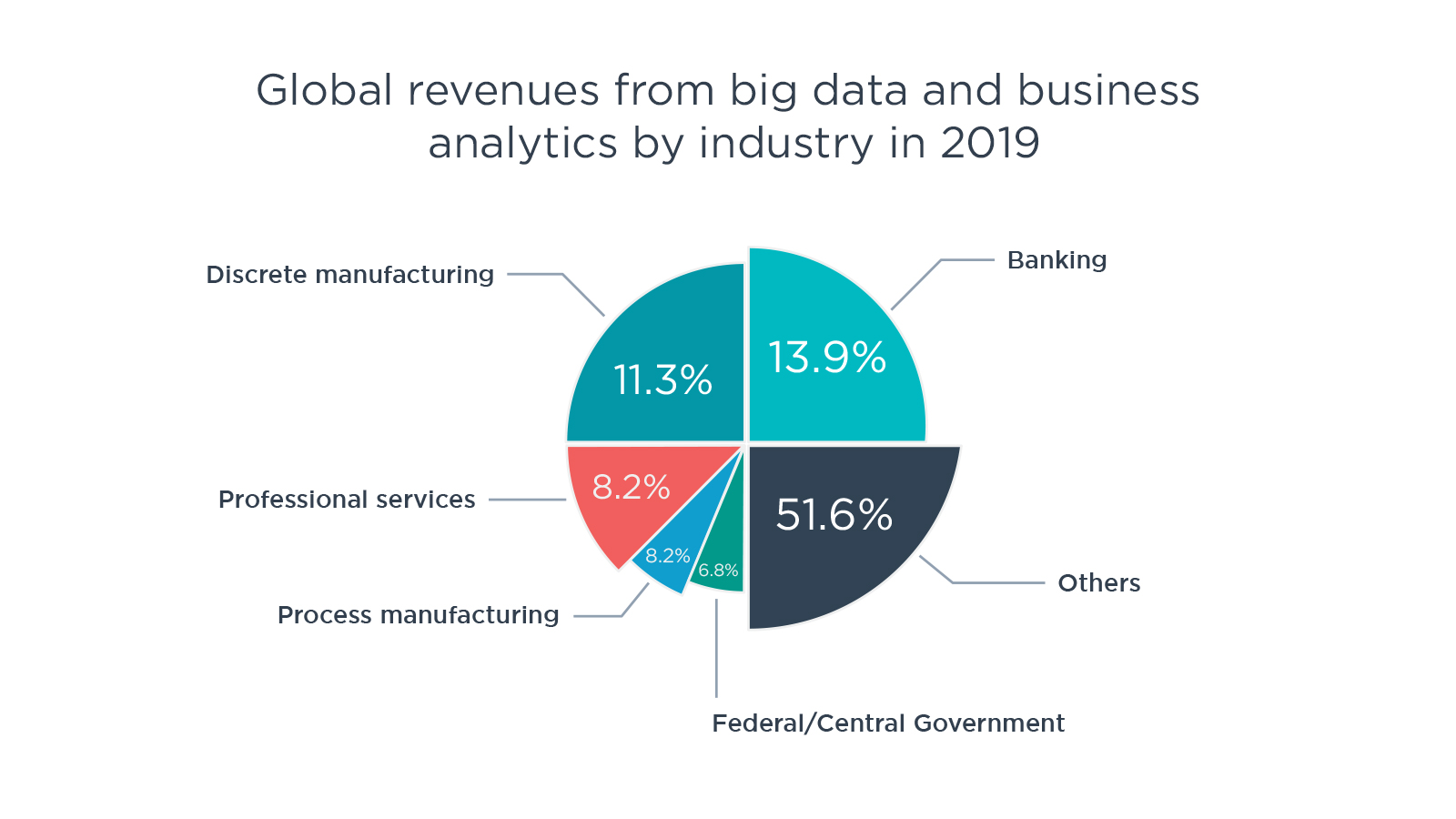 What's more, analysts assume that the total income from the Big Data industry will keep increasing year by year and will reach $103 billion in 2027.
With all that said, adopting Big Data solutions looks like a very promising option in 2019 for both budding startups and incumbents. Quite obviously, this option didn't go unnoticed by large-scale market players in their rush to tap into a prime mover advantage. So, let's take a closer look at how some early adopters succeed today in implementing these innovations in their business processes.
1. Amazon

This company seems to be one of the best in introducing innovations and developing products through Big Data to enhance its brand reliability. The technology under analysis empowers Amazon Fresh and Whole Foods to get to a bigger market. It also facilitates the additional sources of income due to redeveloping and redesigning the existing goods based on the awareness of customer needs provided by data analytics.
Moreover, Amazon can receive the necessary expert opinion on logistics, which greatly relies on accurate data concerning how people purchase groceries and how suppliers cooperate with the shopkeeper. All this allows implementing the required changes to outrun the competitors in the same area. So, Big Data helps you be proactive rather than active which extremely important for eCommerce.
2. Netflix

This streaming service uses Big Data to find a solution to advertising related issues as well as marketing awareness. Behind every prospering company, there is a team of professional marketing experts and advertisers employing Big Data to the greatest extent. Netflix is the best model to follow in how to utilize data analytics for creating ads targeting a particular group of customers.
Having already gained about 150 million subscribers Netflix is likely to get an industry status. Their success can be accounted for Big Data utilized to obtain the information about the previous search and watch data of their customers, which allows writing the corresponding offers regarding the film/s to be watched next.
3. Coca-Cola

It is an excellent example of how to utilize Big Data in order to retain your customers. Customers are the milestones of any business that predetermines its effectiveness. The first and paramount thing required for eCommerce is a massive customer base. Still, it is not enough. You should do your utmost to identify current customer trends and patterns not to suffer from the outflow of clientele and as a result, face a drop in sales.
Coca Cola benefited from Big Data in terms of collecting diverse information needed for better understanding the customer needs and their behavioral patterns. With all this at the company's disposal, it is possible to achieve soaring retention of customers.
4. UOB bank

There is a growing tendency among world-known banks to employ Big Data for managing the risks. Under the conditions of severe competition in the financial sector and daily increase in cyber attacks, it is obligatory for the establishments engaged into the banking industry to provide their clients with personal data security and lower the management risks.
UOB bank is a real example of how to leverage Big Data for this purpose. The instruments of data analytics also allow financial organizations to determine the number of potential risks and build their patterns in advance. As a result, the bank can apply more effective mitigation techniques and work out strategic solutions.
5. Starbucks

Remaining one of the major retailers, this company takes pride in its use case of big data for getting real-time personalized information valuable for their customers. With this tech solution on board, Starbucks provides a larger amount of service options via mobile applications that identify the preferences of the consumers (coffee-binges) before they make an order at the counter. It improves the overall performance of coffee houses, especially in rush hours.
Starbucks members get a special app for ordering drinks, as well as calling in future coffee orders. Meanwhile, with the help of this service, the company collects loads of customer feedback to know more about their clients purchasing habits and preferences. This data can be used by Starbucks to deploy adequate marketing campaigns and promote their product, find new places for their coffeehouse chain, and update the menu.
6. McDonald's

The fast-food giant McDonald's is constantly implementing different modern technologies, particularly Big Data. This tech-enabled approach allowed them to figure out what kind of food their consumers order, how often certain customers visit the restaurant, and whether they prefer drive-through. McDonald's applications enable people to make orders and pay for them via smartphones and other mobile devices. Thus, Big Data fosters the speed of the services and enables the company to find solutions according to the customers' tastes.
7. Burberry

This famous British fashion company is a bright example of how you can succeed in sales, performance, and customization through Big Data. Burberry customers benefit from loyalty programs via web and mobile applications. However, at the same time, they share their feedback, which is further used by the company to give some recommendations to both online and in-store shoppers.
Thanks to historical data obtained from Big Data and mobile apps, sales assistants can get insight into the purchase history of the customers. Moreover, it is possible to assume customer buying preferences on the basis of their social media accounts and translate all this into future sales.
Just fancy it, you have already bought a dress or a jacket from Burberry online. Once you enter their shop, you are immediately offered a handbag or shoes that will match your dress or jacket. This is how digital information works to meet and anticipate customers' needs on the one hand, and increase sales on the other.
Key takeaway
At the end of the day, all the above examples of how companies apply innovations testify to the fact that Big Data has a powerful potential to help you predict consumer needs, attain bigger sales, lower management risks, outgo competitors, retain clientele and reduce the costs. As demand for optimizing operational efficiencies increases, the need for robust full-fledged solutions that can leverage Big Data will become even more urgent. So will the role of tech professionals able to put them into practice.
ByteAnt prides itself on implementing actionable cost-efficient innovations for all types of businesses. Feel free to contact us, should you feel like getting Big Data solutions adopted for your brand.