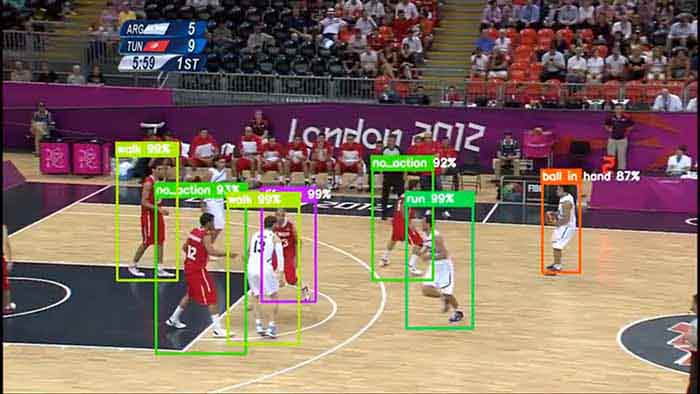 In modern business it is necessary to solve tasks fast and accurately with less spending and human involvement, and this is where computer vision comes in.
According to report by Tractica, the largest growth in Computer Vision industry is come in such domains as sports & entertainment, robotics and healthcare. Technology will increase from $6.6 billion in 2015 to $48.6 billion annually by 2022, at a compound annual growth rate (CAGR) of 32.9%.
Take a look to statistics below to evaluate market: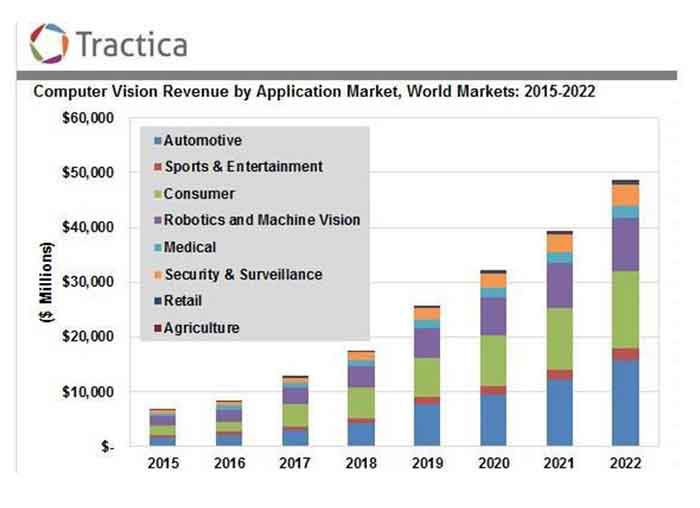 Computer vision is a powerful technology which can turn your camera into an up-to-date data generator, provide you speed of work which can't be compared with human.
In this article, we're going to answer you all questions about CV and how it can be useful in sports industry. We will exactly explain how this technology works and show relevant cases in sports industry.
Table of contents:
What is Computer Vision?
How does it work?
Types of CV models
Use cases in Sports
How to implement solution?
Conclusion
What is Computer Vision technology?
This is one of the fields of deep learning, the main goal of this field is train models with special algorithms to train computer with camera to process visual data, make analytics and sense of this.  
Computer tries to simulate the perception of the visual world as a human. But unlike humans, a computer has the ability to store a huge amount of data and process it quickly, which gives us the unique ability to put many tasks in the hands of the latest technology.
The image below shows how computer vision works in comparison to how humans process visual input.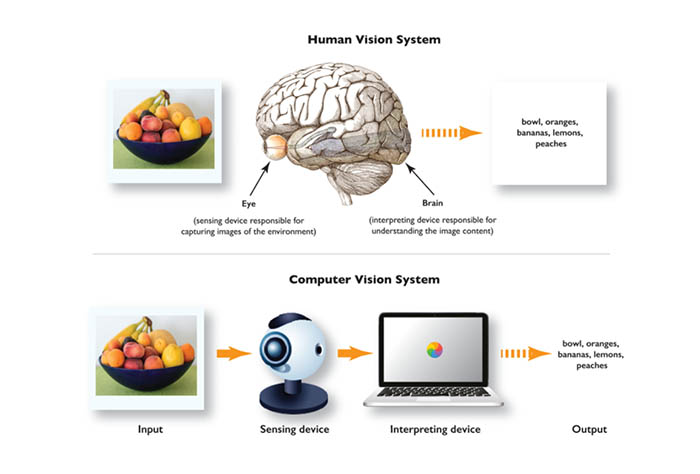 How does Computer Vision work?
The main method is based on special image processing units that accept visual input - it can be a photo or video, after which the model itself begins to work. The model is specially trained, it can predict or return concepts or labels. Perceiving an image at the pixel level with the help of algorithms helps the computer quickly read the "code" of the picture and give it meaning.
Now let's explain in more detail how visual data is processed.
The basic principle is based on algorithms, unlike humans, a computer cannot understand the semantic meaning of an image, but this is replaced by pixels - the numbers that the computer works best with. When a picture is detected, it is presented in an array of pixels, which have basic RGB colours in varying degrees of intensity. We have red, green and blue.
When pixels are combined, they turn into a picture. Now we can safely say that each photo is a matrix.
Below you can see how computer understand images:


How do we train models? Training differs only in the frequent repetition of huge data sets.
As the computer processes this data, it begins to notice similarities - patterns of objects. For example, in order to teach our computer to identify a cat, we have to send it a numerous of photos of a cat. The model will begin to analyse the photo, look for patterns. After that, the interesting part of training the model begins - they show it, for example, a dog, so that the model learns to distinguish classes that are similar to each other.