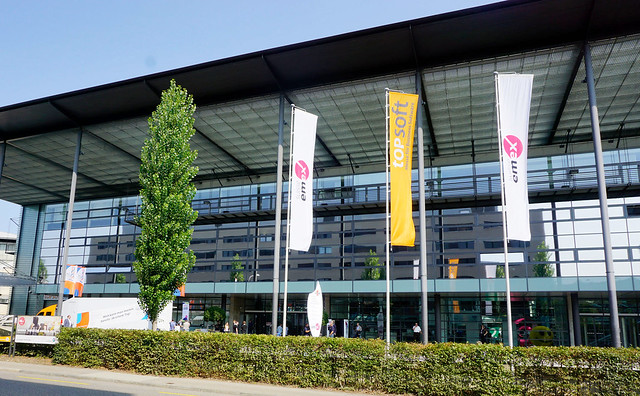 topsoft agenda: main topics to be covered
Our team is very excited to visit the international topsoft, which is set to be held at the Umwelt Arena Schweiz, Spreitenbach, Switzerland on 28-29 August 2019. Specializing in the creation of advanced digital software and innovative solutions for small-and-medium-sized businesses, it is of extreme importance for ByteAnt to collaborate with other companies and experts, share knowledge and new methods in order to create reliable, multifunctional, easy-to-use and competitive software. 
Mainly, the event is going to cover data digitalization trends along with the development of business software (ERP, SCM, CRM, CMS, DMS, PPS and more), IT infrastructure and information security, online marketing and e-business. Relevant trends such as website and mobile application development, cloud solutions for business (SaaS, PaaS, IaaS), the Internet of things and Big Data Analytics are set to be discussed. The main sponsor of this event is Opacc Extended Enterprise Software.
ByteAnt is going to take part in a number of presentations and seminars, learn about new products and trends, and share our insights during the event on workshops. In total, the event is about to host such focus topics as Digital Transformation, Industry 4.0, Internet of Things, Smart Work, E-Business, Digital Future. We are also waiting for insightful discussions on Information Security that are also of vital importance for us, since we aim at making highly safe and reliable software products, and doing our best to make sure it meets all the requirements of our customers. 
We warmly welcome you to visit us at booth #36, where we are planning to showcase our new innovative products and collaborate with other participants and attendees. Our priority is to communicate with various experts and representatives of different companies, as well as meet new customers to build mutual fruitful and long-term collaboration.
Such events are of the utmost importance not only for the IT sector itself, but also for any other market players, such as tire manufacturers, motor-vehicle industry, forestry, just to name a few. When it comes to improving the product quality, functionality and the overall business optimization, businesses should opt for innovative tech solutions that IT companies can provide. One of the most important things here is technology adoption, which you can leverage, improve and adjust according to your individual business needs, as well as to the requirements of your clients and partners. 
Make digitalization work for your business - book free tech consultation with ByteAnt CEO