Custom Time Tracker Development: Why it's Important to Track Work Hours?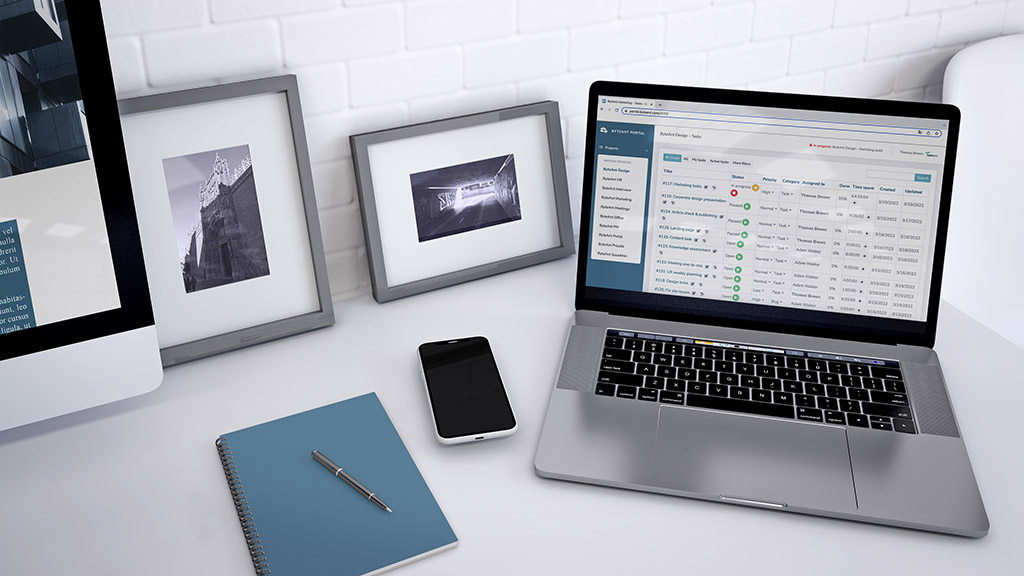 Time is often underestimated in work processes, do you know how much it costs?
A study by America Payroll Association $11 billion annual cost of hour theft and $7.4 billion money lost per day if your employees don't record their working hours. These facts convince that such management systems need not only to be implemented, but also to carefully analyze the output data for better monitoring over expenses. Time costs money.
Table of contents 
Why do you need to track work hours?
SaaS vs Custom
How does it work?
Types of tracking apps
Basic software features 
Which business need custom time tracker?
Our development process
Summary
Why do you need to track work hours?
Benefits you'll feel already in the first weeks:
Enhancing staff productivity. Software allows you to get detailed statistics and reports of your team's working and weekend hours. From statistics, you can find out that only a quarter of the job time spend on really essential tasks. Your team will feel more responsible for project management as they'll see immediate reports on their performance and management. Using reports, you can analyze and help your employees improve.


Saving money. If your employees misuse their working hours by constantly being distracted or doing other things like checking social media, it will cost money. Handling software for hours tracking in your company can identify underperforming projects and tasks that don't bring as much profit as they waste. This will help you focus on the really important tasks and avoid wasting efforts on unprofitable project.
 
Accurate work hours. Preparing payrolls is a difficult and its get even harder if you don't have accurate billable hours. You'll forget about manual payroll management as you start using reports. Software will simplify your control over weekends and holidays, you can watch all working and weekend days in one place.


Project management. Output data will lightly show you how long it takes your team to get tasks done. Based on this information, your project manager can correctly set estimates individually for each employee. Good past data about the productivity and success of an employee can improve the ability to set estimates for tasks and projects, and will help you gain credibility on estimates you provide to management and prospective customers.
SaaS vs Custom 
Let's compare custom tracker and SaaS. We'll tell you about the advantages of each of them.
Advantages of SaaS:
Little cost. You pay monthly or yearly for a subscription and can pause it at any moment. The cost is from $7 per user, with an average of $240-$2,300 per year.
App access immediately. You pay for a subscription and promptly can use application.
Lack of operational management. You don't need to install the application, it will not take up space on your local hardware. You will not deal with traditional licensing issues and constantly update the application.
Data is stored in cloud. You'll always have access to your data, everything that you need - to be connected to Internet.
Advantages of Custom:
Speed. Your application will run faster as the data is processed on the side of your servers.
Security and protection. Your software are 100% under your control, which guarantees complete data protection. In the case of SaaS, you may lose access to application records simple by unsubscribing, or your vendor may decide to stop supporting application.
Customization. You can choose any options and features that your application requires, from the user interface to internal logic. We always feel that something is missing of existing features is not enough, when using SaaS products. With custom development, you can realize all your ideas.
It's extensible. When your company expands, so do your applications. SaaS products often have limits on the number of users or limitations on functionality. In custom development, all you need is to ask your development team to update application with the necessary features.
Developers support. If you have problems with the applications, you can always ask for help from your development team, who know all the nuances of the product and your business. You don't have to wait long for a response from the company support, as in the case with SaaS.
How does it work?
Usually all they do in the same way, the user needs to register and get access to all or some of the system's features, it depends on the access rights.
To access you need to register or receive an invitation. In most applications, there are different access rights or so-called roles, which significantly increases the efficiency of management.
Create project or task
Every time tracking system has different functional set, we are presenting you our ready solution custom time tracker Portal.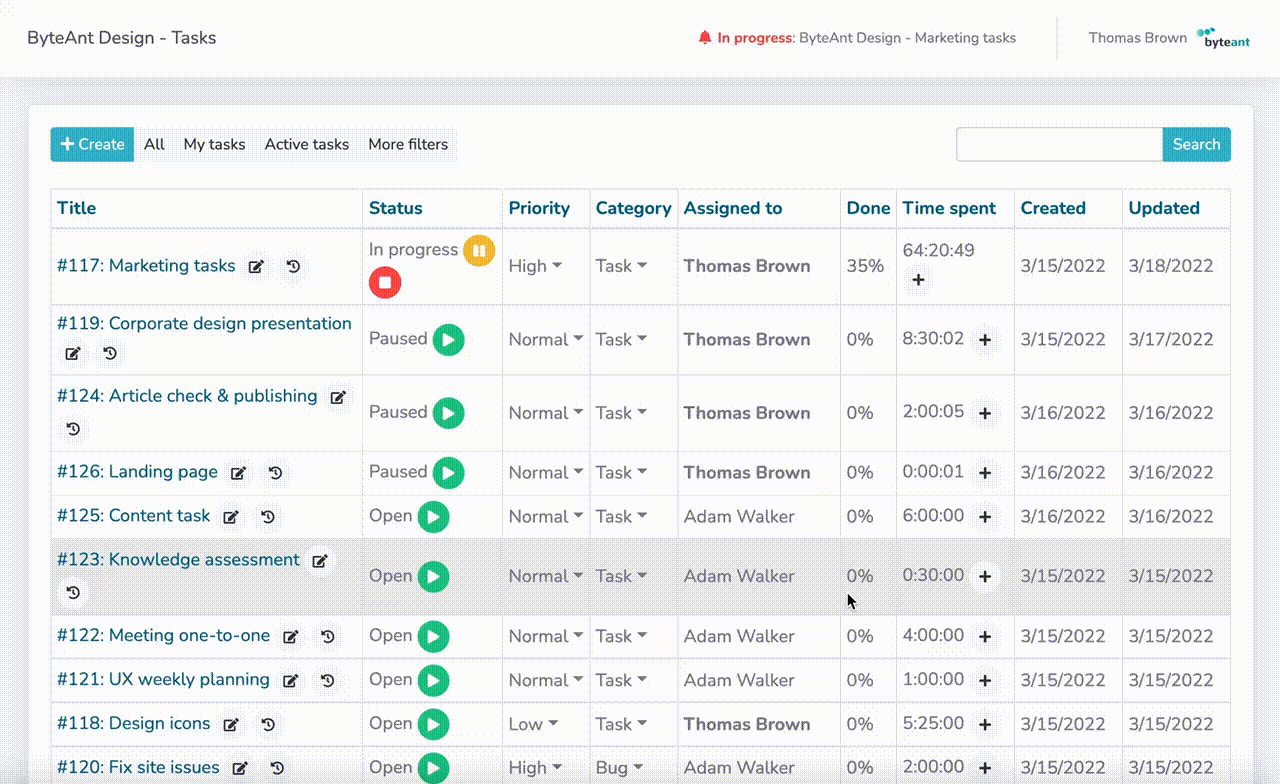 Turn on the timer and start tracking time, or you can add time manually
Application started collecting data.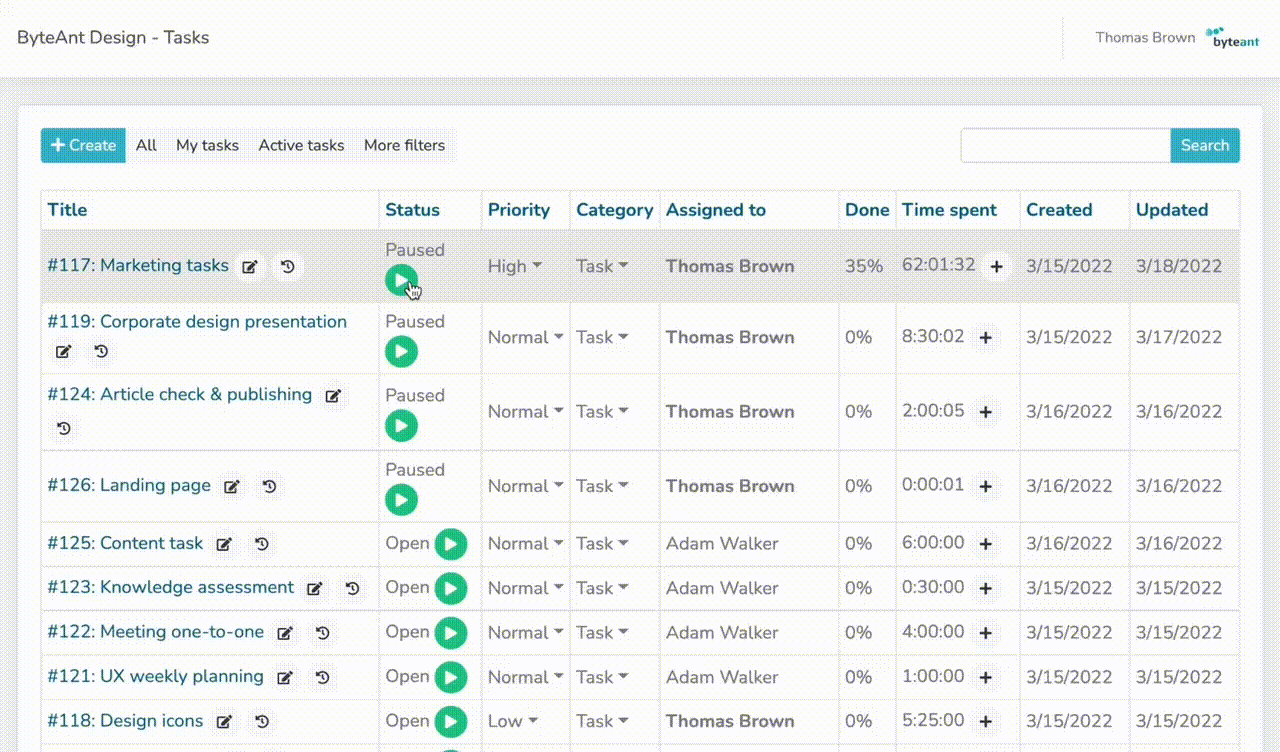 Review reports
Analyze your employee productivity with in-depth dashboards, monitor vacation stats, and export data in convenient format - CSV, Excel, PDF.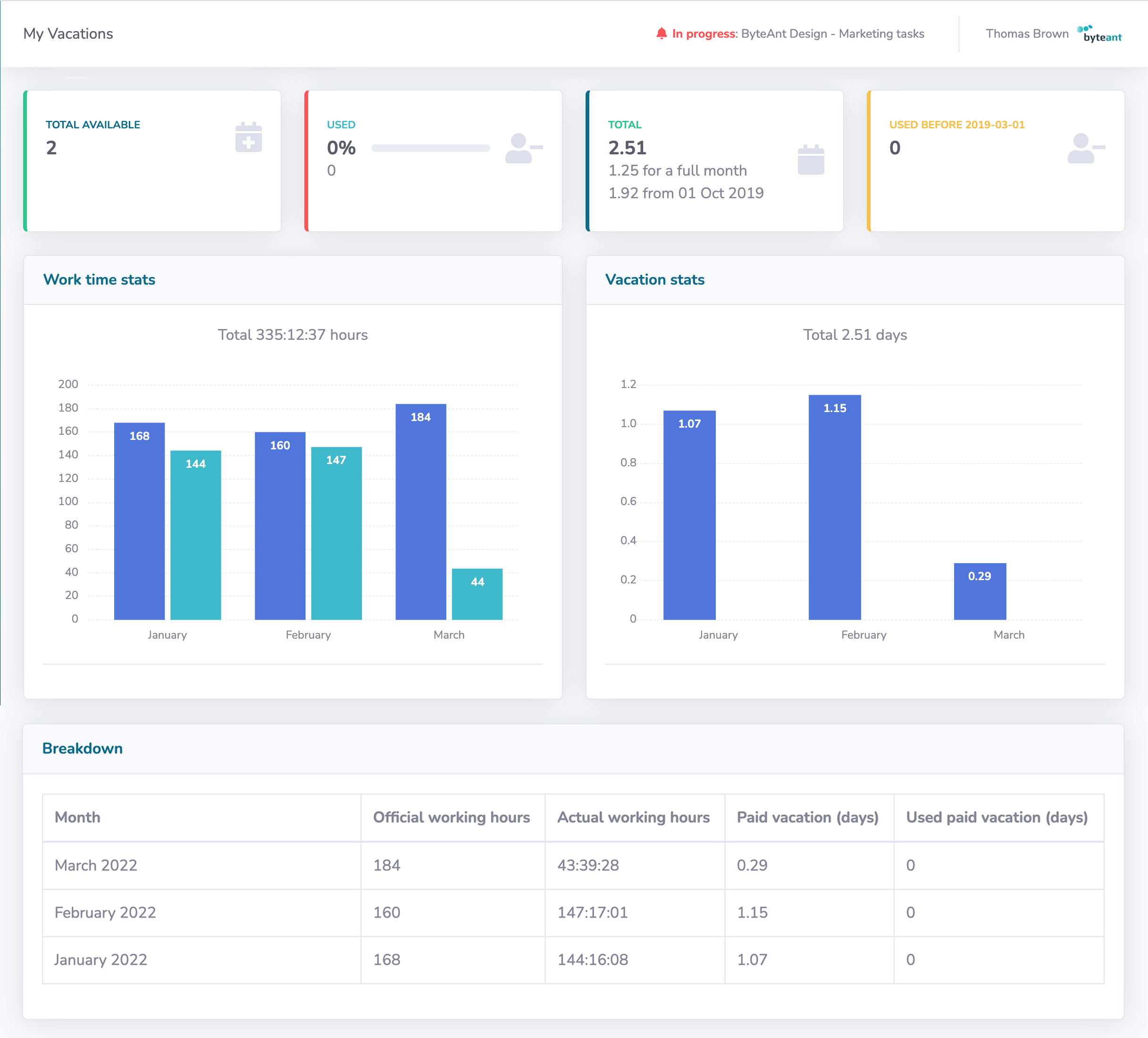 Types of time tracking software
There are several types of tracking systems, so you can choose depending on your business requirements:

1) Automated.You don't need to manage the timer every working day, it starts tracking your time by itself. Your working hours are recorded automatically by two ways - artificial intelligence (AI) for recognizing tasks or by using particular operating system.
2) Timesheet software. Replaces excel or paper documentation.
3) Recording software.The software offers to distract working hours using a timer. The working mechanism is very simple – you need to confirm the start of day in your application and also do it at the end of the work day.
4) Time keeping software.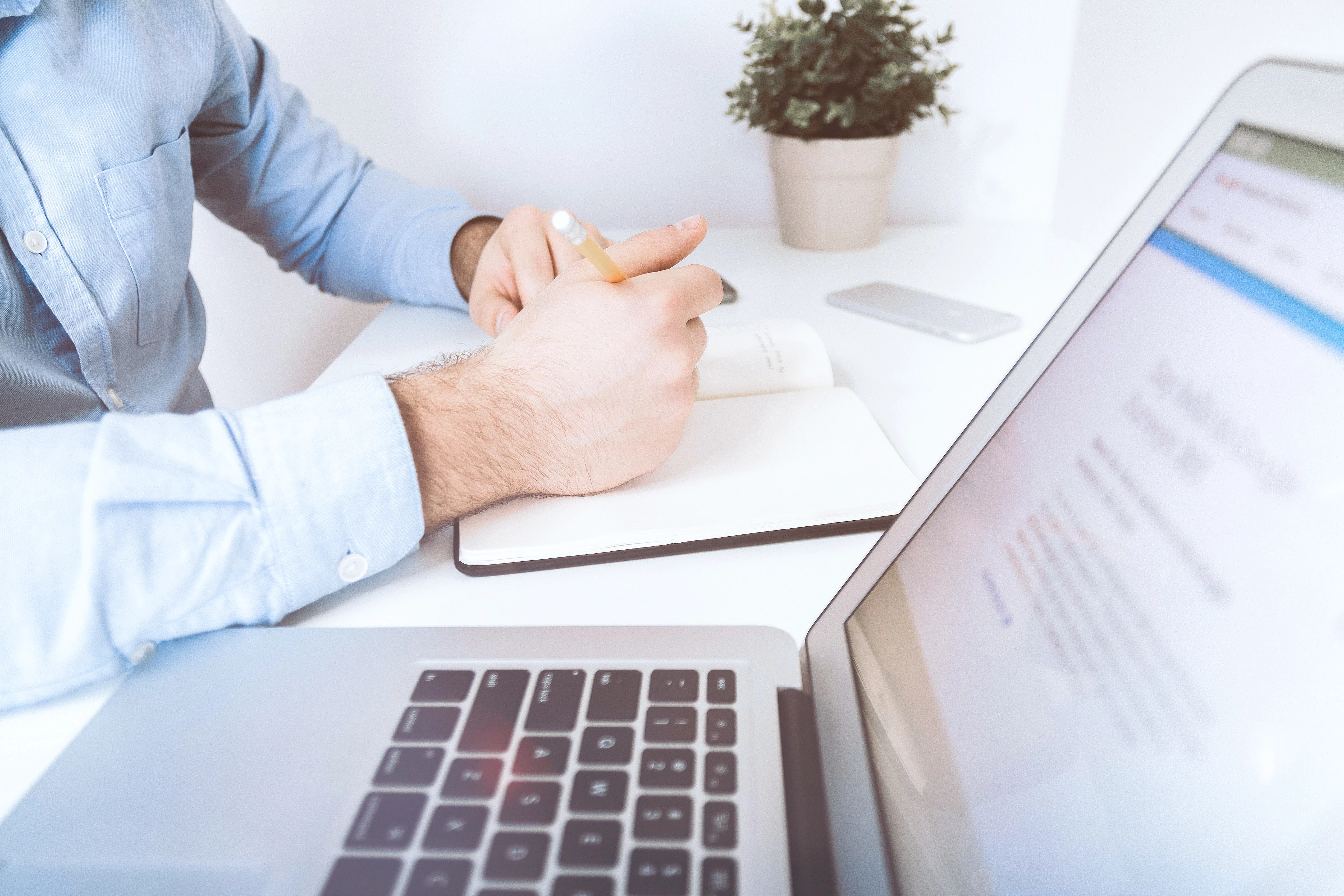 Basic software features 
Timesheets
The sheets include schedule hours, weekends and holidays. You can download them in a convenient format.
Time tracking
As we mentioned above, there are different ways to track time. Basically, they can be divided into manual and automatic.
Project management features
There is created various of functionality - teams, projects, assigning roles and estimates.
Automated invoicing
Many time keeping software have automatic invoicing, which allows you to avoid unnecessary calculations and significantly speeds up the preparation of payrolls.
Managing users 
The advantage in the distribution of roles is incredibly helpful in project management and reporting to clients or top management. For example, Portal this types of levels:
User roles - admin, project manager, user.
Cooperation roles – employee, contractor, client (can view only project reports).

Notices
The system can send different types of notifications, for example, to remind you that it's time for lunch or that a deadline is approaching.
Reporting and analytics
Dashboards visualize all the information that the software has collected. Modern tracking software always have this feature and provide data in different forms - graphs, dashboards, charts.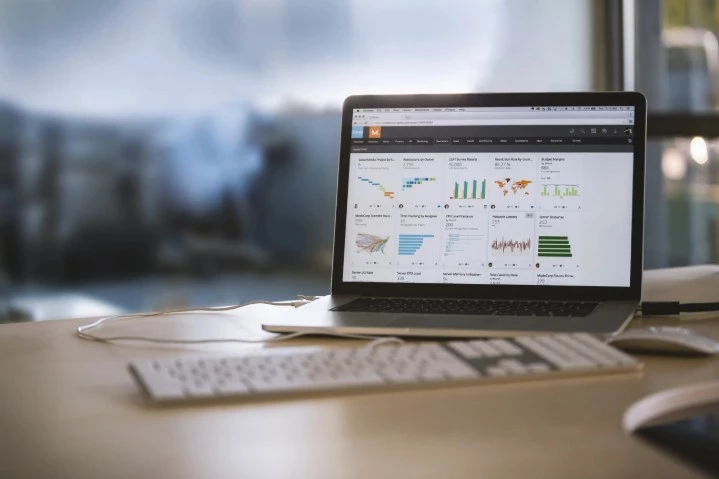 Which business needs custom?
Industry & size
For a small business, a few basic features are enough, but for an ever-expanding business, more requirements need to be covered.
Specific industries such will require additional features. For example, tracking employees by geolocation, the ability to photograph construction sites, or using artificial intelligence and machine learning models to automatically start tracking by detecting employee.
Business plans to expand & needs more security
Controlling an expanding business is always harder. Large companies require new solutions to save time and more investment in management. New departments, more employees means more storage space. By choosing custom development, you can be sure that your data is protected and you always have access to it.
Your application features is not enough
Do you feel that the existing features in your application are not enough? Custom development can satisfy all of your ideas.

You are not in hurry 
Custom software development is not a quick deal. We already have a ready solution with basic functionality, which will significantly speed up the development of your custom application. Based on it, we will further develop time tracker individually for your business.
Summary 
If you are still in doubt about whether to implement a time tracker in your business, take a look at the time usage statistics below.

You can use the outgoing data from your time tracker in different ways - to see the successes and failures of everyone, effectively unite teams and correctly set estimates.
By implementing a time tracker in your business, you'll get a significant improvement in teamwork and save money.
At ByteAnt, we've been providing mobile & web development services since 2006. We can help you implement and build custom, scalable and reliable time tracker specific to your case using Portal time tracker - our ready solution that will cover all of your business requirements in time management and allow you to effectively track and analyze the productivity of your employees, contact us to implement Portal Time Tracker in your business.