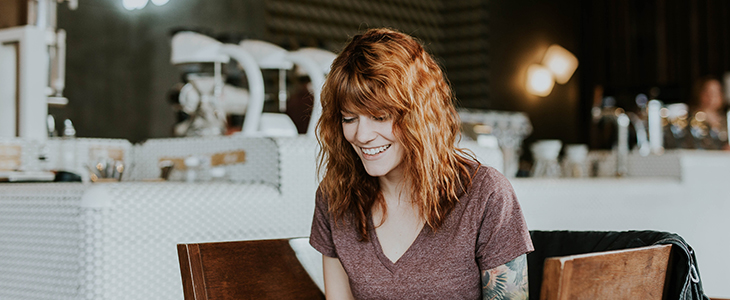 Overview
Modern web-based technologies empower small and midsize businesses with the opportunity to optimize their external and internal strategies. Unlike large companies, smaller companies, as well as nascent startups, cannot afford a huge IT budget. Luckily, there is an alternative to purchasing a cloud software that can be easily maintained, upgraded and debugged, thus suiting the objectives of a budding company the best way.
Cloud services, and SaaS (Software-as-a-Service) in particular, can be the optimal solution to take up challenges of the present day market. According to Gartner, Software-as-a-Service remains the biggest sector of the cloud market and its revenue is forecast to go up to 17.8% constituting $85.1 billion in 2019. The adoption of cloud computing practices has proved to be one of the most advantageous options for enterprises striving to remain competitive. This accounts for the amount of worldwide spending on SaaS that is going to reach $170 billion in 2019.
Why Is Cloud Technology Still Gaining Pace?
An increasing number of small-to-medium companies keep moving to the cloud-based services to maximize their productivity and win new customers. Providing that they apply the right solution, they may avoid excessive costs and achieve better data safety. SaaS is obviously the best choice for the business to experience considerable growth at a faster rate as developers are able to support the users just with a single product version. IT professionals and experts state that 58% of enterprises believe that 80% of the business apps will run on SaaS.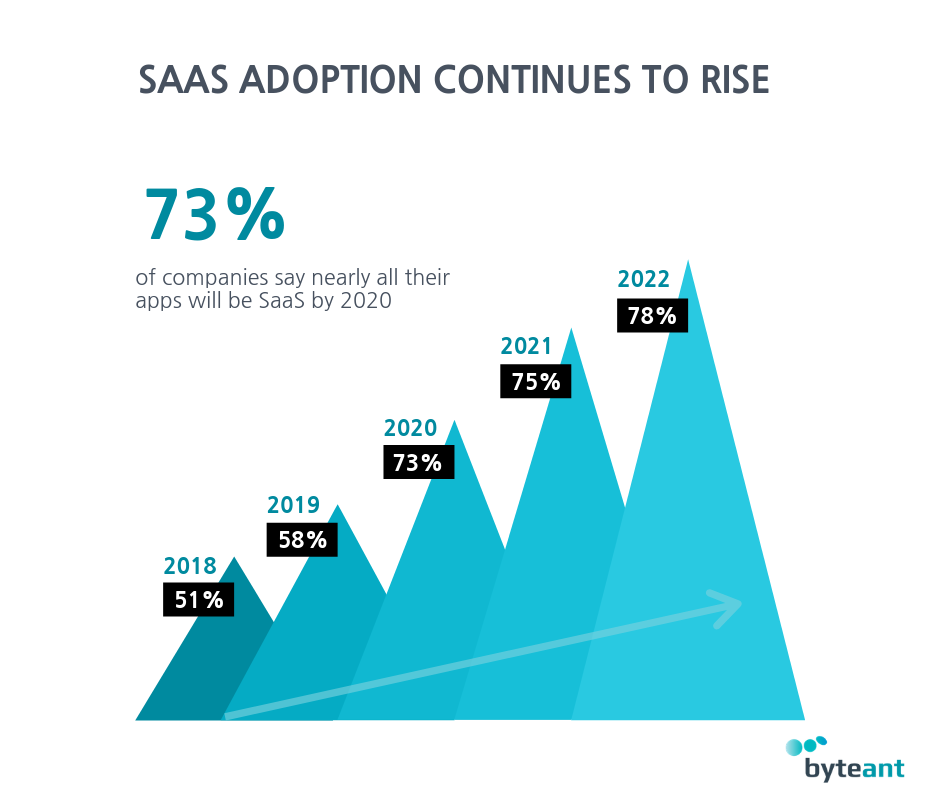 So, let's take a closer look at the potential benefits small and midsized businesses can gain from various SaaS apps.
6 Benefits of SaaS Integration For Small Business
1. Security
To safeguard invaluable business data has always been the main concern for those who opt for storing business data in the cloud. Still, many companies fear that their data kept on the cloud-based platform can be hacked or destructed. It is typical of small enterprises to lose data because of some trivial factors like viruses, human errors or even cyber thefts. To safeguard the entrusted data is the prime task for the SaaS vendor. To ensure the highest level of security SaaS providers keep their servers in different places and of course, make use of automatic backups.
2. Low cost of application
The comparatively small initial investment is the most crucial advantage of SaaS solution enabling the entrepreneurs to reduce expenditures on IT infrastructure and maintenance. What seems most appealing to customers is that SaaS does not require a cosmic upfront payment. You can just go with a monthly or annually paid subscription to have a CRM or ERP system at your disposal.
Such technologies enhance scalability and tailor strategies according to the specific purposes of a fast-growing company. Moreover, you can easily manage on-demand working environments and supervise operational efficiencies of your entire venture. Thus, you can save efforts and money and reduce cost risks.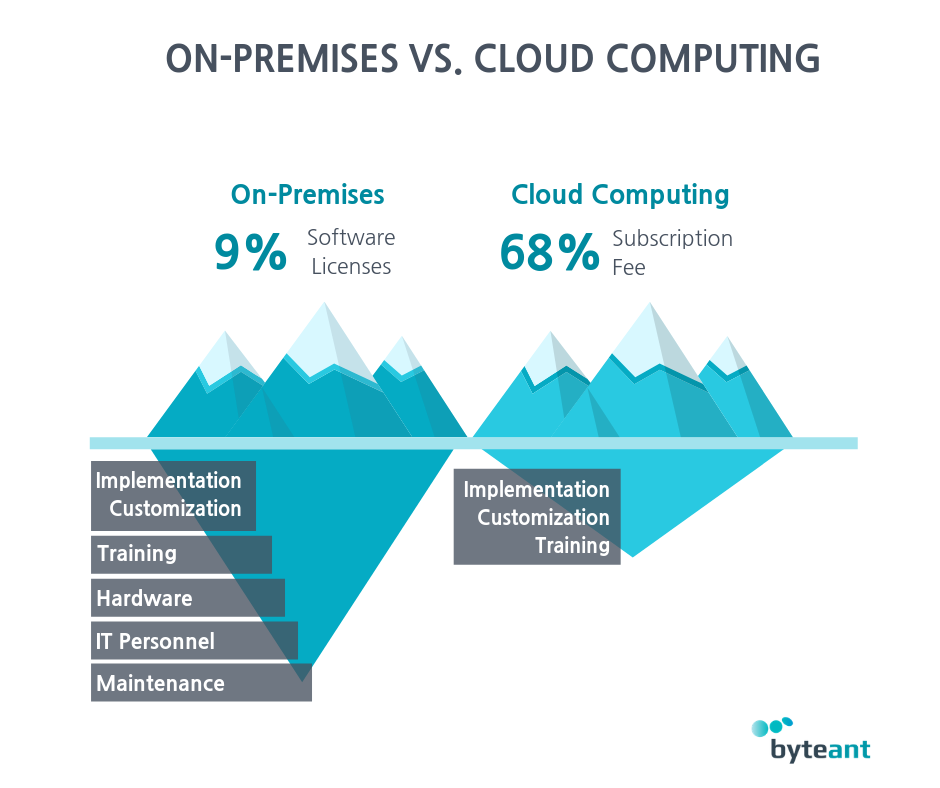 3. Easy Access
With SaaS apps, it is possible to access data from any corner of the world via any device. To do so, only two things are required: a stable internet connection and a web browser. Since SaaS solutions are operated in the cloud, they transmit verified and consistent information directly to entrepreneurs, their customers, and partners.
Implementing these technologies, you benefit from newly released upgrades. All this gives you a profound insight into the whole business process so it is quite real to solve the problems even before they arise. Organizations can easily integrate SaaS software with their current systems and platforms as cloud-based solutions do not require additional software or server.
4. Scalability
Flexibility and scalability are the key issues on your way to success and SaaS can easily foster them. As soon as you need to make some changes in your business, SaaS solutions will help you do this through an efficient delivery model. Thanks to the great elasticity of cloud architecture, SaaS solutions can bring promising opportunities in terms of user experience improvement and maximization of business capacities.
What is more important, the SaaS business model has robust analytical tools to estimate the company's product supplies and requirements in advance. This enables businesses to deliver both individualized and auto-scaling services and products to their end-users.
5. Higher productivity
SaaS model can be very productive for both back- and front-office as it helps them generate, develop and outline the product advancement. The technology allows users to preserve data eliminating any possibility of losing it. Business strategies depend on the information presented by the IT team. Given this, the seamless collaboration between IT professionals and company executives is crucial for getting the whole picture of the business.
SaaS applications are of an enormous advantage as they deploy the deliverables rather quick and require neither infrastructure management nor maintenance. In case some problems or questions emerge, a customer can address the FAQ section of the provider's website for immediate help.
6. Vendor accountability
If something goes wrong with software, SaaS providers may suffer from significant customer churn. So, SaaS vendors are financially motivated to supply you with the most efficient and reliable solutions that ensure your surefire success as well as consistency. Their revenues depend on how well their customers are satisfied with the performance of applications. This said, working in compliance with clients' expectations is the core priority for professional SaaS developers. So, if you made the right choice, you do not have to fully rely on your in-house IT team to put an application in action as your SaaS partner will do the rest: run it at its location and hold the responsibility for your data safety.
With all these benefits considered, SaaS is a great tool as it empowers small-to-medium businesses to utilize resource-intensive solutions regardless of the current system and on-premise capabilities. Moreover, your remote teams can easily collaborate in real-time staying in different geographical locations.
ByteAnt is ready to provide you with a full scope of actionable end-to-end SaaS solutions to maximize your profit margins. All you can do is to drop us a line telling about your project needs.