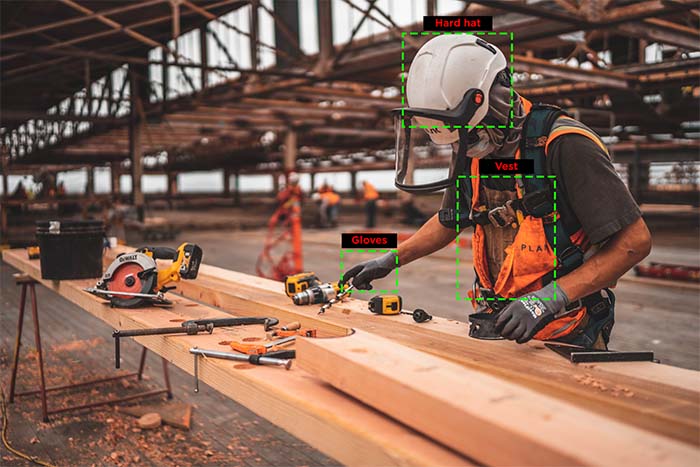 In an ever-changing world where technology is making its way into absolutely every area, it is impossible to ignore the technological trends in real estate.
One of the most popular trends in the modern world artificial intelligence has been used in the field of real estate for a long time and there are a lot of cases from smart consultants to predicting market trends.
In this article we'd like to cover a more focused area of AI in real estate - Computer Vision which is changing entire industries, and it couldn't bypass the real estate construction industry.
You'll get acquainted with main safety challenges faced in the construction industry and how the latest Computer Vision technology can improve employees' safety, reduce risks, save money and time.
This technology works from detecting the smallest bacteria to large construction sites or warehouses. The possibilities of Computer Vision models are really hard to overestimate. Computer Vision is able to completely replace the human system of perception of the visual world, it is a camera with a computer that can identify, recognise and classify objects, if it is first taught to do so.
Cameras already exist in most modern workplaces. Hundreds of photos and videos are processed daily, which can later be converted into a valuable data set, and if used it properly, you can greatly simplify and automate routine things like the safety of construction workers or quality control.
Table of contents:
Construction workplace safety issues
How Computer Vision can solve workplace safety challenges
Computer Vision models 
How to implement CV in your business
Bonus-tips: 7 simple rules for your employee's safety
Conclusion
Construction safety issues
The construction industry has the highest mortality rate, twice the average for the entire sector. Minor accidents happen every day, simply put, the construction industry is recognised as the most dangerous to human life.
There are many unsafe places on construction sites, and some dangers can be completely hidden.
Surprisingly, workers become less sensitive to warnings over time. Many construction companies share the view that workers actually underestimate their chances of injury, take risks on a daily basis and think they are lucky.
When an employee thinks the least about risk, the more likely it is that an accident will occur.
Here are some statistics from the United States in 2021 so that you can evaluate the real danger of the construction industry: