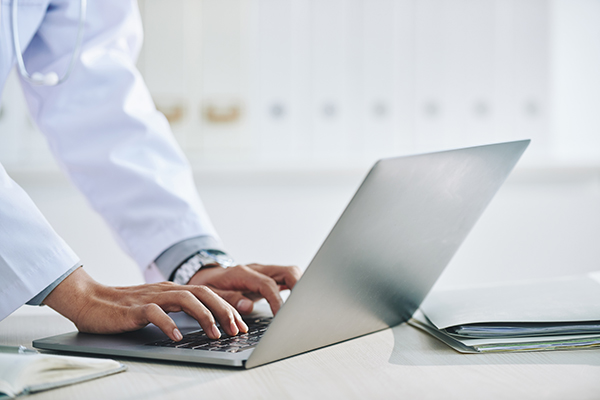 "The first critical best practice when implementing telemedicine technology is to have a clinical leader with long-term vision, one who can rally true support from the broader team."
- Dr. Roy Schoenberg, CEO and co-founder of American Well, a telemedicine technology vendor.
Over the last decade, telemedicine as one of the most promising healthcare tech trends has gained much traction on a global scale. The innovative approach sets a new bar for the healthcare services market as it lends itself perfectly to all the stakeholders, including medical providers, physicians and patients. More prominent is the fact that telehealth initiatives are largely approved at the legislative level, since most of the US states have already passed the respective laws.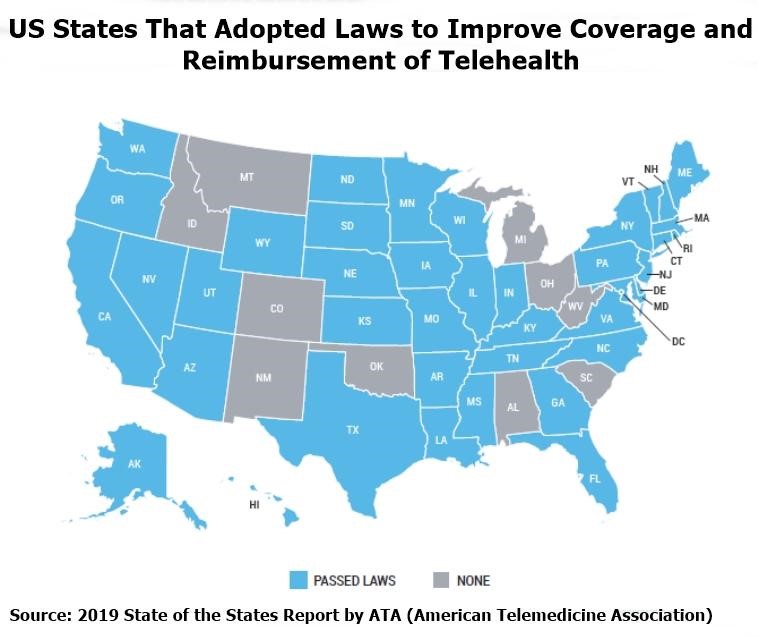 According to the report presented by the American Hospital Association, healthcare services are heading in the right direction as they strive to get rid of a timeworn hub-and-spoke model. In promising figures revealed by the organization, the most noteworthy are:
59% of US adults have one or more chronic conditions
54% of US consumers are willing to have nonurgent care online
76% of patients think accessibility to online healthcare services is more important than in-person communication
70% of patients prefer interaction with their healthcare providers via emails, two-way video streams, etc.
74% of large-scale companies offer health plans that cover telemedicine
Both US physicians (56%) and patients (54%) think smartphones to become the key touchpoint in their interaction for the next decade 
Telemedicine vs Telehealth: What's the difference?
So, what is telemedicine you may wonder? Simply put, this is an innovative way of interaction between physicians and their patients leveraging the benefits of tech-enabled innovations, like AI, IoT, Big Data and other digital transformation solutions. 
Another term, often used interchangeably, is telehealth. However, the latter usually includes not only clinical services, but also embraces remote healthcare education and training initiatives. So, depending on the source, you can come across both of them used in the same context.
Four modalities of telemedicine
No matter the name, telemedicine comprises four main ways of how it expands its footprint across a healthcare system:
Remote Patient Monitoring (RPM). Telemedicine software and practices for collecting and transmitting all the clinical data to healthcare providers that help them keep track of patient conditions, when patients are at home or another healthcare institution.
Store-and-Forward. Prerecording and storing of patient's data to be further used, in case a given healthcare provider is not available or third-party/different country treatment is required.
Real-time interaction. As the name implies, this is a live stream of data in the form of Skype calls, video conferences, etc. between a patient and their healthcare providers. It comes in handy especially when some kind of diagnostic or consulting services at a distance are badly needed.
mHealth. It encompasses the usage of emerging technologies to create a new virtual health space for both patients and telemedicine providers. mHealth taps into utilizing IoT solutions for healthcare, like environmental sensors, wearable devices, telemedicine website and mobile apps for tracking and measuring patients' health and wellbeing conditions. 
6 pros and cons of telehealth medicine
Getting healthcare services much closer to a patient and providing a convenient, personalized approach are the key drivers of today's health system strategies. This is where Telemedicine jumps into play helping solve both of these initiatives.
In detail, the pros of adopting telehealth are numerous and can be boiled down to the following:
Easy access. Usually, people don't have much time on visiting doctors, except for critical acute symptoms. They prefer using telemedicine software instead to easily contact their physicians and benefit from online diagnosis and prescription.
Proactive attitude. You must admit that using customizable desktop or mobile apps to keep track of your health and wellbeing or 'visit' a healthcare provider stimulates your self-awareness. It means, patients become more concerned about their health, and with instant experts' feedback they can significantly improve their health condition. 
Location-agnostic treatment. No matter how far a patient is from leading medical centers – be it a distant, rural area or even a different country – they always can get relevant online healthcare services if their case is beyond local specialists' competence.
The cons of telemedicine are fewer in number, still, there are some you should be aware of:
Tech or software shortcomings. While using some legacy software solutions dovetailed with behind-the-times hardware is what that keeps telemedicine services from widespread adoptions nowadays. To change things for the better, it is healthcare providers who need to do a complete system overhaul to reach their patients in a more efficient way.
Physical exam constraints. It's next to impossible for a physician to conduct a thorough examination at a distance. Fortunately, new IoT-driven devices that start appearing on the healthcare horizon these days can provide a medical specialist with more and more insights on a patient's health and wellbeing.
Medical data loss or inconsistency. While contacting various healthcare providers throughout their life, patients may have a hard time keeping their historical health information. However, today this is hardly the case as cloud-based software solutions help store and share all the clinical data between a patient and respective healthcare providers.
Telemedicine software: How to choose the one that fits you
3 types of telemedicine software
According to the above-mentioned types or modalities of telehealth, the scope of healthcare software is quite broad ranging from outdated to most innovative solutions. Top telemedicine companies do their best to equip physicians and patients with decent software solutions, though the number of their useful features and application areas may vary. 
The main types of telemedicine software are:
Hospital-based. These are usually standard software products, like ERP or CRM assisting medical specialists in their everyday routine.
Doctor-focused. Some desktop programs that help physicians organize their workflow, arrange business meetings, and synchronize personal contacts and patients' data, such as EMR (electronic medical records).
Patient-oriented. The most advantageous kind of healthcare software that is patient-centered and designed so to enhance and streamline the interaction between patients and healthcare providers.
Opting for the right telemedicine software solution
With many out-of-the-box software products for health care on today's market, you are free to pick the one that suits your needs the best. To avoid getting lost in the wilderness of multiple offers, there are some things you should do beforehand:
Set up your business goals. In other words, you have to make it crystal clear for yourself and your top management staff what are the reasons of buying healthcare software for the organization. 
Explore the market. Do your own research to perfectly know what products are available to choose from. 
Claim demo versions. While reaching out to potential software vendors, try to check the functionality of their product before you fork over a pretty sum on it. Demo versions will surely help here evaluate the performance of software and how it stacks up against competitors.
Most popular telemedicine software
With your own business needs in mind, let's take a look at some of trendy software solutions for healthcare providers on today's radar.
Price. $35/month for individual Professional plan
A well-known web-based telehealth software system. It brags about an intuitive interface and is very easy to get integrated with your operational efficiencies. One of the advantages of the solutions is that it is fully compliant with HIPAA (The Health Insurance Portability and Accountability Act) requirements.
Price. A quote-based plan
An innovative step in modern telemedicine, allowing physicians to evaluate, diagnose and treat their patients on the go using existing data assets. It smoothly integrates with your current IMS (information management system) to enable healthcare providers with invaluable and accurate insights on patients' conditions. On the other hand, the solution provides patients with improved experience that stimulates their engagement and loyalty.
Price. A quote-based plan
A tried-and-true software that has proven its effectiveness since 1993. The product boasts an eye-pleasing UI design, and is geared so to be extremely easy to navigate for most non-tech-savvy patients and, truth be told, physicians. Some of the most noteworthy features are billing, charting, ePrescription and scheduling.
Price. A quote-based plan
Efficient cloud-based software for healthcare providers that allows its users to streamline clinical as well as financial activities. The system enables seamless management of EHRs (electronic health records) and easily handles medical billing and scheduling tasks. This telemedicine product contributes greatly to enhancing patient engagement, improving efficiency and helping drive revenues.
Price. $150/ month per provider
A powerful telemedicine software solution with feature-rich functionality. It enables healthcare providers to optimize the following activities: ePrescribing, appointment reminders and scheduling, video conferencing, and patient line management. Moreover, the software is of utmost use for patients, which intuitive interface helps users on how to get a prescription without a doctor. 
All in all, current telemedicine software systems, both web- and cloud-based are of much traction among all the stakeholders. And healthcare providers can benefit from robust telehealth software adoption above all others. The competitive advantages they get are undeniable: cost-efficiency, improved real-time patient care, proactive outreach initiatives, reduced readmission rates and many others.
Here at ByteAnt, we have a proven track of records of integrating and customizing telemedicine software with your business platform. Feel free to contact us, should you need a helping hand.