If you start thinking of how to make a fitness app, there are two main variants you should know. The first option is to build a fitness mobile application on your own. The other variant is to let a reliable IT service provider create an app for you. Just bear in mind that your outsourcing software provider should have a proven track record of successful mobile app development.
To guide your business growth, the benefits and drawbacks of the two variants above boil down to the following:
Pros and cons of creating your own fitness app


Before opting for a self-driven app development project, you should realize all the risks it may involve. Firstly, turn an unbiased critical eye on your in-house software development team to ensure they meet the high proficiency level required to build robust mobile applications.
If not, the entire software development process will be a nightmare in terms of deployment delays, clumsy UI/UX design, poor app performance, and project cost overruns. Eventually, it can result in customer dissatisfaction with the app and jeopardize your business.
Fortunately, this option has a silver lining as well. You can create your fitness app with the help of one of the ready-made software suites, namely mobile app builders, available on today's market. Such no-code app makers usually enjoy an easy learning curve and are suited for non-tech users.
With this, however, the vast majority of these out-of-the-box software solutions fail to meet any business-specific needs. While being a relatively good bargain for boilerplate projects, they are no match for complex feature-rich app development challenges.
Pros and cons of getting your fitness app developed


As mentioned above, the only risk factor of outsourcing your fitness app creation is to find a decent IT service provider with extensive expertise in mobile app development. Once you make sure of their credibility and read through the detailed case studies, you can initiate further collaboration. You can freely discuss how to make a fitness tracker app from scratch, scrutinize all the details, and agree on your project budget.


While partnering with an external software dev team, you usually retain full control of your fitness app project. Setting the end goals, budgeting, overall project management – all the decision-making activities remain on your side. In the meanwhile, the IT service company takes up responsibility for prototyping, development, and deployment of your fitness application.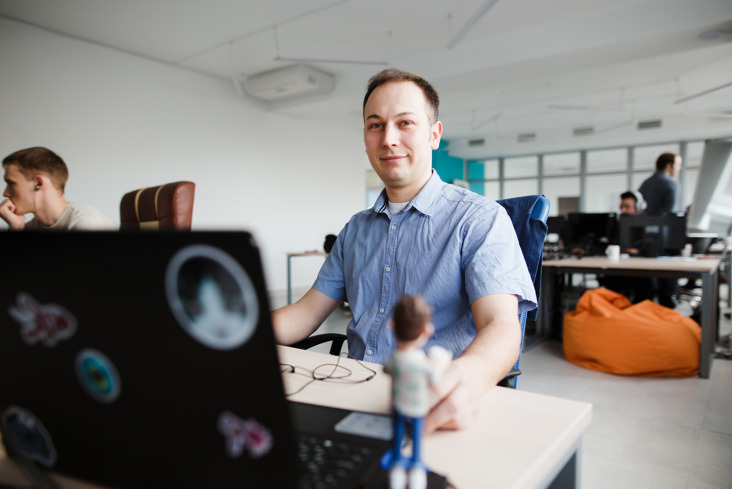 In case of dealing with an experienced software service provider, you are free to choose between various engagement models. For example, you can relay the whole app project to your external IT partner while staying focused on your core business. Or, you can instead augment your in-house team with extra app dev professionals under the team extension model.
Either way, it's totally up to you which option to choose for your fitness app project. Here's just a quick reminder of what you can get along with a step-by-step strategy in both cases.
If you take on a fitness app development project:
Step 1. You ideate and vet various app product ideas
Step 2. Conduct scrupulous market research and competitive analysis
Step 3. Identify end-user needs and expectations with an app
Step 4. Set business goals
Step 5. Define technical requirements for your project
Step 6. Settle on a project budget and deadlines
Step 7. Ensure team staffing and upskilling, if necessary
Step 8. Monitor every stage of the app development flow
Step 9. Hold control of QA testing and MVP release
Step 10. Provide tech app support and customer feedback analysis
If you pass on your app project to seasoned professionals:
1) Clarify what type of fitness app you need
2) Specify all the features of your prospective app
3) Find a robust IT service provider you can rely on
4) Agree on how to build a fitness tracking app from scratch
5) Define budget and time frames for your app project
6) Approve an initial app prototype based on the best BI & UI/UX design practices
7) Give regular feedback on all the SDLC steps
8) Make sure that MVP meets your business expectations
9) Enjoy the post-launch support and updates
10) Reach out to your app development partner in case of getting the source code, scaling up your fitness app, or some new app features are required.