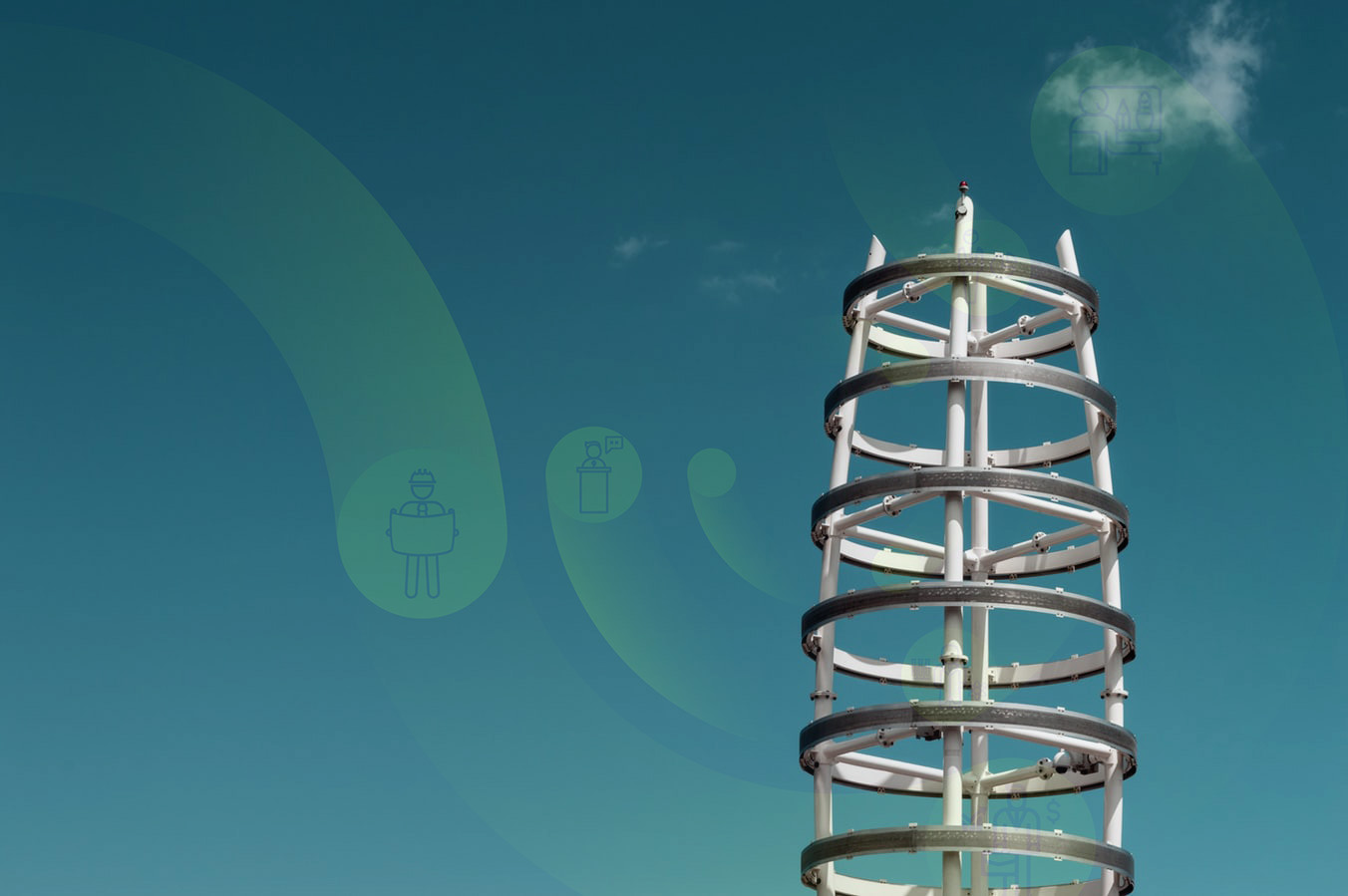 Given the latest advances in technology and the rapid evolving of countless industries forms, it's not that hard to imagine colossal releases of waste and emissions, resulting in global pollution. Not to mention other paint points, like wasteful expenditures and issues related to transportation to landfills or incinerators. We can't either forget we are currently utilizing way more resources than our planet can provide, and it's especially critical, considering the world population is forecast to reach almost 9 billion in 2035.
According to the survey, global waste is expected to grow up to 3.40 billion tons by 2050, which would become a terrible environmental disaster. To overcome these obstacles, we have to completely reshape the producing and usage policies, as well as come up with recycling and reusing the products that we already have. A life-saving recipe lies in the transfer from an original "make-use-dispose" model to an alternative "produce-use-reuse" circular economic system.
It's not just a buzzword; it's about extending the lifetime of products. As the name suggests, it's a closed-loop business model that allows companies to recycle and reuse various products in new ways after their life cycles come to an end. The primary goal here is to reduce waste generation to a minimum and keep it out of landfills and incinerators as long as possible, so the production and use cycles of the tech companies remain as a closed-loop system.
A lot of businesses consume valuable energy for manufacturing new products, which will eventually be sent for disposal, instead of implementing an alternative solution. According to the research, shall industries adopt a circular economy, greenhouse gases would be reduced by 9.3 billion metric tons in 2050.
On the other hand, it's vital to remember, all stakeholders need clear and visible digital data on a product, to be able to transfer to a circular economic model, and to find new customers and partners in that particular sector. That's where a digital circular economy steps in and helps companies to acquire valuable info on a product, as well as ensure the quality and traceability of the data. 
To be more specific, to design sustainable production, companies require the following information on products, resources, components, etc.:
The source
The manufacturing method
Properties
Type of package
Delivery type
Production residues, etc.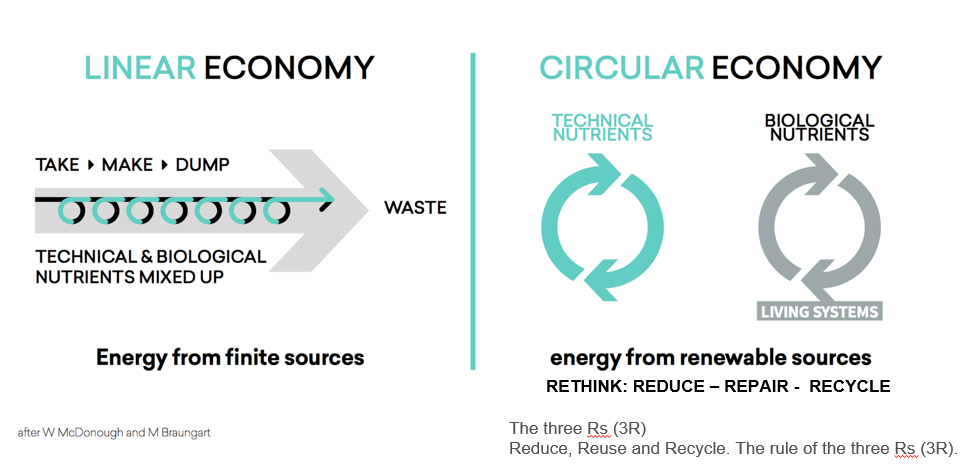 How Circular Economy Empowers Tech Companies
The technology sector is implementing this strategy worldwide, as of multiple highly valued benefits, such as opening new market horizons, reduced exposure to the environment, non-waste production, etc. Such an economic model is especially useful in the B2B market. Let's have a closer look at six different cases to see what significant implementation directions a circular economy can offer to a tech company: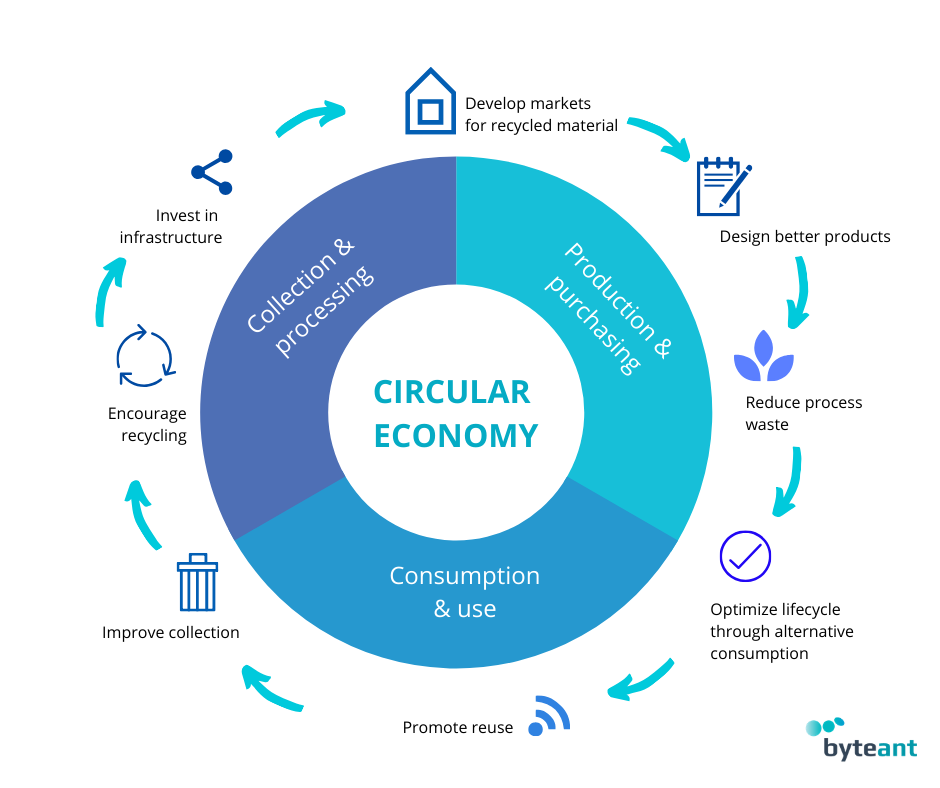 5 Promising Circular Economy Startups
The Circulars have announced the best circular startups of 2019. Here are 5 of the best circular economy examples:
Wrap-up
With all that said, we must preserve our planet, our nature, our home for the greater good, for our children. The ultimate recipe lies within solutions, like a digital circular economy. The entire world has to stick with this strategy to contribute to world-saving. However, companies will need expert help to acquire insights on the products and implement such economic models into their business ecosystems.
We, at ByteAnt, are focused on building state-of-the-art solutions, and always ready to provide you with professional advice, and offer a highly competitive digital solution for your company's needs. In case you have any questions regarding the circular economy, or any tech issues, please feel free to contact us.