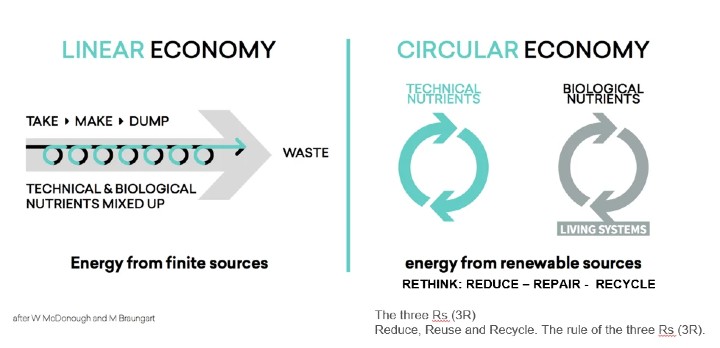 How Circular Economy Empowers Tech Companies
The technology sector is implementing this strategy worldwide, as of multiple highly valued benefits, such as opening new market horizons, reduced exposure to the environment, non-waste production, etc. Such an economic model is especially useful in the B2B market. Let's have a closer look at six different cases to see what significant implementation directions a circular economy can offer to a tech company:
Circular Design. Considering that most companies still have strong ties to the linear "make-use-dispose" economy, the circular strategy in this case is aiming at redesigning everything around, whether that be business models, products, or mindset. As a core of the circular economy, the design is what highlights its key principle – reducing pollution and putting waste to good use.

For example, Philips introduced the new light-as-a-service model, when a client only pays for the lighting service instead of purchasing bulbs by himself. The results are improved maintenance of the items and fast repairs. By using reactive motion sensors and controllers, lights producer could keep the energy consumption to a minimum. 

Since Philips remains the owner of lighting materials, the company fixes them when needed and manages wisely to prolong their use.


Keep in use for longer. To retain sustainability and prolong the life of technical devices for preserving our planet and keeping waste away from landfills, companies have to develop and create long-lasting and easy-to-repair products. It's especially true with household and office equipment.

Another way to extend the lifecycle of your tech equipment is to verify the battery's state, its current capacity, and replace it if needed. Protecting your devices from water, freeing up the storage space by deleting the unnecessary files are small steps you can take to make your gadgets work longer.


Reuse/Redistribute. Re-usage or secondary resale of products can extend their lives, thus clearing space in landfills. It works for a whole product itself, as well as for components. A great example here is globally recognized "second-hand."
Refurbish/Remanufacture. These renewal procedures or restoring processes allow companies to put a product to original condition, restore specific functions, or even modernize the current ones. With remanufacturing processes on board, companies enjoy reduced materials and energy consumption, as well as enhanced profits, compared to the original production.


Recycle. As the most crucial stage of the entire circular economy – recycling is the process of extracting raw materials and components from out-service products for further manufacturing. By avoiding landfills, the materials like papers, plastics, metals, rubber, glass can give life to new products, thus saving energy and money for business, and, most importantly, reducing exposure to the environment.


Rent. Product renting or product-as-a-service can provide both customers and service providers with a business model based on close collaboration. Such a business solution allows us to develop the most efficient products and services, and improve it, according to insightful feedback. A provider has the ownership of a product, while a customer enjoys their usage period, so there is no need to acquire personal products and services. Once a product is out-of-service, it can then be recycled into a new one.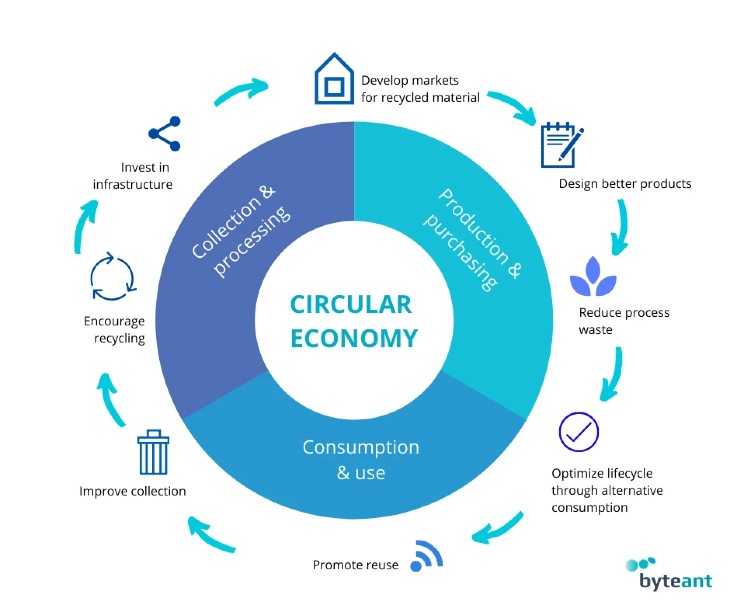 5 Promising Circular Economy Startups
The Circulars have announced the best circular startups of 2019. Here are 5 of the best circular economy examples:
Wrap-up
With all that said, we must preserve our planet, our nature, our home for the greater good, for our children. The ultimate recipe lies within solutions, like a digital circular economy. The entire world has to stick with this strategy to contribute to world-saving. However, companies will need expert help to acquire insights on the products and implement such economic models into their business ecosystems.
We, at ByteAnt, are focused on building state-of-the-art solutions, and always ready to provide you with professional advice, and offer a highly competitive digital solution for your company's needs. In case you have any questions regarding the circular economy, or any tech issues, please feel free to contact us.