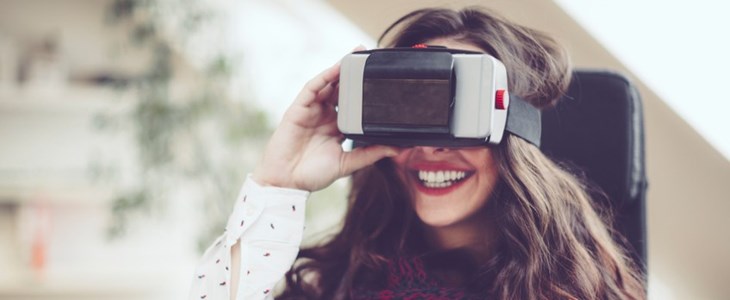 Virtual Reality: The key figures behind
We are lucky to live in the time of digital disruption and global tech innovations. As of 2019, more and more of our business initiatives and everyday actions are getting data-driven as many emerging tech trends take center stage. It's no wonder why XR (Extended Reality) that comprises both Augmented and Virtual Reality solutions has become table stakes for most of the industries.
As AR/VR products and services proliferate, the total spending on commercial and consumer use cases only in Europe is projected to skyrocket from $1 billion in 2017 up to $17 billion in 2022 with a CAGR of 74%, according to International Data Corporation (IDC). The global forecast for XR looks even more impressive, as Statista expects the Augmented and Virtual Reality market to reach $190 billion in 2022.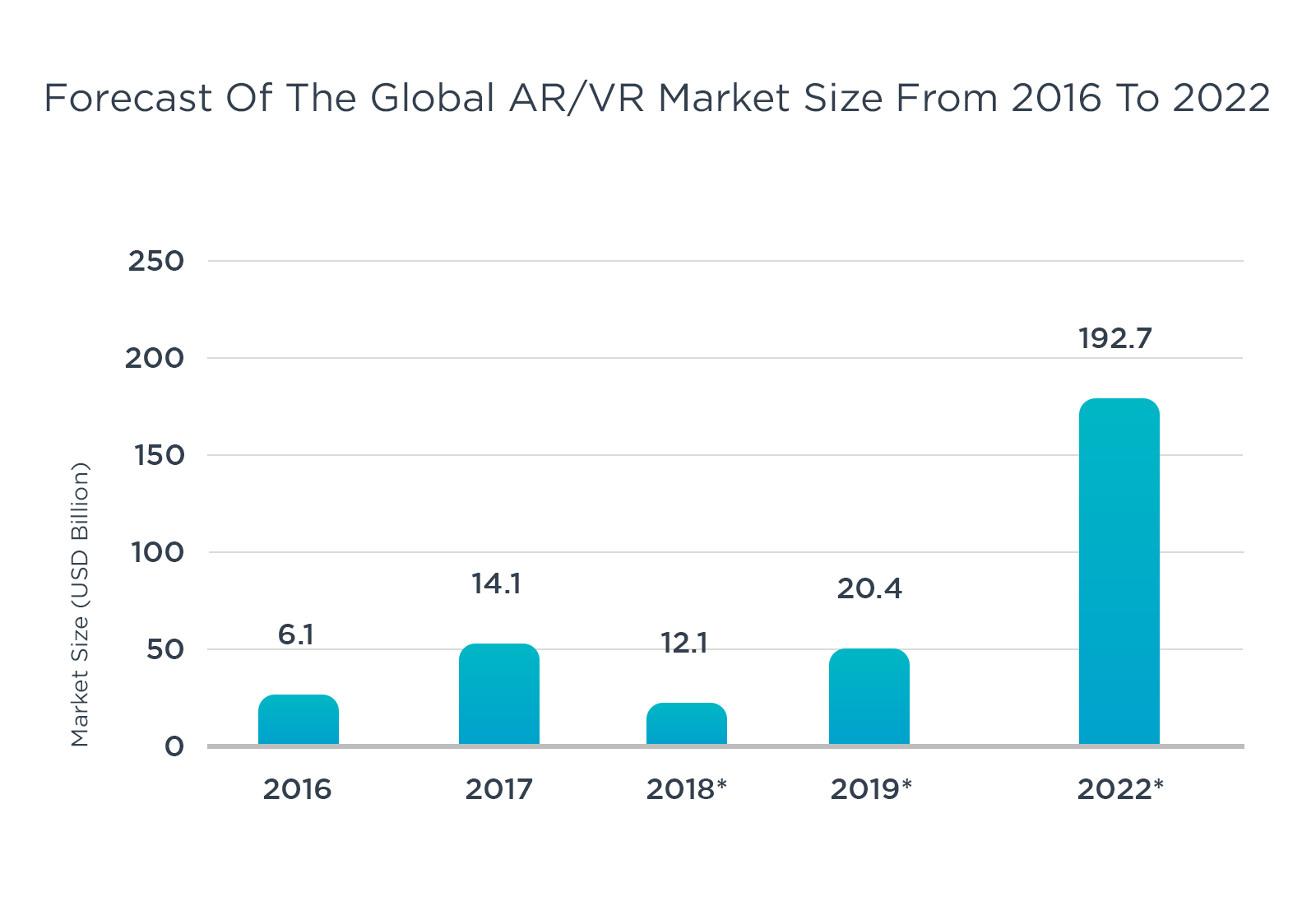 Virtual Reality: Main business sectors of exposure
As devices are now more stable and use cases are maturing, the new challenge for the AR/VR market resides in content production and integration with existing infrastructure.
— Giulia Carosella, a research analyst with IDC
Today, the application area of VR-backed devices and services is quite diverse. For instance, Perkins Coie for its Augmented and Virtual Reality Survey interviewed around 140 C-level executives as for the most promising VR use cases and came up with the stats that follow (more than one option was acceptable):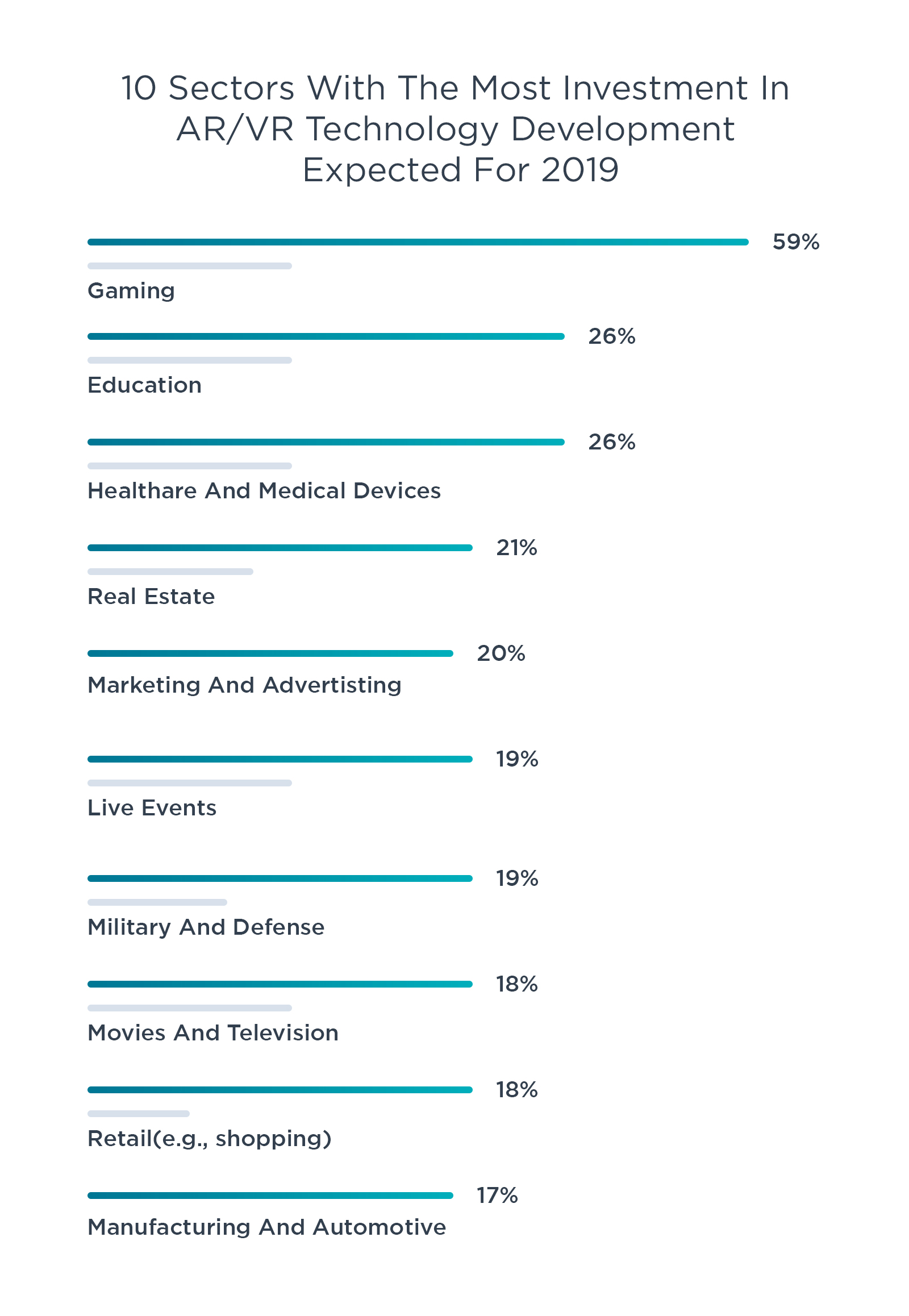 In view of this, there has appeared an urgent business need for robust Virtual Reality software solutions that allow developing viable and highly competitive products. With the video gaming industry still enjoying the leading position, the other commercial sectors keep growing at a remarkable pace to increase their share on the VR market. So, let's take a closer look at most popular VR development software and its types.
Types and Features of Virtual Reality tools
There are four key constituents any VR-led software or a device can provide its users with:
Virtuality. As the name implies, VR creates a 3D environment that allows users to intercommunicate with various on-screen objects via multiple VR devices like displays, glasses, etc. What's more, VR software can replicate body movements as if they were in the real world.
In-depth engagement. This is a unique state of immersion of VR users into an alternate reality, that makes the human mind believe in everything that's on the display of a computer or any other device
Interaction. Seeing how smooth your virtual actions resonate with those of a physical world can provide immense experiences to end-users. And the other way around, stuttering in 3D videos, audio lagging and other glitches can cause the users to disappoint with your VR app.
Sensor stimulation. VR software and hardware can provide a wide range of sensations, including visual, tactile, acoustic, to name just a few. Today, more and more VR devices like touch-screen monitors, 3D headsets, motion trackers and haptic gloves appear on the market to improve user experience.
As the expansion of VR technology is still underway, the borders between some categories are rather blurred. Yet, all of them follow one and the same development principle – Virtual Reality software creates in-depth experiences by utilizing either real content as in 360° panorama videos, or purely computer-generated content or a mix of them both. Depending on a number of human senses stimulated by a given VR solution as well as its area of application, VR software falls into several types:
Game engines
SDKs to build VR apps
VR-based platforms
VR development kits
Computer-aided design (CAD) in VR
VR visualization and modeling
As it was mentioned above, most of them can be used interchangeably for various purposes. Moreover, vendors of VR software and devices keep expanding their footprint on the market by enhancing the functionality so that they meet any customer need. Say, VR-driven architectural visualization and modeling software can be utilized in games production, healthcare apps, construction planning as well as military training simulators. So, let's delve into the best VR tools that gained much traction in 2019 across industries.
The Unreal Engine. This is a VR-driven flexible product suite by Epic Games enabling its users to create real-time renders and realistic design experiences of high-quality. It provides users with a full out-of-the-box development kit of customizable plugins, scalable modular systems and much more. The engine is user-friendly and ideal for both old hands and young enthusiasts.
Unity. Unity Technologies are proud of creating a full-fledged 3D development platform that has recently become popular among visualization professionals. This VR software started its success path as a purely gaming solution, however, today it's an all-purpose platform perfectly suited for multiple use cases in such industries like cinematics, architecture, construction, education and engineering.
Daydream. Google offers its fans a number of software solutions in different spheres, with VR being no exception. Daydream is an effective mobile-based VR platform for Android users that creates iconic experiences. This solution enjoys a truly impressive toolset: a comfy headset with controller, powerful renderer, quick preview tools for app testing and an easy-to-integrate SDK followed by comprehensive guides.
Lumberyard. Quite logically, Amazon as one of the most passionate adopters of emerging technology trends has eagerly jumped on the VR bandwagon. Its cross-platform game engine showcases great operational efficiencies when it comes to creating near-photorealistic and dynamic environments. An exclusive SDK provides smooth integration with other AWS tools like scalable cloud storage and vast computational capabilities.
VRWorks. Nvidia doesn't seem to fall behind the pack as its cutting-edge VR development suite fully complies with most demanding tastes and standards. The VR development kit brags about a substantial treasure trove of built-in libraries, engines and APIs while giving headset and application developers full access to high-fidelity multi-view rendering, variable rate shading, single pass stereo and other competitive features. The SDK is geared so that it can seamlessly work with other popular VR platforms. Also, developers of enterprise-grade applications can leverage this VR development kit while using an exclusive Quadro® feature.
Here at ByteAnt, we offer solid VR app development services tailored to your individual business needs along with optimized data visualization design and smooth product integration with world-class VR platforms and engines. Contact us right away to benefit from the state-of-the-art business solutions based on the latest AR/VR tech advancements.