Remote office: how outstaffing in Ukraine can help to expand your business?
Since the 90s, when the popularity of the outsourcing model started to grow, it introduced the new trend for distant partnerships and engineering. Both large corporations and startups with limited resources enjoyed the cost economy and flexibility of such cooperation. Slack and WhatsApp are not exceptions.
However, no one expected the outstaffing model to become this popular. Instead of dedicating the part of work to a third-party vendor, this smart alternative gave businesses more control over their remote employees and delivery.

Here are some statistics to back up our claims.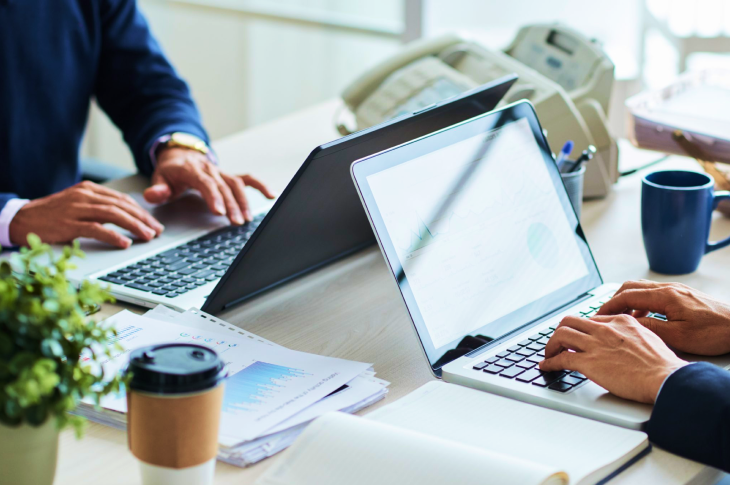 Benefits of outstaffing - explained in simple words.
According to the Institution of Engineering and Tech study, the lack of US developers was growing steadily in the past few years. Meanwhile, some other countries demonstrate positive dynamics.

The Ukrainian offshore engineering industry is valued at $5 billion as of 2020.
By this year, the number of software developers in Ukraine has reached 200 000 people. It is the 2nd largest country in Eastern Europe by the amount of engineering talent and the 4th largest pool worldwide, coming after the USA, India, and Russia. 

Therefore, it has become an attractive offshoring destination for US customers.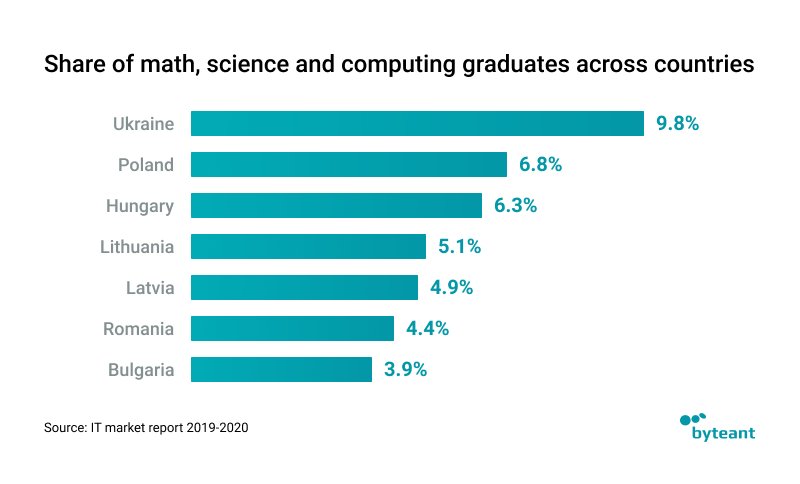 Besides, the country counts 100 research and development centers, tech universities, and a vibrant IT community across cities.
For stakeholders like you, it means two things:
1) fast access to qualified specialists of a specific tech stack 
2) considerably lower development costs compared to Western countries.
One of the main benefits of outstaffing is, of course, cost savings.
To provide you with some details, the average rates for engineering talent in Ukraine are $25-49, depending on the level of proficiency, years of experience, and city.
For comparison, engineering rates in Latin America range between $30-50, in Poland - $40-56. In the US and Canada they get even higher.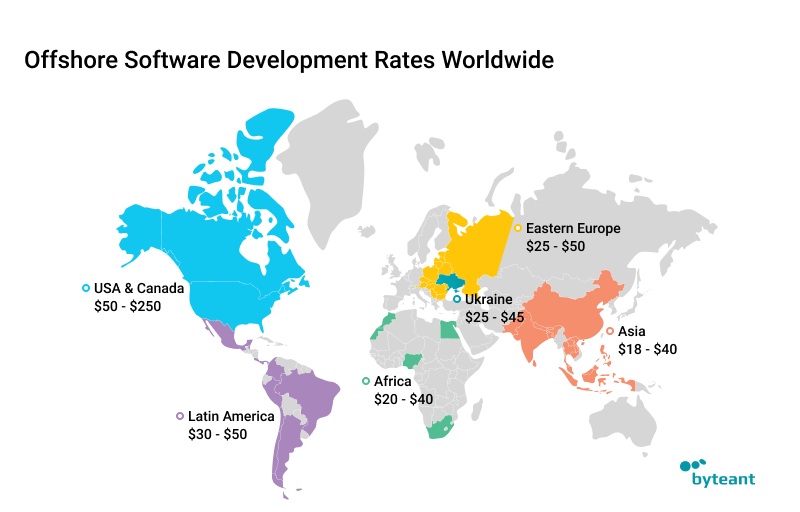 Data source: Offshore software development rates across the countries
Although Ukraine is not the least expensive country for setting a remote office, it is rare in terms of service quality for the price offered. Therefore, Digital Transformation Report revealed Ukraine as an attractive destination for businesses from North America, Netherlands, and Germany due to:


Unparalleled quality to price ratio
Geographical and cultural proximity.


Despite the time zone difference between the USA and Ukraine, Ukrainian engineers have a rich history of collaboration with this country. They may also work within the US work hours if the need arises. 
Cultural proximity means that Ukrainian citizens share the Western counties' mentality, simplifying cooperation.

Here are some other things to consider when setting a remote Software Development Center in Ukraine.
Why consider setting a Remote Software Development Center in Ukraine?


1. High dedication & interest in software engineering
If you are looking for engineers who are genuinely motivated in their jobs, look no further. 82% of Ukrainian IT professionals state their interest in technology as the key reason for their career choice. 48% of them also do engineering for pleasure, besides their job duties. That is why IT outstaffing in Ukraine often results in reliable & long-term partnerships with tech enthusiasts.
2. Ease of hiring & onboarding
Most Ukrainian software companies take responsibility for screening the candidates, testing their English proficiency, and official hiring. Therefore, you don't have to worry about manual searching, official documentation, and onboarding of your team players. Saving time and money, you get the ready-to-work team in weeks instead of months. Taxes and office rental expenses are also the responsibility of your engineering partner.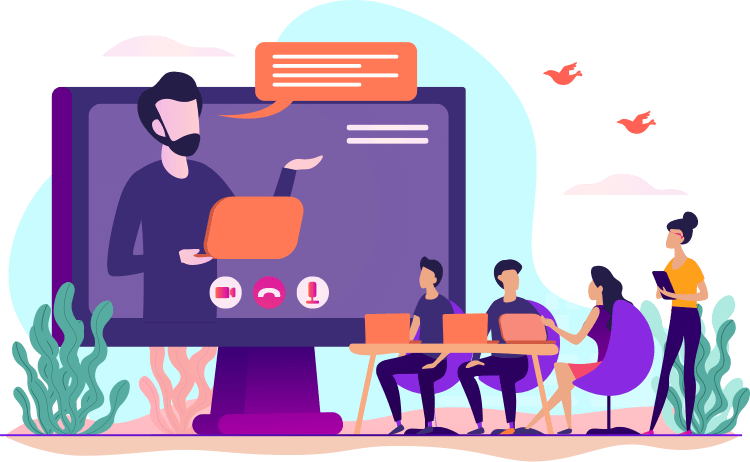 3. High quality of end product
The end quality of your product should always be a priority. Otherwise, why would you even consider this type of cooperation? Luckily, Ukrainian software engineers let you achieve high software quality without too high of a risk. Ukrainian developers are rated 7th worldwide by their performance and end product quality. 

With advanced code review practices and documented workflows, you can set a remote office that will work like in-house. Using Jira and project management tools, all the work stays on track and can be easily supervised at any time. 

4. Well-aligned communication

80% of Ukrainian engineers speak Intermediate English or higher. We believe that exceptional communication is the key to a productive workflow. That is why we set up regular meetings, set up chats, and set mini-deliverables. Whenever you need to discuss something with your team members, you can contact them directly and get a quick response. It is that simple. 
Besides this, we introduce Agile, Kanban, and Waterfall methodologies to you, helping to choose the best-fitting to your current business needs.  

5. Expertise you can trust
When outstaffing in Ukraine, be sure to find engineers with matching expertise & skills. Among the most popular programming languages and frameworks, we should mention JavaScript stack(13,8%), including Angular, React, as well as Node.js, Java(26,3%), and C#(15,4%). However, it's highly recommended to view the company portfolios and tech profiles before choosing one for your cooperation.
ByteAnt has been providing software engineering services to U.S. businesses for over 15 years. 
5 questions to ask before IT outstaffing to Ukraine
Here are some questions you should ask your service provider before launching your collaboration (from our experience):
What approach & tools do you use for task management?
What is your experience with [specific industry/type of product]?
How long will it take for the project kick-off? 
What documentation & requirements do you need from my side?  
What does the estimated price include? (Are there any additional expenses I should be aware of?)
Will you assign a project manager from your side, or do I choose him from my office?
Project management is another aspect you should discuss. Depending on your in-house team structure and requirements, the optimal decision may differ a lot.
Having realistic expectations, you can avoid unmet deadlines and cost overheads in the long term. 
Outstaffing VS outsourcing: why are these different?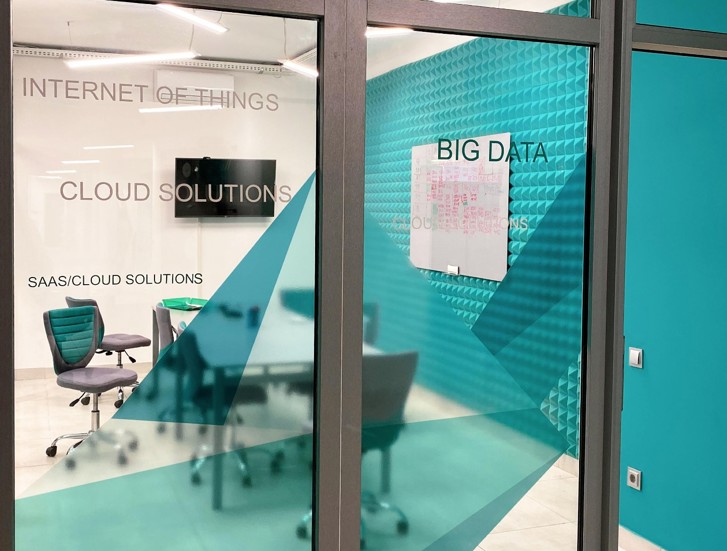 Sometimes, outsourcing and outstaffing terms get confused, although they serve different business needs.

By outsourcing your software engineering, you deliver it entirely to your service provider. Therefore, you can't assign your project manager, scale up your team, or re-assign your remote employees to other projects. You are also limited in terms of direct communication and team management. 

This model makes sense if you want little participation from your side but need the work done. Therefore, you hire qualified tech experts for a limited amount of time. Once the project finishes, you don't need them anymore.

With an outstaffing model, you get more flexibility in terms of employee management. Simply put, you get the full-time remote employees working as an extension of your in-house team. You communicate, manage them, and continue to cooperate for as long as you need.

This model is more suitable for your team extension or long-term commitments. If you need dedicated software engineers for your changing business needs, it may fit you. The contractor, in turn, frees you from equipment expenses, hiring, and maintenance issues.
Conclusion
Scaling a remote software development center in another country may become a logical step in your company growth. Depending on requirements, software expertise, and expected outcomes, many companies choose outstaffing in Ukraine for productive cooperation. To discuss whether it is the right choice for you, you can talk to our expert and find a proper business solution.