All in all, the microservices are way better to be employed for such use cases as eCommerce websites, where the containerization of various large-scale data sets is a priority. Serverless showcases its great potential when it comes to optimizing development costs and time.
Also, it is more preferable to opt for serverless architecture if your business flow is event-based and you don't need to run your operational tasks all the time. This holds true especially for IoT-fueled applications where time-critical alarms and notifications usually take place. To get a clearer picture, let's have a closer look at some serverless beneficial features and characteristics.
How Serverless works
Serverless as a development model driven by preconfigured events, utilize a number of distributed cloud-based services to streamline the software deployment workflow. Usually, it embodies two complementary service models:
Backend as a Service (BaaS)
Function as a Service (FaaS)
Let's delve into some of their peculiar features. So, BaaS is all about leveraging third-party multitenant architecture capabilities to enhance your own application deployment and delivery efficiencies. Its common features are usually provided as SDKs or API gateways and all the needed actions are executed in the cloud only and are usually referred to as pieces of your legacy on-premise infrastructure or code data. This solution enjoys a truly fast development cycle and shifts full responsibility for software and infrastructure maintenance on BaaS provider's shoulders. What's more, its capacities are virtually endless, which enable app developers to scale up the deployment flows on the go.
FaaS platforms like AWS Lambda, for example, are types of event-driven development architecture that ensures robust hosting services while using a pay-per-use model and getting triggered only when some functions or events predetermined by users are slated for action. The common triggers for activating FaaS functions are prescheduled events, file uploads, new commits to a repository, emails, database updates, HTTP API calls and the like. 

The main criteria programmers are paying attention to when choosing a FaaS solution are the simplicity of development and support by the cloud provider. These and other factors of importance are presented on the graphics below.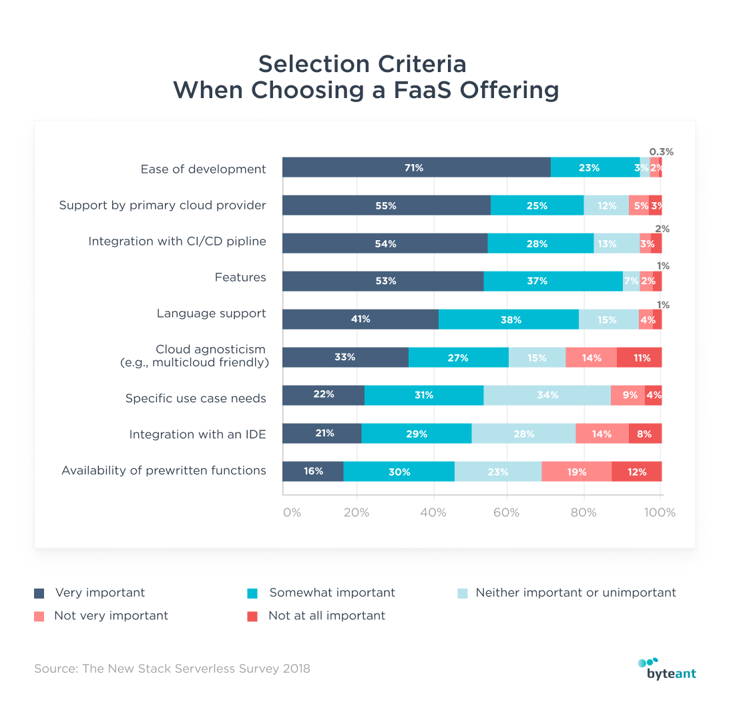 When working in duo, the BaaS and FaaS models can help developers to handle complex resource-intensive tasks that involve hosting of your data, infrastructure as well as business logic elements. This said, serverless comprises both of these two approaches, thus giving users a wide scope of functional benefits. The scheme below is to clarify the difference between serverless and other popular cloud-based service solutions (according to TheNewStack Survey).