How to choose a SaaS app for your business

Since your business is just starting to grow, chances are you don't have a ton of employees or too many computers to equip. However, unless you're tech-savvy, you probably don't want to spend a lot of time setting up your software or learning how to use it. When you're new to being a business owner, there are more important ways to spend your time. 
Choose software that's easy to install and tackles the main problem you're trying to solve. As a small business, you're also probably on a tight budget, so consider choosing apps that offer a free account or several different pricing plans that you can eventually grow into.
Some of the top factors to consider when choosing a SaaS app are as follows.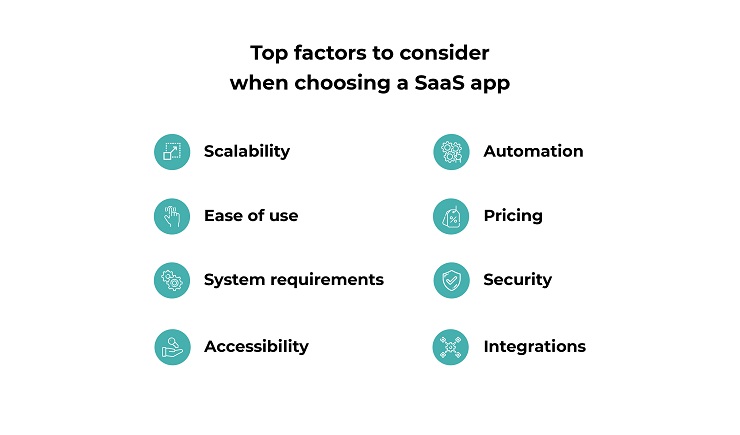 Top SaaS apps for growing businesses


First things first — if you don't have a website for your SMB, it's essential that you get on this ASAP. A business without a web presence might as well not exist in 2021. Whether you're using your site as an online marketplace, a place to host your contact info, or even a way to share a restaurant menu, it has to exist and look professional to get anyone to care about your business. 
Wix is a great solution for growing businesses that need help getting online. Its service covers everything from design to integrating other apps into your site. The pricing plans are reasonable, and the platform couldn't be easier to use for business owners with little web design experience.  
Before we get too excited about all the new software subscriptions, it's important to get your budgeting software up and running. FreshBooks will set up your business for invoicing, payment processing, and expense tracking. It can even send you payment reminders to make sure no bills are paid late. 
Another useful feature is time-tracking, which can be especially helpful during your first few months when the time inevitably flies by each day. FreshBooks gets high points for usability, and you can access it on mobile, so you'll have no excuse not to balance that budget as soon as you start making and spending money. 
While we're on the topic of money, you need to ensure you're paying those hardworking employees who help you get your business off the ground. Gusto is a great option for small business payroll as it not only pays your people but gets them onboarded and insured too. What's more, Gusto works with Freshbooks, so if you've chosen that SaaS app for accounting, payroll can easily integrate into your budget. 
While your business is still small, you probably don't need cumbersome HR software with too many bells and whistles. With Gusto, you can take care of what your employees need most and even handle sending out that onboarding paperwork that not even the most dedicated HR professional enjoys.
Speaking about paperwork, you'll no doubt be sending and receiving a lot of it as you grow your business. JotForm is an efficient SaaS app for collecting information within your business or communicating with your customers. You can start using JotForm during the hiring process by collecting applications and onboarding forms, plus use it to get helpful company feedback through surveys. 
JotForm caters to a variety of industries. One of the most notable ones is healthcare. With HIPAA-compliant form creation and the JotForm Health app, you'll use this service for just about everything from managing appointments to securely collecting confidential medical data. JotForm is a tool that will grow with your business, and new features are added regularly.
If you find CRMs intimidating (for starters, the abbreviation stands for customer relationship management), settle on one that's simple but has enough features to sustain your company's growth. 
Nimble will help you organize the flood of new business contacts into an easy-to-use dashboard and unify the data it pulls from multiple platforms. 
The biggest selling point for Nimble is the social profile matching feature. It gives you detailed insights into people and companies through a live profile that's automatically built into the platform as you navigate the web or go through your inbox. You can also use it for marketing within your personal email account, and the analytics and reporting features are quite impressive.  
Ignoring social media marketing can keep your business from reaching its true potential. You can get your name out through paid ads and search engine optimization, but connecting with your customer base through social media is essential. 
Mention is our top pick for social media monitoring software that can help with the heavy lifting of social posting. Set alerts on specific topics so you'll never be out of the loop in your industry, and use the monitoring tools to make sure you know when there's buzz around your business.
Mention is also a great platform for insights both on social media as a whole and on how your own posts are doing. Plus, you can keep all your social media marketing plans organized within a mobile-friendly content calendar.


When your business is humming along to the point where project organization becomes essential, it's time to think about a service like monday.com. While many businesses use it primarily for project and task management, monday.com can also function as a CRM, manage HR tasks, and keep creative workflows in line when you're planning ad campaigns. 
The company's customer service is top notch and available 24-7, so if you feel wary about signing up for a robust platform, you'll have help. You can try it free for 14 days, which might be a good idea before you pay for it. 

You might be able to solve multiple business challenges with monday.com. And as an added bonus, students and nonprofits may qualify for free or discounted plans.
Note: If none of the existing software solutions in the market doesn't fit your needs or you need some niche-specific features, you can try to build your own SaaS software. With the help of experienced tech specialists and ready-to-use software builders, you can accelerate the development of your business software, and make it answer your requirements perfectly. Seeking out tech advice, you can equip yourself with the right tech support and grow your business faster.