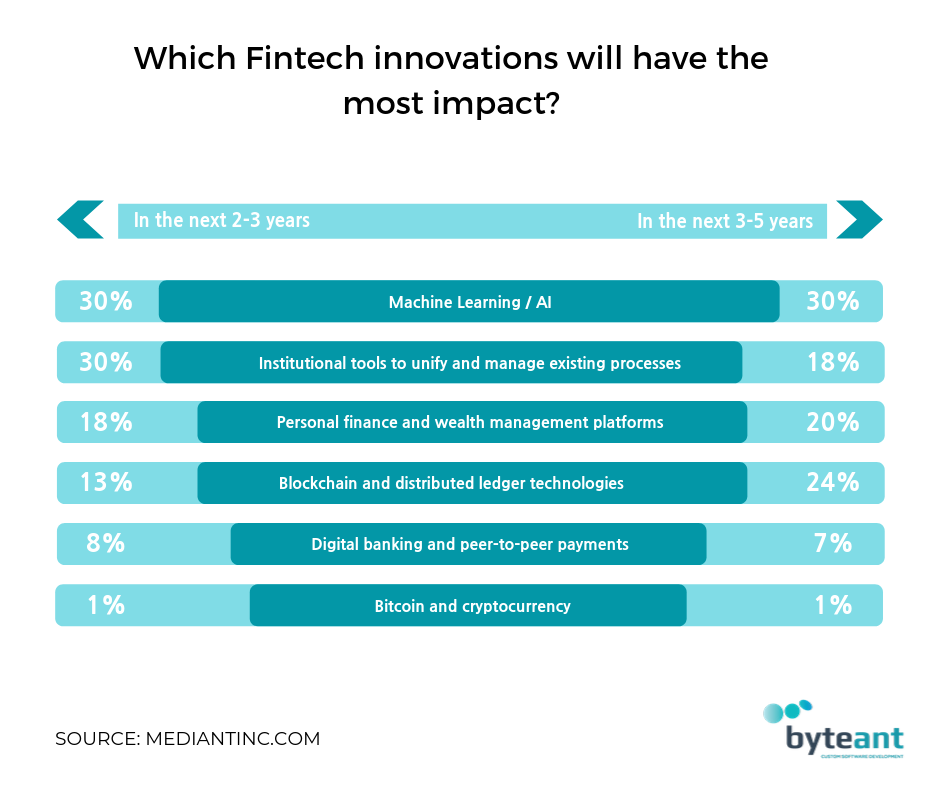 AI and ML use cases in bank and finance
Security of personal data
Security has always been the first and most vital condition to meet for any established company, to safely use and store a customer's personal data. Complicated and long passwords are no longer considered to be the best protection measure. 
With AI finance and ML power, companies can offer biometrics-based solutions in the form of voice and facial recognition. Furthermore, the software, based on ML-driven algorithms capable to provide strong and reliable security level for any network.
Fraud tracking and prevention
Fraudulent actions are a scourge in any financial activity of all time. Hackers and scammers never sleep and develop day-and-date with progress. Out-of-date technology is well-known for them and cannot meet the relevant security requirements. In compliance with Forbes, fraud losses reached $21.84 billion in 2015 with the US cut for $8.45 billion. Moreover, it can even exceed $12 billion by 2020. 
Specific measures only are the answers here and ML-based solution is exactly what we need. With innovative algorithms and in-depth real-time analyzes, ML-driven software can detect fraudulent and other anomalous activities and block them instantly.
Risk management
Any company and bank's wellness depends on various risk assessments. With old-fashioned ways to analyze the static data, it's impossible to find an imminent threat and perform appropriate measures. But the ML software is capable to gain the breaking info on relevant market trends and events from different sources in real-time. This data then can be sent to customers to notify them of possible risks or even prevent financial crimes in some cases.
Customer service
The AI chatbots and virtual assistants used to cause a sensation and seemed as something unnatural and mind-blowing. But we can meet such technology almost everywhere now and it is not as surprising as before. Customers always need accurate and relevant information to fix their problems, which simple AI-based virtual assistants unable to provide. 
But fortunately, with such additional features as machine learning, any AI-driven chatbot or assistant turns into software, capable of self-learning and adjusting personally to each customer. These innovative solutions can process large quantities of data and exclude human-factor issues. Being a process of automation, finance segment finds it very useful, so it's becoming quite popular here as well.
Marketing research
Marketing researches are of great importance as they serve as guides to the efficient run of any company. It's another area where ML-driven software can use its power for extracting huge benefits from data on the web-activity, utilization of mobile apps or cloud-based solutions and PR campaigns, just to name a few. It can develop an effective and competitive marketing strategy based on the aforementioned data and provide an exclusive offer for each customer.
Investment forecasting
ML-based technologies are widely used in hedge funds, processing a lot of data and making in-depth analyzes, providing experts with valuable real-time insights on market situations. This info allows them to perform preventive measures and avoid potential risks as well. Future ML-driven software is forecast to gather various databases from social media platforms, news, events, etc.
A lot of banks and fintech organizations are implementing this solution into their ecosystems, such as JPMorgan.
Compliance with legislation
As a regulatory system is updated very often, it is crucial to bring every financial operation in line with the relevant legislation. Automated finance services, based on ML-driven solutions can find mismatches in a matter of minutes, if not seconds, thus saving a lot of man-hours for something more important. 
Loan underwriting
A great number of insurance companies stick to ML-based technology in recent years. Actually, banks can extract and leverage the same advantages as insurance organizations here. Analyzing previous activity and making forecasts on possible future customer's actions and reactions, organizations can avoid potential risks and enhance operational effectiveness. 
When it comes to services like health insurance or mortgage offer, interested parties can always set up additional security by utilizing machine learning algorithms.
AI and ML successful use cases in the finance sector
Betterment and Wealthfront are both investment companies with online virtual assistants employed, providing financial consultation regarding investment projects, strategy and related risks;
IdentityMind Global helps various financial entities to fight fraudulent activity by using ML-based solution DNA (eDNA);
Dataminr and Alphasense work in the risk management segment, with applied ML-based solutions. 
AI and ML successful use cases in the bank sector
ZestFinance is an LA company, utilizing ZAML to provide banks with the data on loan applicants with poor credit history;
Commerzbank has a schedule to turn his compliance checklist into robotics process automation by 2020, by utilizing ML-driven software, in order to detect money laundering;
JPMorgan bank has invested about $9.6 billion in so-called COiN with ML-based algorithms to analyze various documents in seconds, saving a lot of man-hours.
You may also get acquainted with the following statistics for additional information: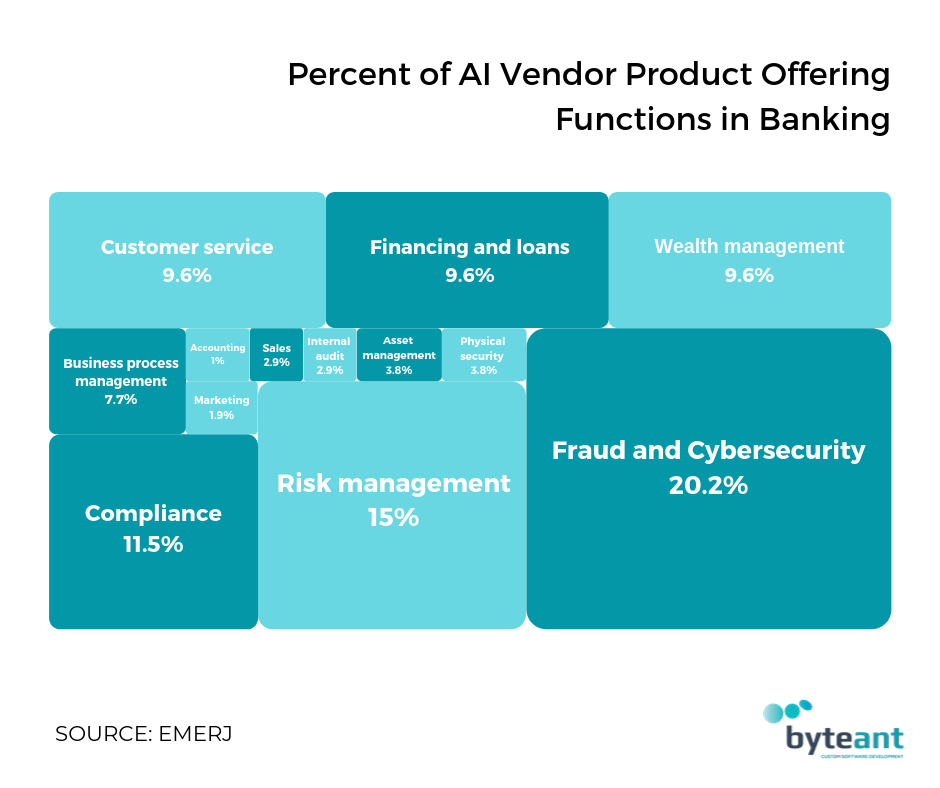 Tapping into the benefits of AI and ML: Bottom line
With all that said, we can conclude how crucial artificial intelligence and machine learning is for the bank and finance segments. Each company and bank that utilize AI along with ML-driven solutions come up with the ability to perform preventive measures, avoid risks and enhance the whole working process and profitability. 
With the adoption of any innovative solution, we step forward to the new features and way more high-tech technology, by creating demands.
There are a lot of AI and ML-driven offers from such giants as Google or Amazon, for example. However, such solutions generally cannot meet all of your specific requirements, which makes it quite hard to find exactly what you need.
Whenever you decide to opt for the aforementioned software or eager to find a consultation, rest assured that ByteAnt is always ready to offer you a competitive solution with an eye to AI and ML-driven technology or provide you with a piece of expert advice. Please, feel free to contact us.