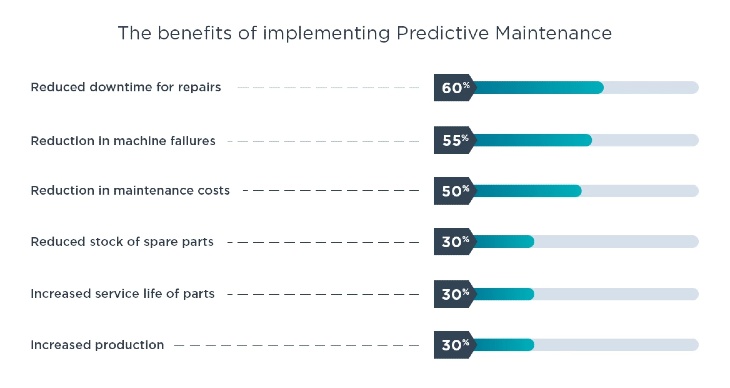 Through connecting IoT-driven gadgets that have different sensor points (temperatures, vibration, voltages, currents, etc.) to other devices, IFTTT, cloud/API or legacy systems manufacturers can obtain essential maintenance data. This kind of information allows to estimate the current condition of machinery, determine warning signs, transmit alerts and activate corresponding repair processes.
This way IoT transforms maintenance into a fast-paced and automated practice, which foresees a failure long time in advance. Moreover, it fosters costs savings over traditional preventive measures as the actions are taken exactly when they are necessary.
Getting valid data in time, managers can detect plant machinery that needs fixing. Besides, it helps to plan maintenance operations thoroughly and hold systems online as workers are still performing the task. IoT may prolong equipment lifetime, contribute to plant safety and lower the risks of accidents that affect the environment negatively.
In practical terms, IoT can immensely improve your company's predictive repairing/maintenance capabilities. For instance, one of the leading international manufacturers of medical equipment, Medivators, successfully integrated IoT solutions across their worldwide services to enjoy an impressive 78% boost of the service events and issues that can be easily controlled and (if there is a case) fixed without any additional manpower resources involved.

In a video below, you can view an example of how the aircraft manufacturing company can use IoT to detect issues early on and fix them. 

2. Remote Production Control
Reallocating your company's computational resources to a custom cloud or connecting the device to one of the popular BAAS (backend as a service) or PAAS (platform as a service) cloud computing models, you can collect and analyze the large-scale data sets necessary for supervising various field devices like switches, valves, and other indication elements.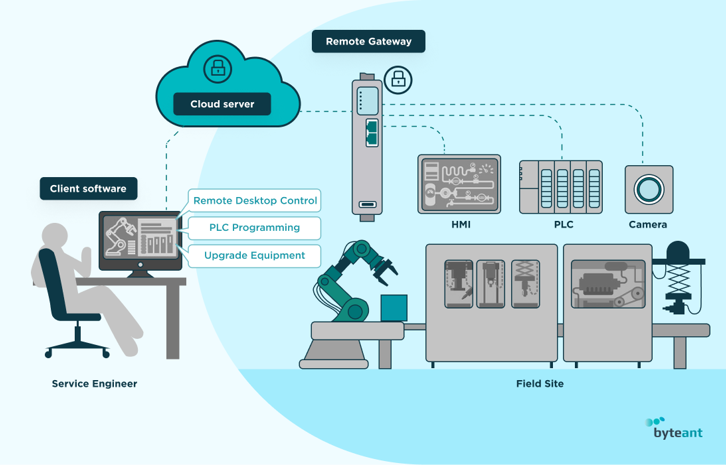 Thanks to IoT this data is transmitted to the industrial automation system that ensures an overall control of machinery amid production process. Telecommunications, oil and gas industries, as well as power generation, have been already reaping the benefits from IoT devices implanted into distant control systems.
The most prominent feature of remote production control in industrial automation systems is the centralized supervision over the machinery in the process of production. Information obtained through distant control provides a much clearer and faster insight into the actual production field. It gives assistance to the staff in analyzing the enterprise data. All this makes the IoT technology be a core instrument in ensuring safe automated production, monitoring the workers, tracking the personnel location.
3. Asset tracking
More and more manufacturing enterprises tend to implement asset practices. IoT technology combined with the development of native web and mobile apps for iOS or Android makes it possible to obtain real-time asset information and make reasonable decisions.
The major task of tracking lies in discovering and overseeing such crucial assets as the components of the supply chain (raw materials, containers, and finished goods). Such applications can drastically optimize logistics, maintain stocks of work in progress, and disclose thefts and violations.
IoT-based asset tracking helps the producers calculate the usage of movable equipment elements and initiate measures to shorten idle period and enhance utilization.
4. Logistics management
Enterprises that depend greatly on transportation can also benefit from IoT-led interconnection between various devices and systems.
IoT can reveal supply chain inefficiencies by eliminating blind spots from logistics processes.
— Forbes
Managing the automotive fleet via IoT-driven devices helps manufacturers eliminate or put down the risks concerning the costs related to vehicles, staff and transportation. Autonomous fleet solutions contribute to the greater efficiency of the company.
Logistics managers make good use of leveraging IoT when it comes to repairs and fuel expenditures. They optimize their tasks that cover monitoring fuel costs, smart deliveries, diagnostics, and drivers.
Additionally, a real-time overlook of driver and vehicle performance aids to raise technicians' safety, bring down inventory damage and reduce insurance payments.
5. Digital Twins
Applying the IoT approach, known as Digital Twins, lets businesses create and enjoy the robust digital copies of the physical objects manufactured by a company. When empowered with IoT, a POC (proof of concept), an MVP (minimum viable product) or a look and feel prototype turn to be so accurate that you can easily experiment and foresee their functionality as well as initial and final operational capabilities.
This kind of IoT application area allows simulating a lifespan of machines, checking updates, and predicting potential issues and bottlenecks. With IoT instruments, producers can get a replica of equipment and goods for monitoring them in a virtual environment before putting them to market.
Finally, it improves product quality, creates efficient supply and delivery chains, opens new opportunities for businesses and brings customer service to a higher level.

Explore how digital twins let optimize the manufacturing process and eliminate any bottlenecks in the production lines.
Either way, getting the IoT solutions implemented into your business processes requires solid expertise in this field. It makes ByteAnt a perfect option for companies eager to tap into IoT competitive advantages. We're here to help you, just drop us a line or read more about our IoT services.