How to Create an Online Learning Marketplace
Education is a field that has been greatly affected by the coronavirus. Teachers and speakers have learned to use technology in their work, but they still need to find new ways to keep their students interested in learning. This can be done through online courses, online lectures, and other educational materials.
Teachers and speakers are used to working from home. They just need to create landing pages for their courses and promote them on the internet. However, promoting your courses isn't always easy—especially if you don't have much experience promoting yourself or your business online or offline. That's where marketplaces come in!
Marketplaces help teachers connect with students who want their services by providing them with an easy way to promote themselves online through the marketplace itself (which is usually very popular).
In this article we will take a closer look at what types of marketplaces business models in education are, their advantages and specific features.
Table of content:
Why should you invest in E-learning Development? 
Benefits of Creating Online Learning Marketplace
Types of e-Learning Platforms
Online Education Marketplace Business Models
Top Features of E-learning Marketplace
Special Learning Features
How to Create E-Learning Marketplace platform?
Why should you invest in E-learning Development?
E-learning is a growing industry, with the market expected to surpass $370 billion by 2026. More learning is being carried out online each year, whether with educational establishments like schools and universities, companies that train and educate their staff, or through private learning.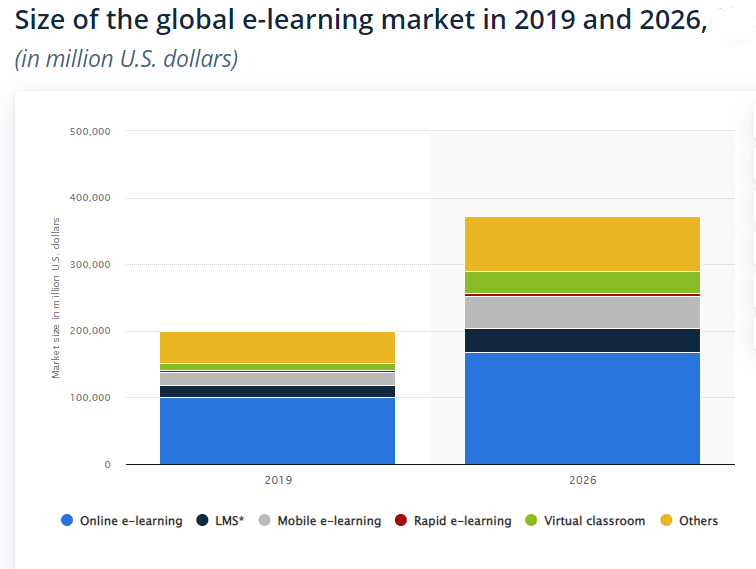 Benefits of creating online learning marketplace
Wider audience
In terms of reaching more people, an e-Learning website is an excellent tool. It's easy to set up, it lasts infinitely (no matter where your students are located), is mobile and tablet friendly - making it ideal to access online courses while on the go (i.e: commute or late at night).
No limitations
So, how is online education different? Online, you don't have to worry about any limitations. For example, there are no students in front of you; they can be in front of their PC all over the world. Besides that, they also don't need to take notes and stay focused on a teacher's lectures. All they need to do is see the lecture once and then check it whenever they want.
Perfectly match with your business needs
What if you could create a fully customized e-Learning platform that would meet all your business needs? What if you could use it as an online school, to distribute content and provide additional services to your customers? Or what if it would be used as a marketing tool? 
Custom e-Learning platforms allow you to fully customize everything: the design of your website, the format of your courses, the way users interact with them, etc. Moreover, they can be easily integrated with other systems such as ERP or CRM. Thus, this makes them perfect for personalizing training programs and providing additional value to your customers, as well as using them for marketing purposes.
If you want a new revenue stream or even create a new business model, e-Learning or online education platforms can be the answer.
Types of e-Learning platforms
If you're just getting into the education domain, you should start by figuring out what your e-learning platform is all about. Here are some of the things great educational apps do:
Contain lots of helpful educational materials and deliver an excellent learning experience for students.
Make user-platform interactions seamless, smooth, and bug-free.
Offer learners to track their progress in real time.
And the most popular educational apps that meet these criteria are Udemy, Coursera and edX – they let students take courses according to their preferences and fields they are interested in.
E-learning marketplaces rarely have any limitations on the form of content. Students take advantage of textbooks, educational videos, exercises, games, podcasts, etc., which are given gradually piece by piece so that students won't be overwhelmed by tons of exercises and tasks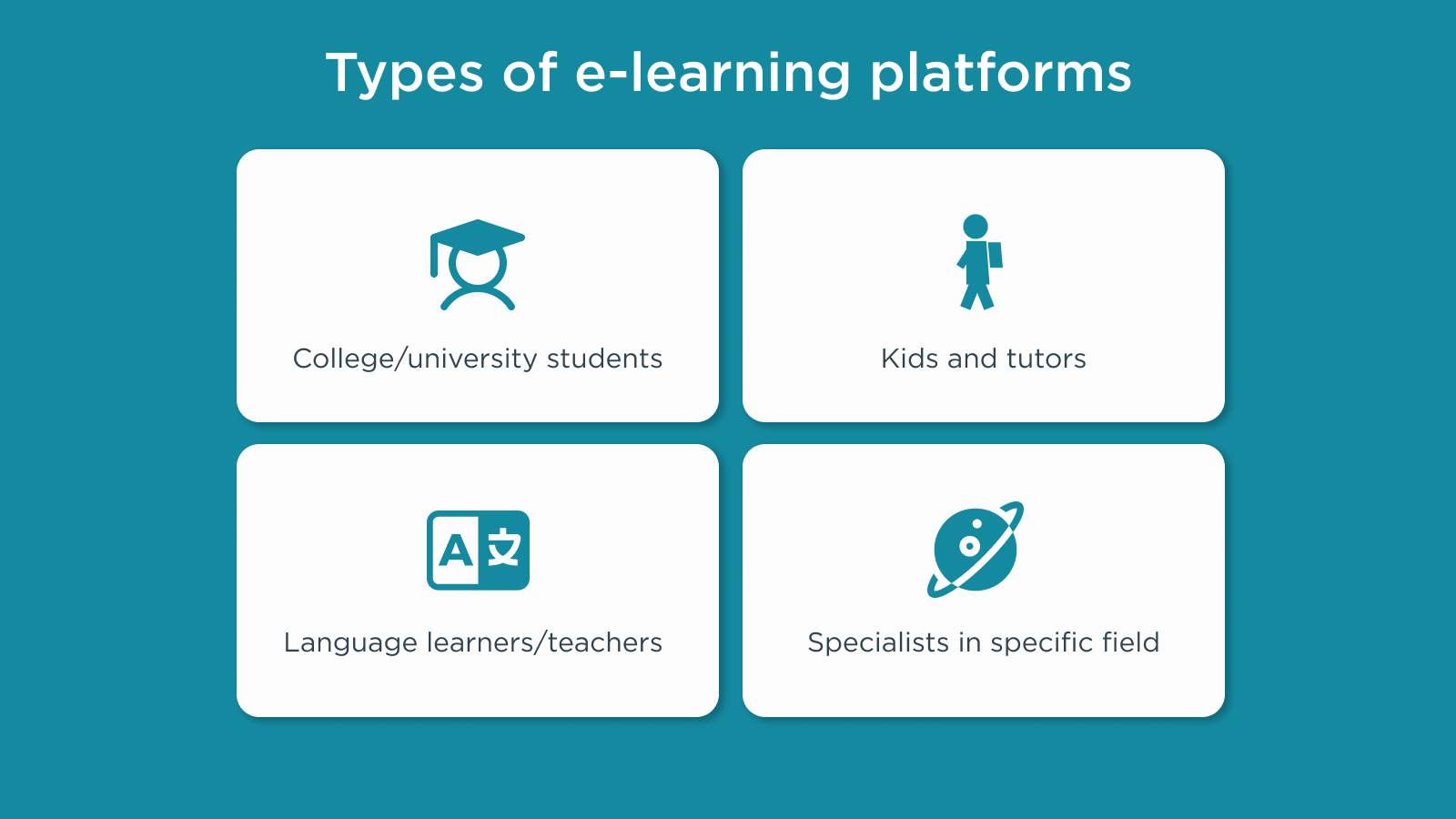 Education marketplace business models
Before we get started with the necessarily features of marketplace model, it's important to know about the way you'll be paid for using it.
You can choose one of these basics four business models:
Pay per-course model
The most common way to sell courses is through the method of choice for most course marketplaces. The learner pays you or your instructors a price, and then they purchase the course. This is simple—there's a long list of successful course marketplaces that have been built on this method (you can see the examples).
But it has its drawbacks. You'll need to set up an account with each marketplace and pay fees for each sale, as well as charge a transaction fee yourself (if you're not using Stripe, who charges 1.9% + $0.30 per transaction).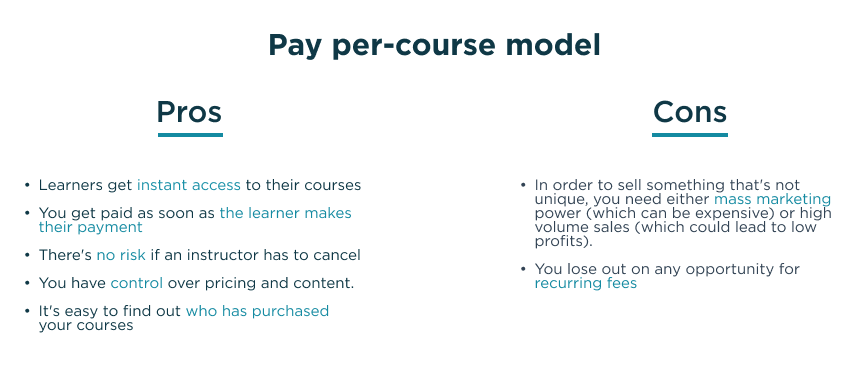 Subscription-based model
The Netflix business model is a great way to make your e-learning platform. You make all course material on your platform available to everyone who has paid a certain membership fee. Depending on your needs you can create 2-3 tiers of subscription or just one tier. The major pros and cons of this business model are as follows: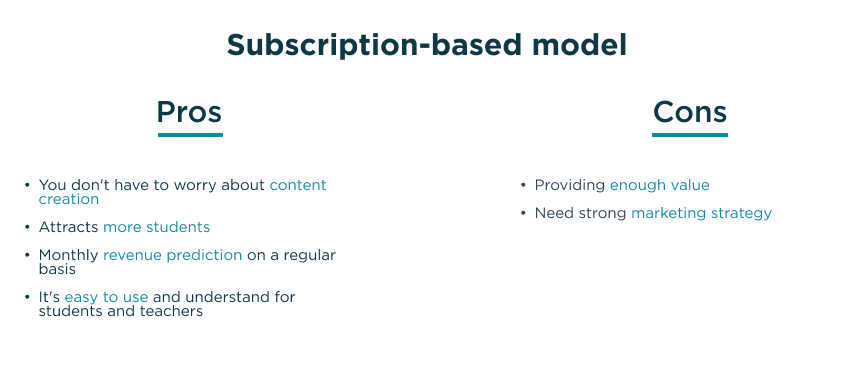 Free (ad-based) model
The Ad-supported model is one of the most popular ways to monetize a website. It is simple and doesn't require much effort on your part. The ads are embedded on your site and you get paid for each click they generate.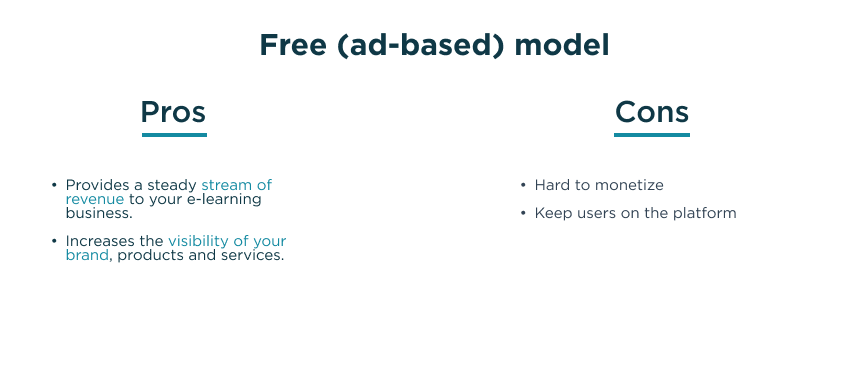 Free (donations)
The model of running your e-learning business completely on the basis of donations can work wonderfully. If your content is really amazing, you're targeting a large market and solving a big problem, this model can work wonderfully. There are many highly successful e-learning businesses and informative sites that have been built on the basis of donations (i.e. Wikipedia).
If you want to learn more about marketplace business model we recommend to read our article 7 Marketplace Business Models To Get You Started Make Money.

Top features of e-Learning Marketplace
Sign up and profiles
If you want to create an e-learning marketplace, your Sign Up feature should be as easy and fast as possible.
At the beginning, it is enough to collect only login/email and password. You can ask for other personal information later, when users will already be familiar with the platform.
The best thing you can do is get rid of any repellent barriers, including requiring personal or credit card details even before clients they actually start using the app or website.
Searching & Filtering
So, you have a lot of content. And you want to share it with the world. But how do you know what your audience is looking for? How do you make sure they're finding what they need?
That's where searching and filtering come in. You can't just throw everything out there and hope people will find what they want—your customers need help finding their way through all that content.
Coursera offers more than 2,400 online classes, so it's almost impossible to find the exact class you need without searching and filtering features. If you offer lots of content for your customers, these features should be on your must-have list too!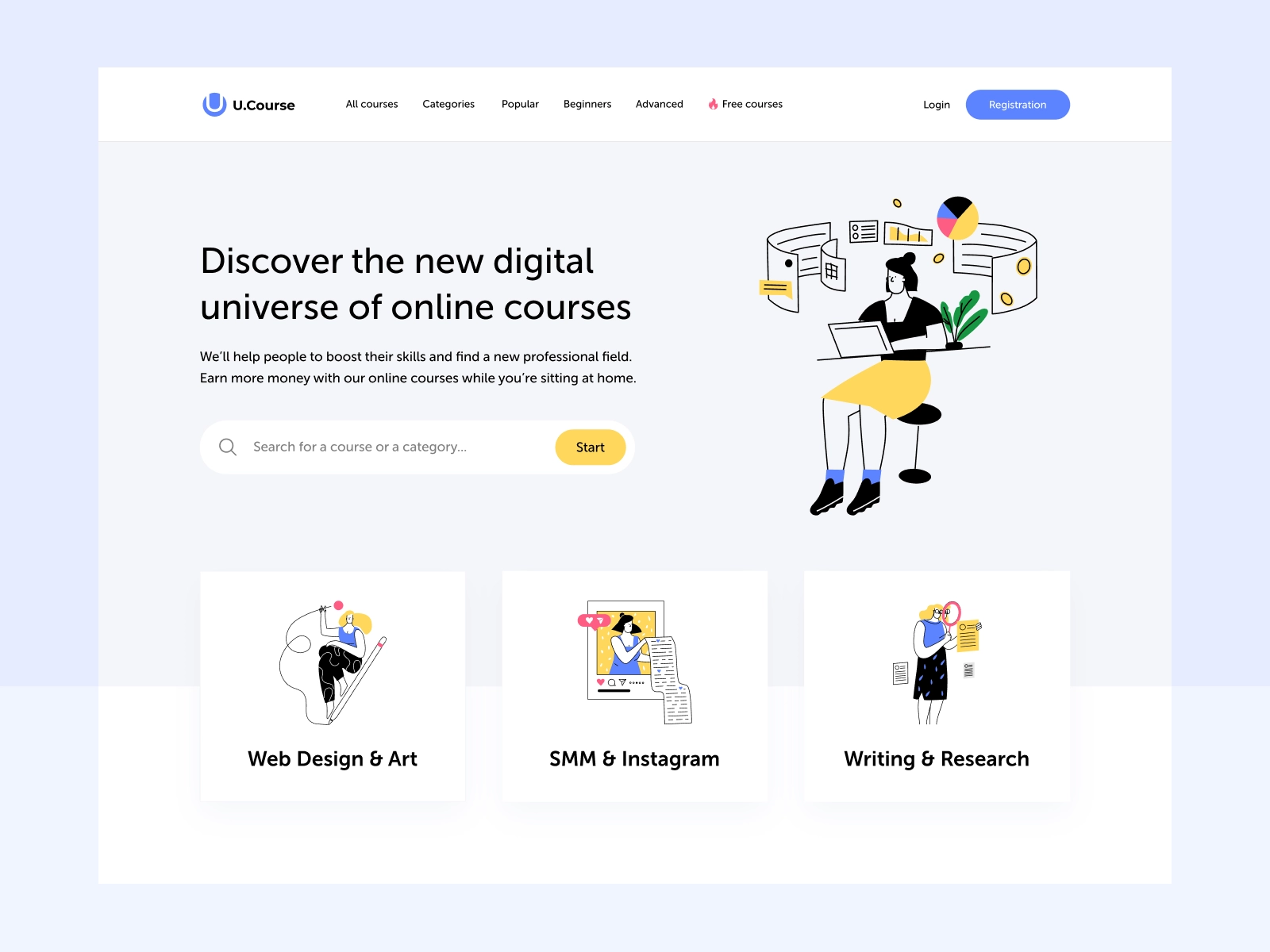 Course page
To make your e-Learning platform easy to use, you need to enable a convenient process.
And we mean it!
That's why we recommend you set up these screens:
Title screen - where your users will be able to see the list of all your courses and services. It can help them navigate through the list of courses and learn more about what each one is about.
Course screen - where every course should have its program and description, info about its creator and their background, the list of topics and materials, the "Purchase" button (if needed), average course duration, etc. The point of this screen is to give potential students a full picture of what this course offers them.
Lesson screen - if you offer different materials within one lesson, let us say you ask students to watch a video, take a test right after and then give a record of video feedback or task, it can be necessary. Adding a "Next lesson" button allows students to quickly start a new lesson right after they finish the current one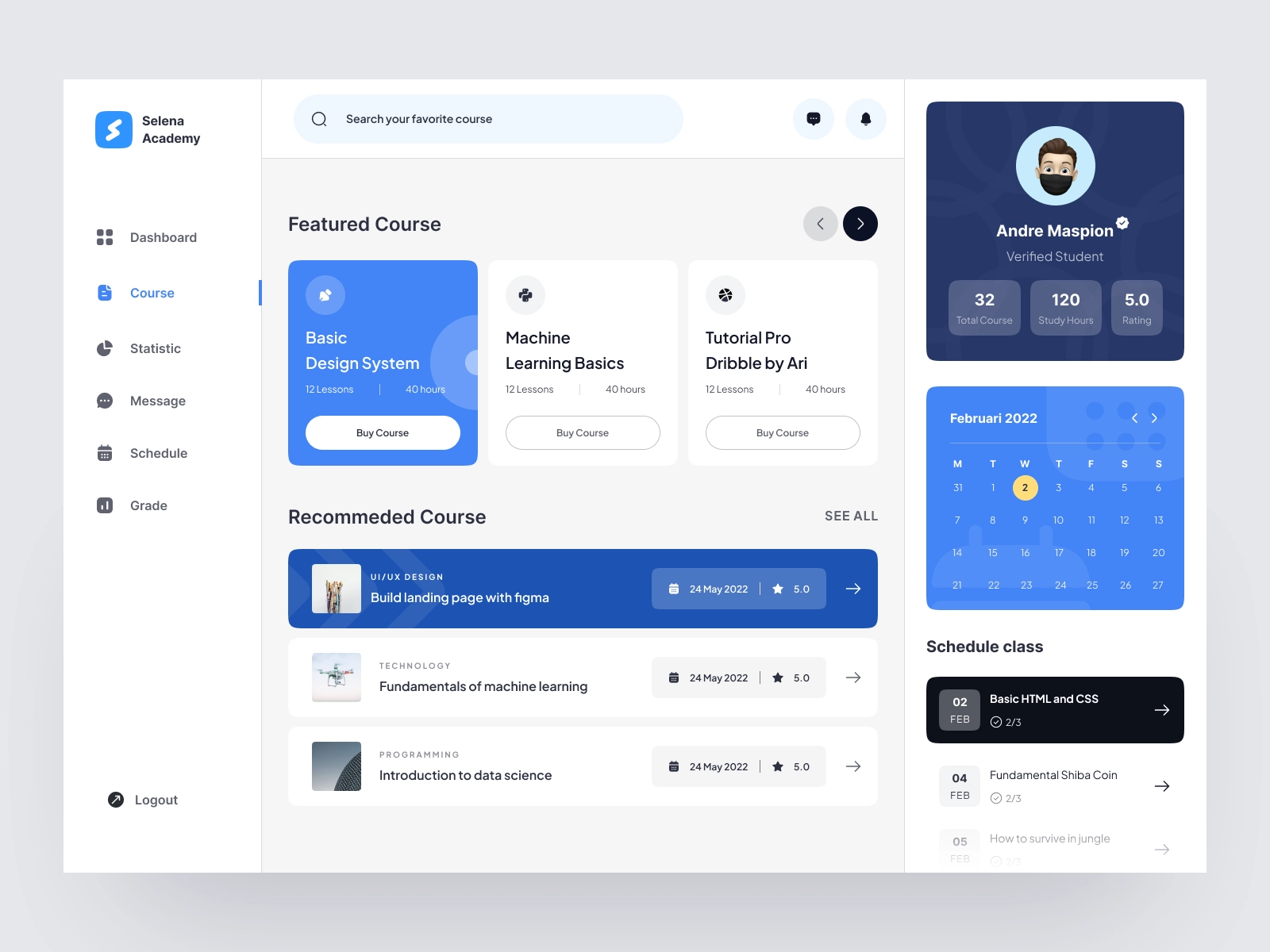 Special learning features
Video
One of the most popular features in e-Learning apps and websites is the video player. It's used by many courses to deliver content, so it makes sense that it's a feature people want when they're looking for an e-Learning app or website.
The great thing about having a video player on your website or app is that you can add some special features to improve user experience. For example, you can make it so that users can rewind 10 seconds and fast forward 10 seconds, continue watching from where they stopped last time, change playback speed (1.25x; 1.5x; 1.75x; 2x), and subtitles that are automatically translated when you click on them (especially great for language courses).
One-on-one and group video calls
This feature is a must-have if you want to develop an e-Learning app with live online lessons - it will make the study process a lot more vibrant and efficient.Some extra features for calls such as "Share Screen," chats for group calls, mute/unmute microphone, and camera would be great additions, too.
Quizzes and tests
According to scientific research, the most effective way to learn and memorize something is by applying the testing effect to user experience. By adding tests and quizzes you implement the testing effect and help your students study more efficiently. Right after your students finish a lesson, ask them a few questions about what they had learned - active recalling from memory is one of the best way to memorize it. You can implement tests and quizzes in many different ways. For example: True or false. Add a missing word. Pick the right answer. Put in the correct order., etc…
File uploading
The studying process often includes sharing and sending files by both tutor/professor and student.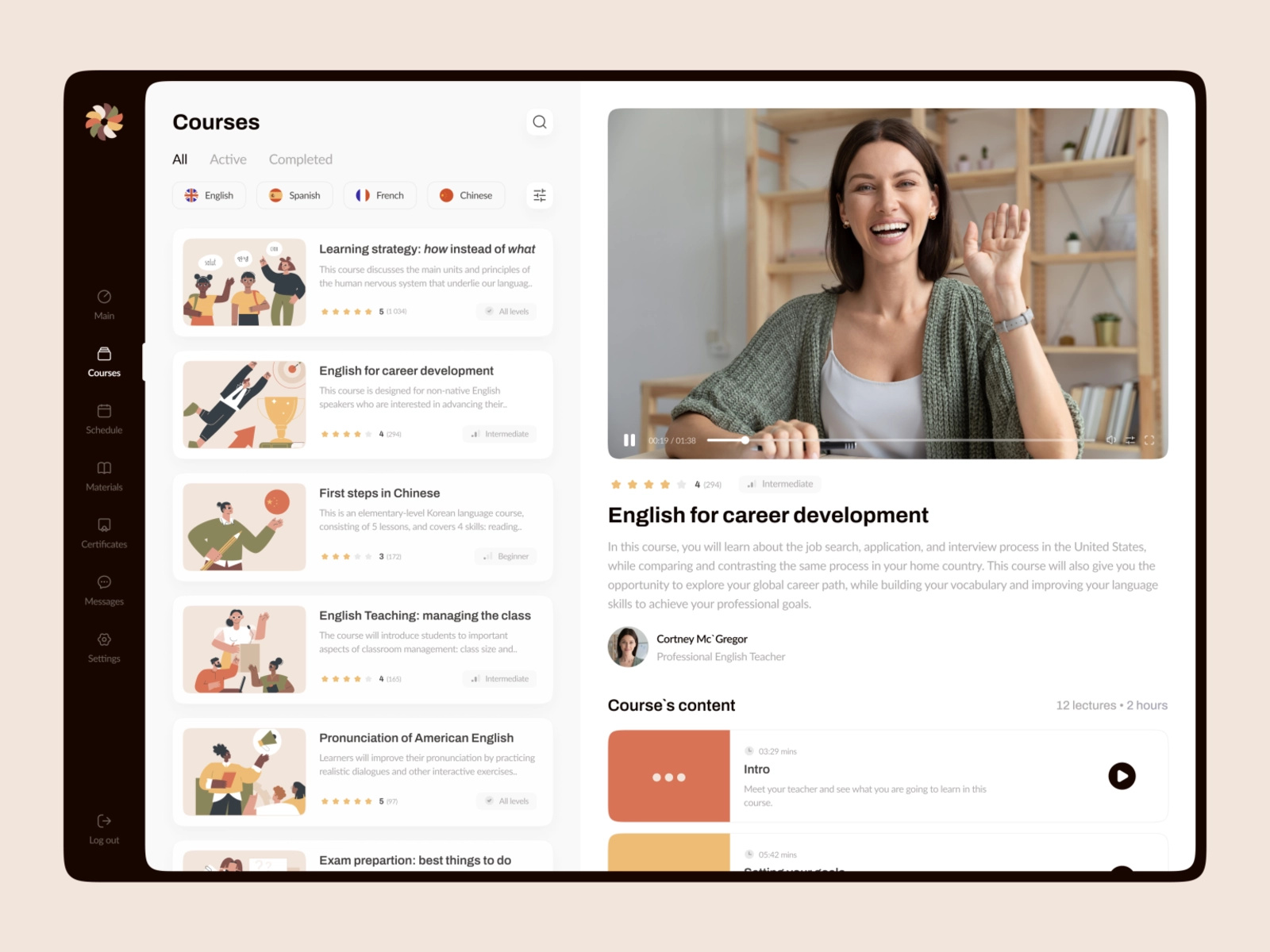 How to create an E-learning Marketplace Platform? 
When you're ready to create a marketplace, you have three options.
First, you can custom-develop your own marketplace from scratch. This is the most flexible option, but it also requires the most investment in terms of time and money.
Second, you can use a Software as a Service (SaaS) solution that has already been developed for other companies. While this option is less expensive than custom development and will give you access to some pre-built features, it also limits your flexibility and may not be able to accommodate all of your needs.
Finally, if neither of those options appeal to you, there are plenty of ready-made marketplace templates available on the market today that are made specifically for sellers like you. And the one of them is our Marketplace Builder solution which we've developed based on our experience with marketplaces. 
Below you can see comparison between our solution, SaaS and Custom Development: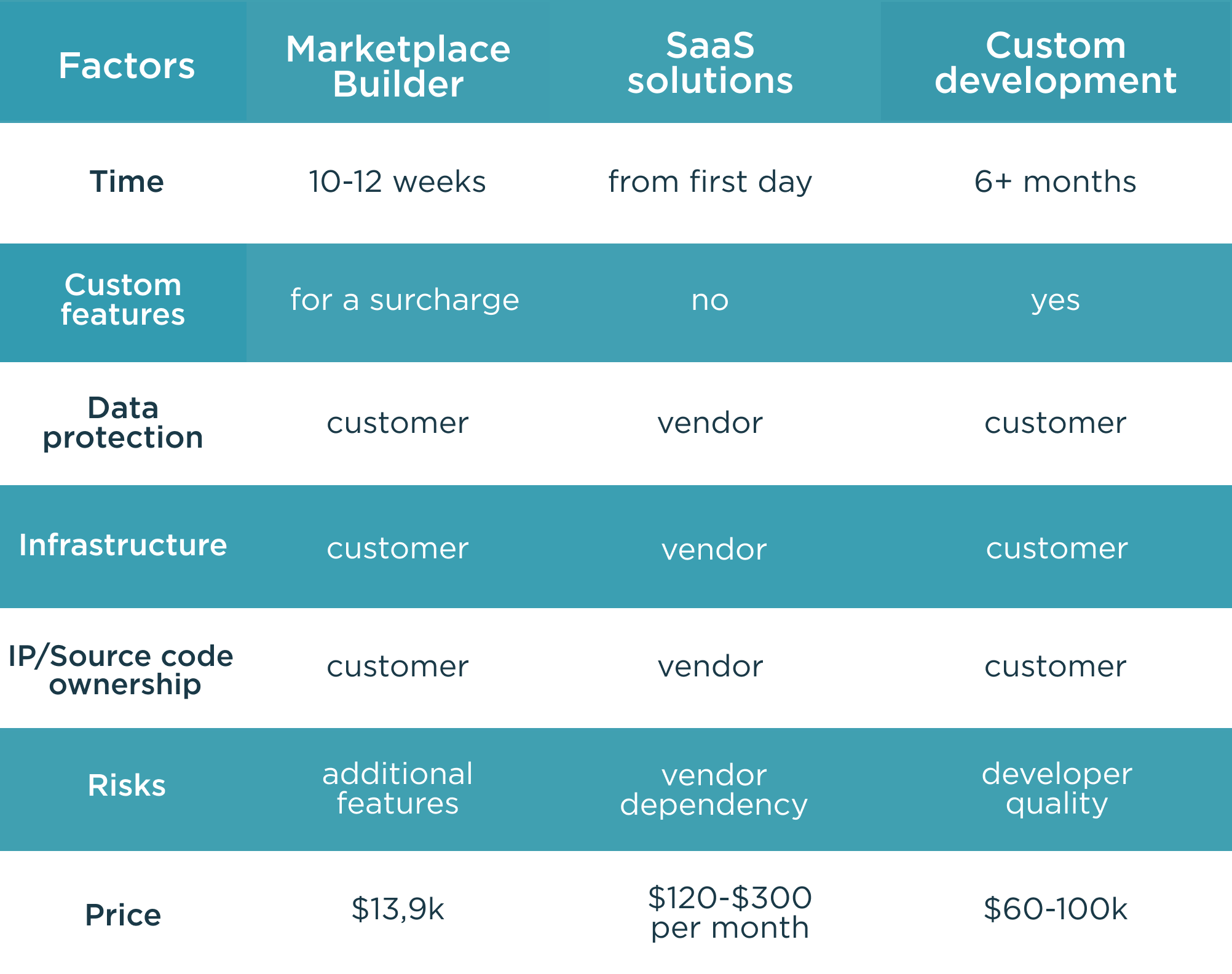 Summary 
The popularity of educational platforms is only growing and in fact there are still enough free niches that can be filled.
With the advent of new technologies, the world has become much smaller. This is why people from different countries are quickly learning to understand each other. It's not just about the language barrier but also about cultural diversity. That's why it's important for students to learn more about other cultures and ways of life.
Nowadays, there are plenty of online courses that teach students how to speak English or Spanish fluently. There are also courses that teach them how to play guitar or piano, as well as courses designed specifically for people who want to start their own business.
Students can choose from a wide range of topics offered by different websites offering various types of courses. The best part is that most of these websites offer free lessons!
If you're looking to develop your own marketplace, we'd be happy to help!
We have an amazing team of developers and designers who can build your site from the ground up in 10 weeks with our Marketplace Builder.
Contact us today to start a big change in education.