7 Ways How to Use Big Data in Social Media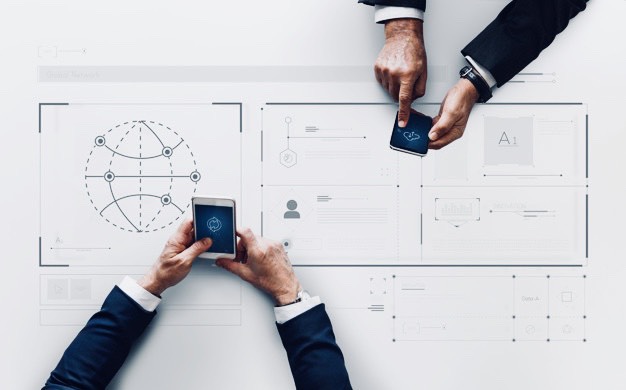 Overview
Social media marketing nowadays derives its meaning more from business insights than from just a means of communication. Since being initially developed for connecting people, social media has evolved into a completely new entity. And, social media marketers should combine important functions of both technicians and businessmen. And the volume of their work grows at an exponential rate: the Domo's Data Never Sleeps Report 8.0 announces the thrilling numbers. As of April 2020, an internet minute results in:
347 222 published posts on Instagram;
Consumers spending $1 000 000 online;
People sending almost 41 million texts over WhatsApp;
Amazon shipping 6659 parcels.
Overall, 59% of the global population can access the Web.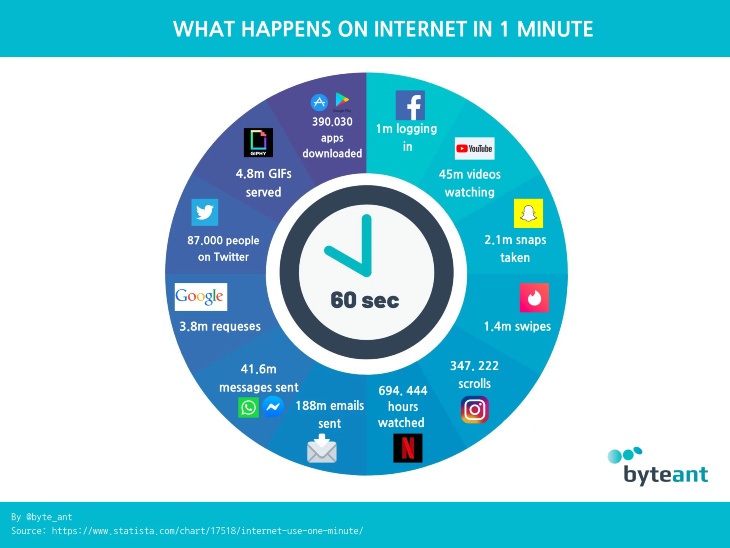 This raw unstructured information brings no value to business structures and that's when a big data strategy hits the stage.
How Big Data Is Affecting Social Media
The overflow of posts, comments, likes and dislikes, followings and followers that appear from social media sources, like top 3 leaders - Facebook, Youtube, Instagram, vividly demonstrates the deployment of these big data strategies. According to Statista, with 2.38 billion monthly active users in Q1 2019, Facebook is not going to lose ground and once again proves the effectiveness of big data analytical methods.

There is the pivotal necessity to operate these loads of information born every single moment. At present, prosperous businesses do care about what customers say, because positive feedback can help acquire potential clients as well as a negative comment can put the company's reputation at stake.
Without any exaggeration, marketing analytics depends on big data in terms of future predictions of customers' behavior. That's why many enterprises invest in big data solution tools to monitor customers' experience in social media real-timely. 

Here is how big data can help retailers understand their customers better.

To understand the importance of technologies for the global market, have a closer look at the most viable tech trends for 2019 and beyond to get the entire picture.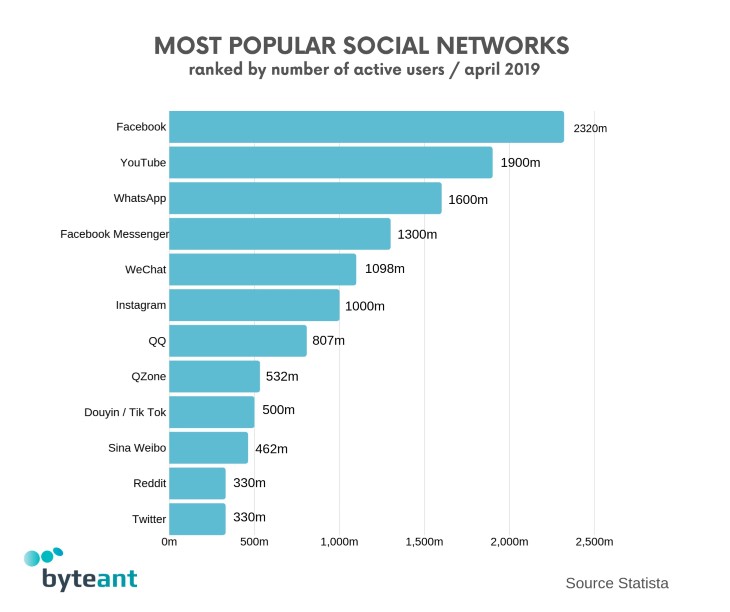 Benefits of Leveraging Big Data For Social Media
Let us overview the 7 most common benefits of big data analytics for social media marketing.
Omnichannel sources. AI strategy allows processing data that comes from multiple channels, especially with implementing of a quite well-spread log-in technology and synchronization. Numerous business websites suggest sign-ups via Google or Facebook accounts, therefore, this enables marketers to gather information about customers from social media activity, browser history, desktop and mobile applications, cloud storages and so on.
Real-time interaction. Users' activity on social media, such as ads clicked, pages visited and followed, comments posted, links saved, friends added, is the leading way to a successful market study. No other outlet can give a more updated and precise picture of market demand. It changes so incredibly fast that the key point is to leverage the situation sooner than competitors.
Target clients. Like any other business initiatives, social media marketing is aimed at increasing revenue, but it is no use offering meat to a vegan. So knowing your targeted audience means everything. ML solutions reach far beyond and give the possibility to extract valuable insights from personal information, millions of photos, music preferences, locations and many other social network activities.
Future predictions. Big data strategy and predictive analytics in media make it possible to improve decision making on the basis of past history. Data-driven business tends to succeed enormously as computers can provide forthcoming customer choices. Though interests and habits change with time, in general, they remain related. Once a social network user buys something, there is a great possibility of choosing similar products.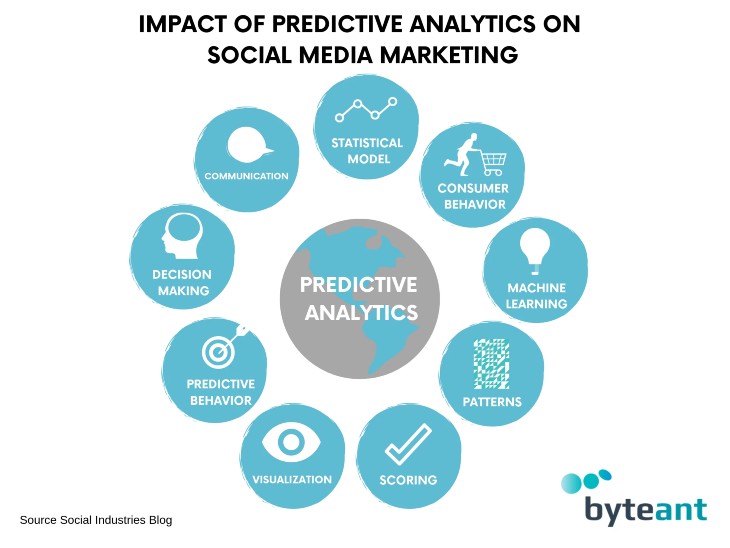 Security issues. With the flourishing of social media and personal information being on display, privacy is everything for customers, strange though it might sound. Whereas this aspect still leaves much to be desired, the majority of enterprises consider security issues to be of top priority. Data vendors altogether with marketers and business owners are obliged to provide data safety from leaks to third-party hands without customers' permission. Big data solutions suggest different ways of protection, for example, face and voice recognition, authorization, check-in notifications, etc.
Campaign evaluation. Big data analytics makes it possible to effectively monitor the seesaw dynamics of ROI metrics. As a result, marketers can gain insights on how successful a social media campaign was. Predictive analytical tools perform enormously when it comes to anticipating what products and services customers want. Measuring user activities across various social media channels, namely, their interaction and response to online ads can speak volumes about customer behavior and their shopping preferences. All in all, whether a campaign will be beneficial or not may be stated on the ground of previous customers' experience extracted from social media behavioral analysis, website historical data, email subscriptions and other kinds of digital interaction.
Reasonable prices. As a matter of fact, pricing decisions can be frustrating at times because lots of factors must be kept in mind. Usually it starts with product cost, competition issues, market demand, positive revenue, currency and inflation levels and ends up with an overall economic situation in the world. A robust Big Data strategy via social media should not only include paying piles of money to your Instagram influencers, but also communicating with your loyal customers, say, through A/B testing or online surveys, to clearly realize how much they are ready to spend on your products. All this can help marketers adjust prices in a more flexible and accurate way to comply with customer expectations.

In practice, 49,2% of businesses have seen big data decrease their expenses, and 44,3% of them have found the new innovation methods. Many companies haven't used it yet. View the detailed statistics on the graphics below.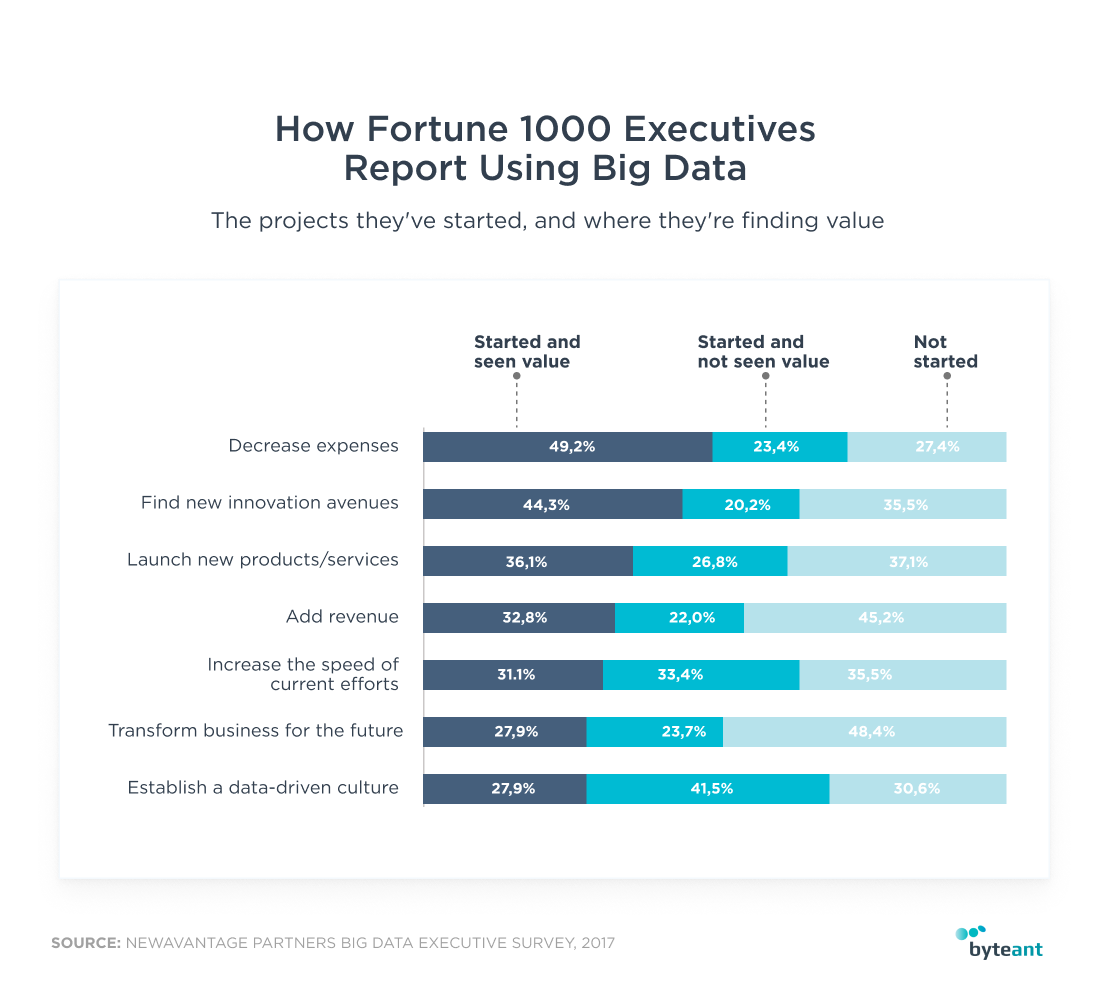 Here at ByteAnt we are happy to provide our customers with tried-and-true solutions driven by Big Data. So, in case your business needs reshaping of social media strategies, just feel free to contact us.