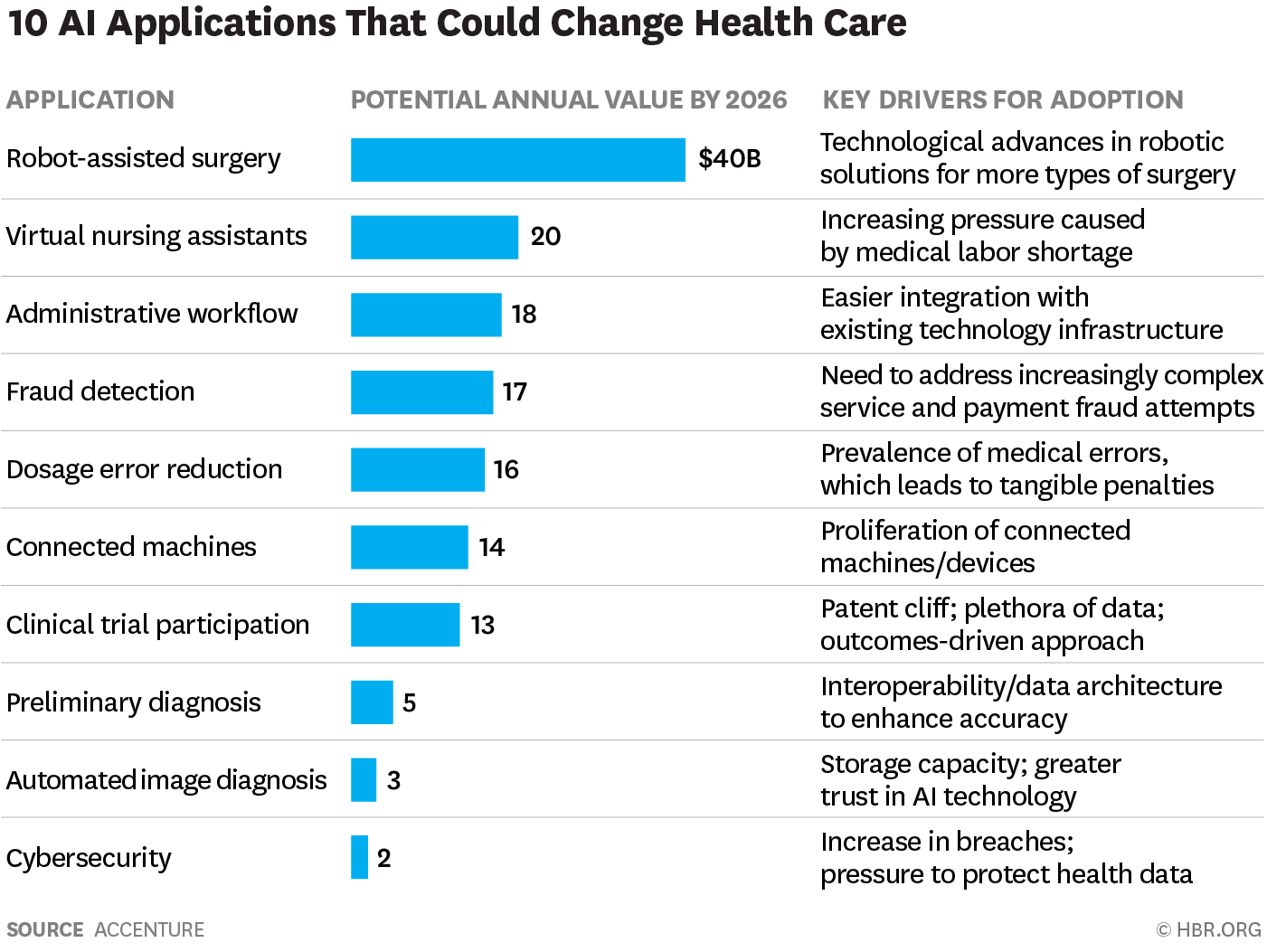 Pros of utilizing AI for healthcare
AI fosters healthcare accessibility
Unfortunately, many developing countries are still lagging behind the world's technological progress in many spheres and healthcare for them remains the most painful one. People living in the remotest corners face the risk of dying since it is practically impossible to get qualified medical help in time. WHO claims that uneven access to the health services results in an 18.1-year gap in life expectancy between the richest and poorest countries.
AI innovations can be applied here to create an efficient healthcare ecosystem. Such digital infrastructure can help the patients to comprehend the symptoms and receive necessary treatment. Many applications have been developed recently to enhance the collaboration between national and international healthcare organizations to provide quick assistance to people. Thus, for instance, Ada App, based on intelligent technology, is available in 140 countries that increase accessibility to medical guidance for the poor population.
AI-driven tools help reveal early disease risks
Since AI can accumulate and keep people's data in a single place, it can utilize this information to see into the previous and current health problems. Such a comparison of disease details enables the physicians to make a more accurate diagnosis. The database of health apps has compiled millions of symptoms, diagnosis and particular cases that allow for predicting potential health problems a person can have in the future. 
A well-known application Verily developed by Google specializes in forecasting both noncontagious and hereditary genetic diseases. Such apps enable health experts to anticipate potential threats and avoid them in the future, taking appropriate measures today. Moreover, predictive analytics improves the operational management of healthcare facilities. 
AI algorithms can save time and costs
Another big advantage of AI application in the healthcare system is related to shortening the time and easing the efforts needed for examining and diagnosing the patients. As a testimony for this, one can consider the potential of AI to identify the biomarkers that can detect certain illnesses in the human body. The algorithms ensure the possibility of automating the bigger part of the manual work in specifying these biomarkers. This way they save time that can cost a person life. 
On the other hand, AI algorithms are more cost-efficient than conventional methods. With these technologies applied in the health system, people do not have to go through various expensive lab tests. These facts account for an 88% increase in a number of organizations that have implemented an AI strategy if compared with the previous year.
AI as unique and unrivalled assistance in surgery
Successful testing and research have been fueling the interest in AI and robotics applications in surgery. AI Surgical System allows for performing the tiniest and the most accurate movements. Thus, complex operations are conducted with minimal pain, blood loss, and low risks of side effects. Furthermore, after such surgical procedures patients recover much quicker.
The implementation of Antibacterial Nanorobots helps clear the patient's blood from infections before or after being operated. To the top of it, AI empowers surgeons with real-time information concerning the patient's current condition. Such AI tools inspire trust in patients when they still have some doubts about surgery under general anesthesia. On the whole, technological advancements in surgical robots are predicted to expand the value of this market up to $24 bn by 2025. 
AI helps augment human abilities and support mental health
Patients can be assisted not only by medical staff but also by robots. Paralyzed people can walk again and do not depend on caretakers thanks to exoskeleton robots. Another breakthrough in AI application in the healthcare system is a smart prosthesis that is equipped with sensors enabling the patients to have even more reactive limbs than the original ones. 
The rising need for smart limbs is caused by the number of amputees in the U.S. that is expected to reach 3.6 million by 2050 according to the nonprofit Amputee Coalition. Of great help are service robots that are capable of performing daily tasks, so elderly or sick patients do not feel lonely. The so-called conversational and companion robots provide such people with assistance in controlling temperature, blood pressure, sugar levels, as well as taking pills. Such robots often come with built-in capabilities to analyze the personality that helps depressed patients feel more positive.
Cons of AI adoption
Except for the above-mentioned benefits of AI application in the healthcare sector ,the recent survey raises awareness among health experts and managers concerning particular disadvantages of utilizing these technologies. 
A lack of personal involvement
Surgery robots are completely logical and are not programmed to feel any sympathy towards the patients. Some experts view it as a disadvantage. On the contrary, human capabilities in terms of personal contact with the sick go beyond those of computers. Interactions between a doctor and a patient are of great importance in building trust and treatment. Of course, AI instruments can function with minor errors that will not affect the diagnosing process or operation considerably. Unlike computers, physicians can violate some rules to do their utmost to save a person's life.
A rise in unemployment rates among healthcare workers
Since AI has been implemented throughout the whole system of healthcare on a grander scale, many activities that were traditionally performed by humans can be done by machines nowadays. Chatbots and robots can provide mental health help, analyze the condition of patient's health, and foresee some problems like seizures, sepsis, cardiac arrest, etc. Consequently, many people can lose their work.
Possibility of a Defective Diagnosis
The accurate diagnosis for a certain disease depends on various data collected from millions of people who have experienced similar symptoms and conditions. To get the appropriate comparison, the AI database should contain sufficient information about the patients of the particular group. Therefore, if there is a lack of information about a person from a certain background, AI can provide an inaccurate diagnosis. As a result, the doctors are likely to give the wrong treatment if they are not experienced enough to identify the mistake. Errors caused by poorly trained AI instruments account almost for 200,000 patient deaths each year and the US health system's annual loss of about $20 bn.
Social Prejudices
As we have already mentioned, AI-based machines cannot fully understand human nature and the background that makes them biased against the patients being diagnosed. For instance, the AI algorithm can recommend a person with low income a nursing facility that is unaffordable for them. The high cost of services at such facilities discourages the patient to continue the treatment. It is the doctor, who can decide on the best suitable treatment plan taking into account the patient's social and financial status.