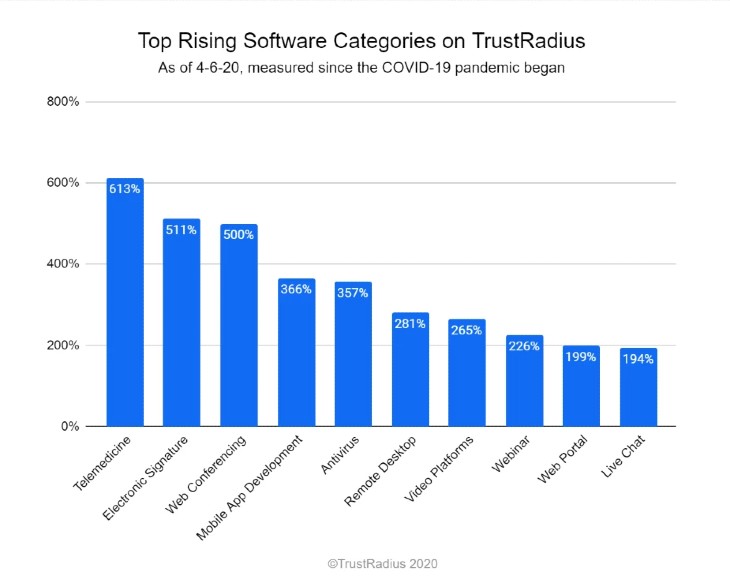 A full transition to remote work is another important change. Companies that weren't prepared for this transition, now see the importance of project management & remote communication tools in their business. This may be a good opportunity for remote-focused SaaS startups. 
For instance, Klaxoon, a French virtual meeting tool, saw a 90% growth in traffic since the pandemic outbreak. The company offered a 3 months free trial period coupled with free guidance to simplify the team onboarding. This way, Klaxoon could attract more users and expand its reach.
However, some SaaS providers were unprepared for such a drastic traffic increase. Zoom video conferencing tool received 200 million of unique daily users in March 2020, which lead to some serious privacy issues. The hackers could enter the chat rooms and even steal Windows passwords due to the newly found bugs. Now the company is taking measures to resolve these issues, such as permitting to join rooms only by passwords.

As remote collaboration becomes the new norm, lots of things have to be adjusted. For this, secure & feature-rich Software-as-a-service solutions may play a role. Once companies setup their remote work and secure VPN access, they will look for affordable and reliable software to ensure productive work.
SaaS trend #3. Growth in usage, but a cash decline 
Since Software as a Service is easy to adopt and maintain, many enterprises choose it over on-premise products. However, this doesn't always lead to revenue rise due to the Covid19. Since the whole industries become frozen, tech investments reduce as well and SaaS products learn to adjust fast. Salesforce, Adobe, and Dropbox are extending free trial periods and upgrading their discounts. Cisco web conferencing tool has removed any time limitations at all and expanded its participants' amount to 100 in a single call. 
They try to help their clients with their services and support them in the mid of the Covid19 crisis. After all, we are all in it together and supporting each other is the smallest thing we can do. 
Let's explore the stress scenarios that affect SaaS industry trends and businesses.
What changes do SaaS companies make, and why?
One step SaaS companies take is adjusting their customer strategies. Due to the global dropdown in sales, they focus on keeping existing clients rather than fighting for the new ones. Kim Lundberg, Senior Portfolio Manager at Vaeksfonden, recommends doing weekly follow-ups with clients to keep them updated.
"You should not be surprised if your customers aren't ready to pay for an annual subscription plan anymore." Adding monthly and quarterly subscription options could be wise, depending on how affected your customers are. 
The key is to remain flexible and accessible to your loyal customers as much as possible. During the 2008 crisis, 80% of SaaS revenue was brought by the existing clients. If your current base consists of 60 to 70% loyal clients, losing them would be decisive for the company's future. Thus, training your customer success team and improving the client's experience should be among the top priorities now. Upsells and service renewals may ensure a stable revenue stream and growth for your company. Consider listening to your clients and creating helpful content, webinars to answer their pain points.
SaaS companies targeting large corporations might handle the crisis more easily than those offering solutions for startups. As stopping to use the CRM or HRM is a crucial change for a large-scale business. 
Another action Software-as-a-service companies take is finding the weaknesses in their product and improving them. Weaknesses are aspects users are not satisfied with, such as price, difficult onboarding process or limited functionalities. You can find them via regular clients' feedback or surveys at each stage of your users' journey. This way, you can resolve any annoying points and prevent clients from quitting your service. 
Last but not least, the current SaaS industry trend is rethinking the marketing tactics and spendings. Instead of spending costs on top-funnel advertising where there is little to no response now, they consider measures for the hot leads or long-term evergreen content. Adding context to your cross-channel messaging, you can show the genuine value you provide to your customers. For instance, instead of saying "Get a free trial now" you might add "Cut thousands of $ while working from home with our 1-month free collaboration app".
Conclusion
Forrester states that the only positive growth in global IT spending is demonstrated by cloud infrastructure services and specialized software. Thus, the SaaS industry is likely to evolve further. The worst stress scenario would be to panic and spread it to your customers. Do you agree?