How to Set Up and Manage a Remote Team in Ukraine?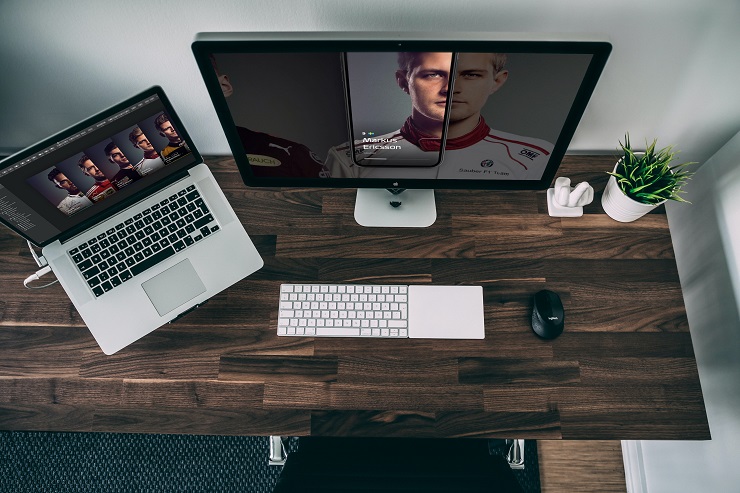 The pandemic transformed the notion of remote work into a new widespread trend. According to Statista, the percentage of U.S. employees working remotely five or more days per week compared before and during the COVID-19 times has shifted from 17% to 44%.


Can we think of this as a temporary workforce trend, expecting it to disappear just after the pandemic crisis ends? Analysts are not that confident on this matter, with Forbes stating that the remote work trend is here to stay for a while. By the end of 2025, about 70-75% of employees are predicted to work remotely. As such, business owners need to address new challenges while transforming them into competitive benefits. Actually, remote teams open new horizons for every party, but only if we do it the right way.
What are the 5 top benefits of hiring a remote team?

On the one hand, remote work is considered the least-evil solution in a current work environment. On second thought, however, this approach opens up quite vibrant opportunities for businesses. Dealing with a remote team, companies can get a bevy of indisputable advantages:


Hiring a remote team has no geographical limitations. For instance, you own a U.S. company but get an opportunity to work at fair prices with a team from Ukraine. Such collaboration can drastically cut the expenses on your software development project.
A remote team seems to become a perfect solution for one-off tasks. You avoid the necessity to hire in-house specialists on regular pay. While partnering with an outsourcing software development company, you pay only for the scope of services you currently need.
Remote teams are largely set with the necessary hardware and software assets. So, there's no need to provide them with any additional equipment.
A remote collaboration saves a great deal of time, thus offering you and your top management an opportunity to laser-focus on more crucial issues. All the organizational, staffing and managerial activities are on the side of your outsourcing services partner.
Remote teams are usually tight-knit, having under their belt a wide range of extensive hands-on experience in software development.
Hence, remote teams move off-the-subject obstacles aside, offering business owners to focus on a problem and ways to solve it effectively.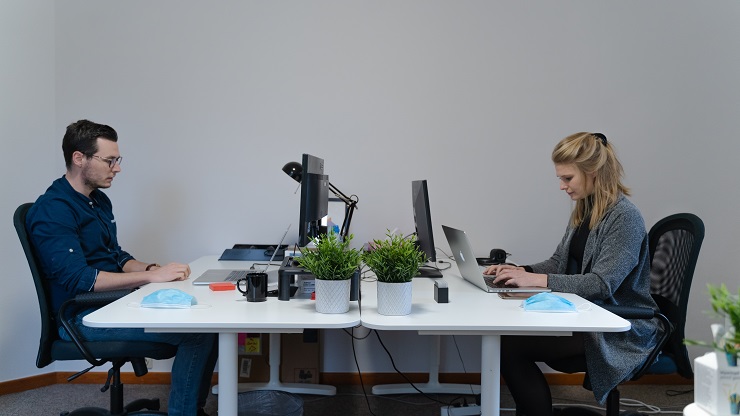 Outsource remote teams to become the hottest trend
The times of "money should stay inside the company" have already gone, and the business world's whales understand the benefits of outsourcing. MyOutDesk offers shocking statistics: 29% of businesses with fewer than 50 employees deal with outsourcing companies. As for the companies with 50+ employees, the percentage increases up to 66%. Eventually, the larger a company is, the more responsibility it has in terms of time and resources spending.

After a four-year decline, the outsourced services market commenced growing, reaching $92.5 billion in 2019. The pandemic is amid the top catalysts for its further development towards new all-time highs. Even though the 2021 figures need to stabilize, the overall business process outsourcing market is projected to reach over $405 billion by 2027.
Today, U.S. companies play a leading role in the outsourcing market as 84.2% of outsourcing deals are linked with United States businesses, according to ATKearny research. Meanwhile, U.S. companies prefer to deal with remote teams overseas to leverage the beneficial terms of collaboration. And Ukraine is among the top destinations for winning the outsourced IT services market. The country enters the top-30 locations with the highest outsourcing potential. As for financial attractiveness, Ukraine occupies 8th place in the world.


With this in mind, Ukrainian outsourcing remote teams help businesses to reduce initial and operational costs and get efficient custom-built software development solutions.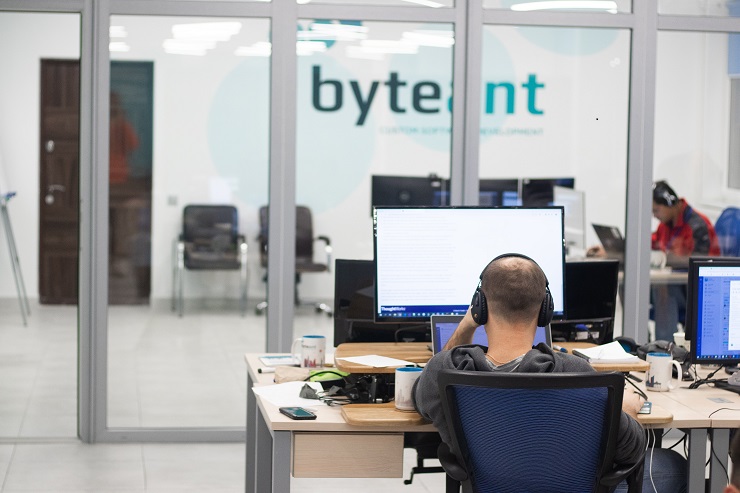 3 core fears of business owners while collaborating with a remote team in Ukraine 
The benefits of working with a remote team are evident, but there are still some hurdles that play the role of limiting factors for this type of collaboration. Which fears may you face first and foremost?


"Ukrainian specialists are not qualified enough." The fear frequently originated from a previous bad experience or outside rumors. In fact, Ukraine has one of the largest talent pools of software engineering in the world (4th place).
"Ukrainian outsource companies are not so good as in the neighbouring countries." If you look into the IAOP Global Outsourcing top-100 ranking, the list includes 13 Ukrainian companies. Moreover, most outside-the-ranking companies have many years of experience and hundreds of satisfied clients.
"Working with Ukrainian remote teams, I get uncertain legislative protection." This day, your collaboration is protected by agreements where you include terms, prices, and conditions. Furthermore, some Ukrainian outsource companies have U.S.-based offices to secure you even more.
Therefore, most concerns turn out just myths based upon previous negative experiences and never happen when dealing with reliable companies.
How to manage a remote team: possible engagement models
While commencing cooperation with an outsource company to hire a software development team, you are able to choose from a wide range of engagement models that usually include:
Full control model. Business owners control every step of a remote team through regular meetings, remote workspaces, and other tools. This model implies adjusting team members' schedules to your time zone. For your convenience, remote teams utilize various effective project management methodologies, like Kanban, Scrum, and Waterfall. What's more, you can evaluate and approve every single specialist engaged in the project, thus making the entire software development workflow way more efficient.


Hybrid cooperation model. The model makes sense when you have already hired a team but experience some talent gaps on the way. It means, you don't need a whole remote team, yet some rare experts are not available in your region. Here's when an outsource company can help you out providing you with any professionals you might miss so far.


Time and Materials model. The model allows business owners to spend the budget reasonably, based on the predefined experts' rate and the factual time spent. With this, you can significantly minimize your project spending working on a pay-as-you-go basis. Such a model usually implies the use of time-tracking software.


Fixed price model. This model is the best solution for projects with a clear scope of work to be done. When you have certain requirements and deadlines, it becomes possible to define a fixed price for your project in advance.
Hints on building great communication: Effective ways to deal with your remote team 
Communication is one of, if not the most important, the aspects of cooperation with a remote software development team. Apparently, misunderstanding may lead to wrongfully executed tasks. So, what are the main recommendations for building a robust interaction with your remote team?


You can ensure great communication with your remote team members through email alone, however, this method oftentimes is not enough. Don't follow this seemingly simple path, as your interaction with  the team always benefits from more diverse ways, like video conferences, audio calls, etc.


Like it or not, routine everyday communication is an important part of managing a remote team. That's why, make daily check-in calls to clarify tasks, answer some questions, and make changes, if necessary. Such check-ins should be brief and concise for not to waste each other's time.


One-on-one contacts are sometimes a better way to bridge communication gaps that group business calls. If there is a case, you can reach out to your project manager, UI/UX designer, or software developer to discuss any urgent matters. This kind of contact can really boost the workflow efficiency and improve the trust-based relations between you and your remote team members.

Remote team collaboration: from A to Z


What do you expect from the collaboration with a remote software development team? Bluntly put, to get your project done and deployed on time and on budget. The following steps can help you get the most out of such collaboration:
Clarify your project goals. To realize what final deliverables you expect from the remote team you're going to deal with, you should set clear objectives, plan the budget, and define the scope of work to be done beforehand.  


Analyze the pros and cons of every engagement model available to understand what matches your expectations the best. Before making your choice, make sure you have enough time and budget, check the project size and requirements, and your level of involvement.


To make a good start, choose a reliable outsource company you can trust. Look through a company's experience and number of successfully implemented cases. The more information you get, the easier it is to make the right decision.


Scrutinize all the phases of development underlying your project. It ensures you and your remote team are on the same page at every single stage of the SDLC (software development life cycle).


If necessary, provide your team with feedback commenting on the new features you would like to be added, your general impression on design or functionality, you name it. It helps your team to streamline the development process on the go.
How to effectively manage remote projects: Collaboration insights from ByteAnt 


ByteAnt is amid the leading Ukrainian companies that offer actionable software development services for startups, as well as for small- and medium-sized businesses (SMBs). The company has experienced remote teams at your disposal helping gain the highest results.


Whenever you might need the right solution, our managers are ready to help you define the project requirements and choose the right engagement model that meets your business-specific needs. Contact us to claim your free consultation and gain a competitive edge in these unprecedented times.


Ukraine experiences high demand from the viewpoint of outsourced services distributed all over the world. While cooperating with Ukrainian remote teams, business owners get high-quality outcomes mixed with an opportunity to cut their expenses as the country enters the top-10, according to the financial attractiveness. Just make sure to deal with a decent software development company to avoid negative experiences.