What do I need to know before marketplace app development?
There are a lot of marketplace business models you need to know, while they all have similar characteristics, they also depend on the product, number of involved people and financial model. Let's take a look at them all to launch your marketplace business.
Service or product marketplace
Product marketplaces and services marketplaces are two types of online platforms. In both, the platform connects customers with third-party producers. In a services marketplace, the producer is providing a service; in a product marketplace, the producer is providing a product as a third-party seller or distributor.
Marketplaces by business type 
B2B Marketplace
A B2B Marketplace is a digital platform that enables companies to buy, sell, and partner up in bulk. It's like Amazon for businesses. You'll find these platforms not only useful, but also enjoyable when you choose the right one. For example, suppliers get a satisfaction guarantee, as well as an alternative sales channel to add additional revenue.
B2C Marketplace
B2C (business-to-consumer) marketplace is a model in which the seller sells products & services directly to consumers, who are the end-users. B2C has become intensely popular in recent years, as end-users started buying from the retailers' marketplace stores. This model has a global reach for the end-users, so even small businesses operating from homes can sell products to customers on the other side of the world. The traditional stores that aren't making any profit can shut down their brick & mortar store and spend a fraction of what they were spending previously on marketing and set up marketplace store with less capital investment to gain huge profit.
C2C Marketplace
C2C marketplaces are online intermediaries that match people who want to sell their own goods with people who want to buy those goods. One of the most famous C2C marketplaces in the world today is eBay. It has over 159 million active users and 12 million new registered users each month. BlaBlaCar is also a C2C marketplace; it's a popular ride-sharing platform that makes it easy for drivers to find passengers going the same way and share costs. Another example is Alibaba's Taobao Marketplace; this platform lets anybody set up an online shop and sell products directly to consumers - no middleman involved!
P2P Marketplace 
Peer-to-peer marketplaces are popular e-commerce development trends. A two-sided marketplace, peer-to-peer marketplaces eliminate the distance between individuals that provide products or services and clients that purchase them. For example, you can lease your New York apartment on Airbnb and book a room with a delightful view somewhere on the Amalfi Coast at the same time.

By number of players on platform
Two-sided marketplace
A two-sided market is a business model in which both sides of the market—buyers and sellers—can trade with each other. Platforms that serve as a marketplace for more than one type of buyer or seller can create value by simplifying and accelerating transactions, as well as lowering their cost for the parties it connects. As a two-sided network grows, successful platforms can scale. Users, seeing a larger potential marketplace, will then pay a higher price to access the platform.
The idea of the two-sided market is to have many agents on both sides of your network. If you have a marketplace, there are a lot of people trying to find or provide the goods or services that you offer. However, if you can get someone else to pay you to reach those people, then it's a good deal. You don't want prices going down though, since that's how you make money! In the case of a marketplace, as more sellers provide goods/services on your platform, prices should go up; and as buyers go elsewhere to purchase something (to avoid paying a premium), prices should also increase.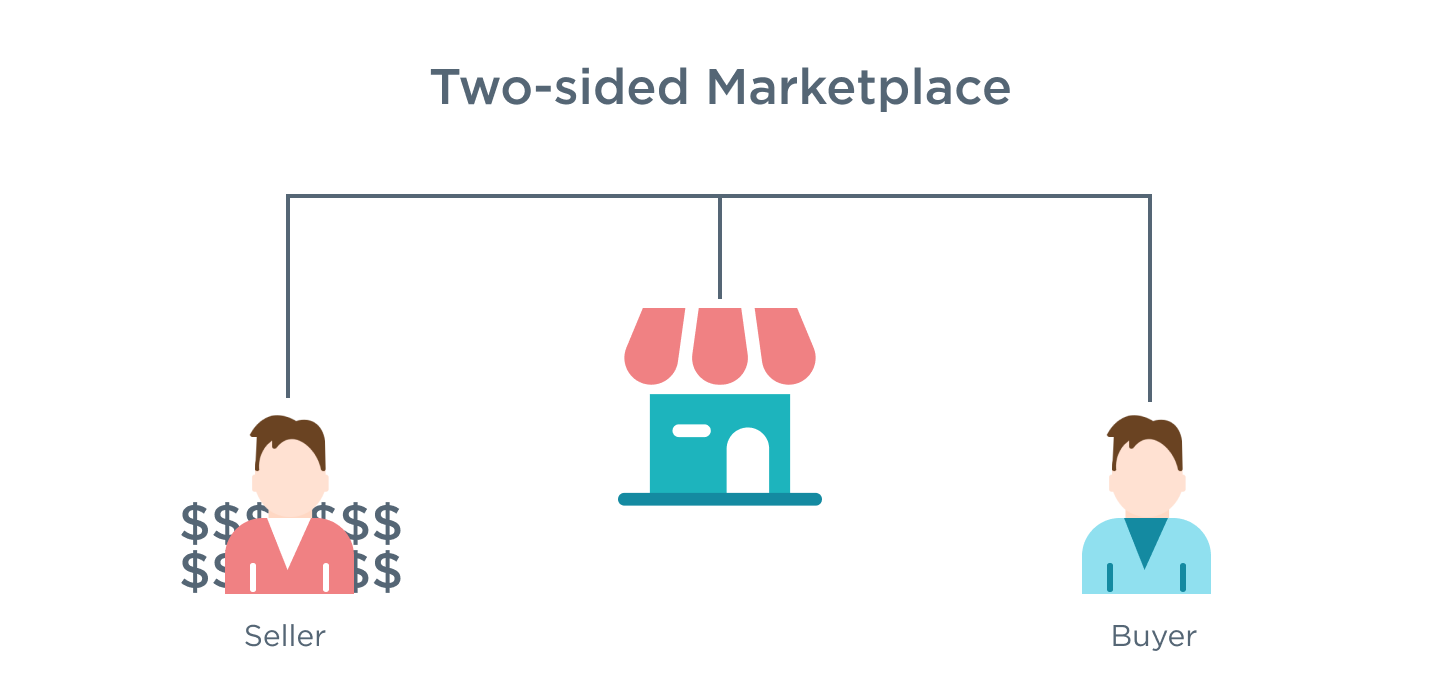 Three-sided marketplace
A three-sided marketplace is a type of business model that connects three groups in value exchange: the end customer, an intermediary, and the producer. The intermediary role is sometimes referred to as a "market maker," while the producer is also a party that assumes an ownership position in the product.
They are like a black box. You put your product inside and money comes out. As an entrepreneur, you can raise huge amounts of capital using 3rd party networks. The network itself is the customer acquisition channels and they'll always win. Your company doesn't have to spend time finding customers from scratch - it has a ready built audience to sell to.