3. Middle-touch sales + middle-size companies
As you may guess, this SaaS go-to-market strategy assumes the combination of autonomous user onboarding with salespeople support.

Within this approach, you need to find the right balance of customer support help and self-managed purchase. In other words, you need to master a hybrid selling strategy.

Some elements of growth include partnerships, free trial period, a simple setup process with flexible pricing, inbound marketing, targeting middle-size businesses with the right messaging. 

Atlassian - a striking example of a go-to market strategy for startups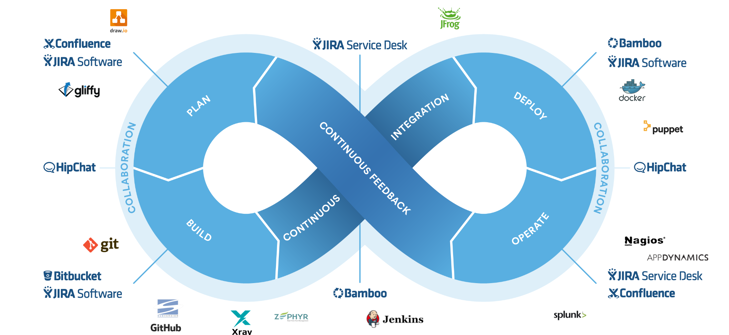 Image source: DataRespons.com
Rather than hiring a large team of lead generators, Atlassian focused on making the product sell itself and provide little sales support. Thus, they made their SaaS offering:
Easy to find and try
Affordable enough to buy without approval by C-level executives;
Simple to use and scale later.
What matters, Atlassian realized the importance of API extensions to apply the product in various use cases. This way, the SaaS offering remained simple to use and easy to extend at the same time.
Later on, the company launched a dedicated marketplace to enable exploring the apps for Atlassian solutions. The marketplace brought $300 million of sales per year.

Atlassian team invested in SEO to make their products easy-to-find and grow brand awareness. Users can also access the solution via Jira, Bitbucket, and Confluence applications.
Once again, the onboarding is as easy as a breeze; no need to create an account or enter the user's data. So any business user can try the product out. After the installation, a user gets a free month of use with the ability to add more extensions. 

The three models above are the main methods of planning a go-to-market strategy for SaaS startups. 
The right one for you will depend on several factors:
your ideal customers
your product mission
your market.
The budget you are ready to invest in sales and marketing.
Conclusion
The main thing you need to understand is how you are going to get the first 100 users. Calculate how much each user will cost you based on the marketing tactics, sales, and time frames. With a quality software implementation and the right value proposition, you can make your go-to-market a success. Just make sure you have qualified professionals on board before you begin. ByteAnt team can help to implement your idea and make it technically superb.
However, remember to plan your SaaS GTM strategy and customer acquisition. The right matrix mix is the foundation of your further product growth.