T.U. - It was getting the data in the first place. On TV, you imagine a magical database that is up to the sky and has all the information about everybody. But it doesn't exist. I went to the law library and started looking for cases or attorneys, and I couldn't find it. So I started looking for the cases that I've been in, and I couldn't find those either. I didn't believe it. So I searched for a famous case that had to be there, the State of Florida vs Casey Anthony. It wasn't there. When I asked the librarian about that case, he said: "Not important". It was on the front page of a newspaper for 3 years, someone died, how is it not important? He said there was no appeal, so no new legal precedents, therefore it wasn't important.
Therefore, you find the case by going to a specific courthouse. Even though there are 3,124 circuit courts in the US, they are not connected. When I came to the courthouse and asked if I could have the data, they said "No". Even though these are public records, and they are public servants. 
I wound up scraping the data from their website and started adding more courts later. Some of them were really difficult, as the courts become harder to scrape every day. We scrape thousands of courts every hour, in 12 countries. They become harder every day, so it's a barrier to entry for us. 
For example, a few years ago, we got banned by Australia. Within a few hours, we found a way around it, but no one else did. So a few months later, our main competitor started getting that data from us.
Y.S. - Ha-ha, I see. My next question is about people. Above all, you need great people to make the technology work. How long did it take to build the team for Premonition?
T.U. - Getting together all the people took us about two years. We got through quite a few people initially. I got this guy on Upwork, and I had no money at the time. I financed the software by selling one of my watches. It was a pretty rocky start, but he turned out to be really diligent. In 6 years, he's gone from 3 people, basically working on the sidewalk to a team of 100 people and offices that look like an investment bank. Over half of his people either work for me or someone I've introduced. It's been a really good relationship.
As for the US team, we got them by accident mainly. If you don't have the time, you just hire the people and see how they do. You hire extra people because half of them won't work out.
Sometimes, we interviewed the people very well, but the work turned out to be horrible. And then there was another, who interviewed poorly, but aced the technical test and has been amazing.
We also use an amazing system called Teamwork. It's like a global-shared to-do list. So once people are hired, I give them tasks. And if they do well, I give them more tasks. If not, we give the task to someone else, until they run out of tasks. People are continually being "Soft hired, soft fired".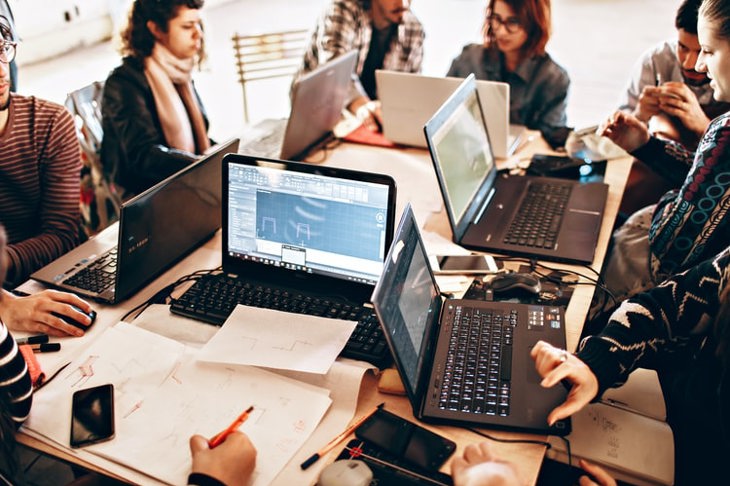 Y.S. - As far as I understand, you first started with outsourcing the technical part. What was your experience, did you have any issues with that? 
T.U. - Well, practically everything is outsourced. Technically, we don't have any employees at all. So you just hire contractors and see how they go. Some go well, and some don't. Once you have the first insights, you can adjust, which is great. We had two teams in India: the guy who was not very professional, and this very professional company who had about 650 employees. They were a bit more expensive, but it gave us some flexibility in terms of cooperation. Every month though they would send ridiculous invoices. Their CFO called to complain about slow payment. I told him we have approximately 80 vendors and they are all paid the same day at the end of the month. Everyone except them. They'd bill us for things they hadn't done, they'd bill us for things we'd already paid them for. The errors were never in our favor. It took us a month to get it right. In the end, we just stopped using them. Overall, it's very flexible as I can run my business by managing on - TeamWork, assigning tasks, and so on. 
Y.S. - Ok, thank you. I would also like to ask about future trends. Let's talk about AI & Big Data in litigation. How can it or can not change the game?
T.U. - In general, lawyers have resistance to technology. This is why legal tech companies fail. Once, a man came to me with the idea: "I have a system that will schedule depositions and make the document production easy." And I said: "Noone's going to buy that." "Why?" "Because it will save time and money." Lawyers don't want to work quickly, that actually costs them money. They want things to go slowly. This is why, oftentimes lawyers don't want to buy software, and every lawyer thinks they are the best.
However, with the Covid-19 outbreak, everyone starts to move to the cloud. Eventually, people realize that the old ways of doing business don't work, when you have to be remote. So, there is a drive to adopt more technology and conduct Zoom meetings. In many ways, it's a lot easier than before. So I believe we are not going to go back to the office, as it's better & easier this way.
Y.S. - You actually predicted my next question. Do you have any observations or forecasts about how it is going to end up? Will people come back to offices?
T.U. - I think it's going to be a mix. This is when we get the full advantage of using tech. When we are in the offices, we have this group thinking. Old processes no longer work and we need to learn to communicate digitally. Another important change is that people are making decisions much faster now.
Y.S. - I see. Toby, you founded Premonition in 2014, 6 years ago. Based on your experience as a founder, what advice would you give to the founders? What were your worst startup mistakes to avoid?
T.U. - Well, it's by doing things and failing them that you learn. One of the problems with MBAs, is they are not taught about failing. The great myth is that if you follow this right kind of business recipe, you are guaranteed to be successful. Except you are not, it's a recipe that worked for a person in an industry at a particular time. Many of the things that didn't work for me earlier would probably work now as the market has matured.  One of my failures as an entrepreneur is that I'm always ahead of my time, sometimes 20 years or more. Although Premonition is one of my best-timed businesses. If I started it 6 months later or earlier, it wouldn't have worked.
We tried to approach attorneys early on, but they had no interest in our system, identifying that early was very important. I'm big on dashboards to track & measure everything because if you can't measure something, you can't tell what is broken. Admitting when you are wrong is an absolutely useful skill. You can save money and adjust faster this way.
Another issue was with building a crawler for our website. After we started, we realized that it wouldn't configure it fast enough. So we built a machine that would learn how to crawl a website. We had offline databases, afterwards, we had to move to the cloud, and went through numerous re-writes of our analytics software. Once we realized that we had to rebuild it, it allowed us to go so much quicker. Don't be afraid to dump stuff just because of legacy costs. If it needs to be re-done from scratch, but it's clearly the right path, then bite the bullet and do it.