2. Scalable Business Volumes
If we speak about startup projects, it is essential to take into account whether the software enables sustainable scalability. As on the point of business development, the necessity of agile architecture grows simultaneously. Thus marketplace software should provide all-volume warehouse management, sync product inventory and adjust sales, payment, delivery, shipping to the necessary extent.
3.Transparent Accessibility
This feature is business owners' key to success as seamless access to data ensures an overall control. Transparency helps vendors or managers or marketplace administrators take control over product and service managing processes, keep in touch with business partners and make a profit from electronic commerce. Due to AI features, like chatbots, personal assistants, advanced accounting, etc., stable vendor engagement gets easier than ever before.
4.Secure Data and Payments
Contemporary legislation strictly limits personal data usage and exposure that is why cybersecurity remains the top issue of concern. Marketplace software platforms should ensure the highest level of data protection from leakage, especially when it comes to financial credentials. Software providers must contribute to high-level cybersecurity to make the buying process simple and safe, for example, with secure embedded payment services.
5.Seamless Analytic Decisions
Analytic possibilities of B2B software features are difficult to enumerate beginning with workflow automation to business effectiveness estimation. Marketplace software allows its users to monitor enterprise current data in real-time, such as delivery and stock, and also helps work with past activities, for example, client history, new subscriptions or cart abandoners. Moreover, predictive analysis and ensures graphical representation for advantageous future decision making.
Also, there are some more noteworthy software goodies:
Easy signup and quick registration 
Friendly navigation
Powerful search
Reliable payment gateways
Quick tracked delivery
Notification and alert system
Sync product management
Efficient communication with customers
Activity overview and control
Sustainable accounting and finance flows
Advanced analytics and reporting
Customization options
Social media integration
Smartphone integration
Omnichannel shipping providers
Several base vendor plans and price variations
Discount campaigns
With all that said, it becomes evident that there is no ideal marketplace software meeting every single company's needs. Instead, you can always give several solutions a try to find the one that suits you best. What's more, try to evaluate not only the world's giants, but also smaller B2B marketplace platforms, since they may turn to be much better for your business.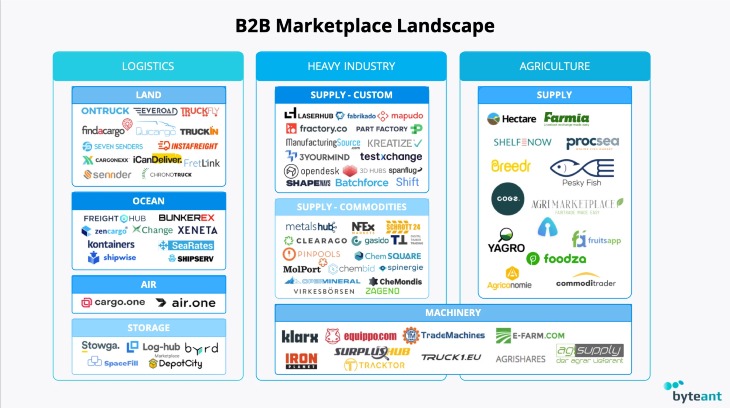 Most Popular Software 2020
Choosing sustainable marketplace software often turns out to be a burden because there are no universal criteria to suit your business needs best. You are sure to have encountered some popular shopworn names so we've tried hard to provide you with a list of on-the-rise software vendors.
Pricing: min. $39 per month
Arcadier is a marketplace SaaS provider for individual and corporate clients. It is a good option for testing ideas without sufficient financial investment and coding knowledge. Arcadier provides simple-to-use B2B, B2C and P2P marketplace software solutions customizable for all-size companies:
No coding required
Free version and free trial available
Cloud/SaaS/Web platform
24/7 online support
Various marketplace models
Extensive search, filters and sorting
Individual payment approach
Online store building and real-time editing
Multi-admin/-seller dashboards
Analytic integration and visualization
Friendly interactive design
Pricing: $1450 one time payment.
CS-Cart Multi-Vendor is a full-stack advanced open source marketplace platform suitable for creating small eCommerce stores. Multiple independent vendors have a bunch of functionalities to sell their digital and physical products.
No coding knowledge needed
Cloud-based Win/Android platforms
Startup and SMEs adjustment
Responsive friendly interface
Extensive built-in features and regular upgrading
Rich tools for creating an individual design
Advanced marketing tools
Convenient administrative options
CRM and CMS managing
Integration with marketplaces
High mobile responsiveness
Pricing: $79 per month.
Sharetribe is open-source software platform for one-evening e-store building. It enables creating a professional marketplace rich in a comprehensive set of functions that deprives its users of code writing and major investments.
Free trial but no free version
Cloud/SaaS/Web platform
Adaptable to B2B and P2P projects
Omni-device adjustment
Intuitive signup processes
Consistent professional tech support and customer service
Financial and inventory management
Automatic commission transactions
Robust payment processing
Transparent order and product lifecycle
Personalized mailing notifications
Pricing: $49 per year.
WCFM Marketplace is a one-size-fits-all software solution that provides rich features for building a complete multivendor marketplace. It is completely responsible for backend support that enables the clients to concentrate on frontend business experience.
Free version available but no free trial
Cloud/Web/Mobile platform
Product import and export
Location-oriented search
Tracking and notifying deliveries
Purchase decision support
Auctions and wholesales events
Business model adaptation
Great choice of payment gateways
Advanced shipping solutions
Tools for managing the stock, returns, catalogs, promotions, etc.
In conclusion, we'd like to add that consumers are in search of a perfect multi-vendor online marketplace because they want to leverage from a vivid choice of products and services in one place. Thanks to these platforms, smaller and larger businesses develop to meet top-notch digital market expectations. So, we are here to help plan and integrate your business solutions no matter what you choose.